285 Views
Best Kawasaki Mule Windshield Options
May 21st, 2021 3:21 PM
Share
We're committed to finding, researching, and recommending the best products. We earn commissions from purchases you make using links in our articles. Learn more here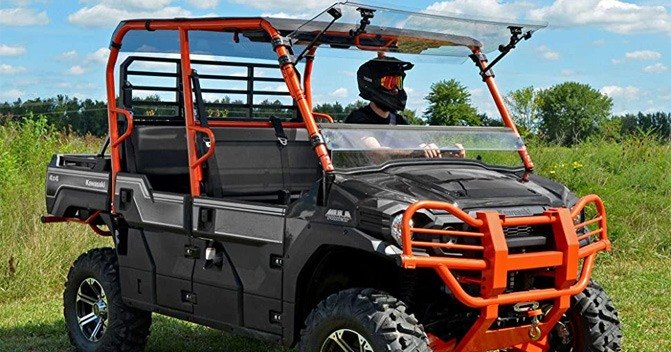 Get out of the wind while getting things done with your Mule
In the mid 1980s, a couple of engineers at Kawasaki got to chatting about the agricultural needs for ATVs and they started jotting down ideas on a napkin. What came from that idea was the Multi-Use Lightweight Equipment vehicle, or Mule. The first Kawasaki Mule hit the market in 1988 and the machines have been in use ever since. In fact, one of the first machines off the line is still in use inside the Kawasaki factory in Lincoln, Neb. It has over a million hours on it and is still running strong. There is no denying the popularity of the different models of Kawasaki Mule machines. One of the most popular accessories for the Mule is a windshield. What is the best Kawasaki Mule windshield? There are a lot of different options for the various models and we're here to help you find one that works best for your needs.
1. Editor's Choice: Direction 2 Full Tilt Windshield
When it comes to polycarbonate windshields, not every one is created equally. The Direct 2 full-tilt Kawasaki Mule windshield is among the more robust options available as it is made of ultra-thick ¼" MR10 GE Lexan scratch-resistant polycarbonate. But the Quebec, Canada-based manufacturer goes a step further by using a CNC 5-axis router for cutting, which results in smooth edges all around.
As the name implies, the top section of this full-tilt windshield can be folded down to allow for more airflow into the cab. Also, installation is designed to be straightforward with durable nylon injection clamps that require no drilling. And all the installation hardware is stainless steel, so you don't have to worry about rust and corrosion.
2. Clearly Tough Mule PRO FXT/DX/FXT/DXT
The Mule PRO series has really taken off in terms of popularity. These flagship models of the Mule line are big, versatile workhorses that can get the job done and still work for having some fun in the trails. There are lots of choices for this machine and the Clearly Tough coated-polycarbonate full folding unit is one of our favorite Kawasaki Mule windshield options. Made from thick, 3/16-inch thick polycarbonate with a durable anti-scratch, hard coating that makes it extremely durable and long lasting. The coating makes the poly UV-resistant, too, so the windshield resists getting that clouded look. It's easy to install and carries a five-year warranty.
3. SuperATV Heavy-Duty, Scratch-Resistant, 3-in-1 Flip Windshield
SuperATV makes some cool stuff, and for the Mule PRO series, its 3-in-1 Windshields are really sweet. The 3-in-1 comes from the windshield being able to act as a full-closed, vented and as an open windshield with the top half flipped up. Made from ¼-inch super hard-coated polycarbonate. The super hard coating is scratch and abrasion resistant, making this Kawasaki Mule windshield resist getting the dreaded clouding effect that comes from small scratches and UV damage. These windshields come pre-assembled from the factory with easy-to install hardware, making installation on your Mule easy and quick.
4. A&S Audio and Shield Designs Fold Down Windshield
A&S Audio and Shield Designs offers a number of windshield to fit various Kawasaki Mule models, including this clever fold-down design. This shield is made of 3/16" polycarbonate and lets you keep the shield up for full protection, or fold down the top half and lock it in place when you want a little more fresh air getting into the cockpit. It also doesn't get in the way of your hood compartment, so you can access that area easily. Once you buy the windshield, you have up to 30 days before you can return or exchange it. It's worth noting that you should keep the protective film on the windshield until you are sure you are happy with the product and won't be returning it.
5. Kolpin Full-Hinged Windshield
Kolpin is one of the biggest names in ATV and UTV accessories, so it's no surprise to see the brand offers a Kawasaki Mule windshield. What is unique about this design is that the bottom portion of the windshield can be folded out to give you access to the under-hood compartment. Just keep in mind it's not supposed to be driven when open...it's just for access. Installation requires no drilling at all and you can remove the windshield without tools. The windshield itself uses hard coated, abrasive-resistant polycarbonate with scratch-resistant finish and it is held in place with injection molded c-clamps. This particular windshield fits Kawasaki Mule 4000 and 4010 models, but Kolpin also makes versions to fit the Mule 600 and 610.
6. Kawasaki Mule Pro-MX Vented Windshield
Vented windshields are popular because they allow you to let in a small amount of air when you want it. This can be great for hot days, or when you need to get some air circulating to knock the fog off the inside of the windshield. This vented Kawasaki Mule Pro-MX windshield is made from hard-coated ¼-inch polycarbonate with a pair of sliding vents to help control airflow into the cab. The vent is positioned to allow great airflow without allowing in too much dust, rain or snow to get into the cab and making things miserable for you and your passengers.
7. Best Budget Option: Kemimoto Kawasaki Mule 610 Windshield
The Kawasaki Mule 610 is a small, economical UTV designed to serve as a compact utility machine around the farm or worksite. There were plenty of 610s sold over the years and there is a strong demand for them on the used scene, too. Owners of the 610 will be happy to own this simple, inexpensive windshield option for the machine. It is made from an easy-to-install 600 Denier nylon fabric frame that attaches to the roll cage. The actual windshield is a durable PVC film material. The windshield can roll up when not needed, or can be vented with a zippered opening. The best part is the price - about $60! Is it going to be as durable as a polycarbonate or glass windshield? No, but for simple uses, the price of this Kawasaki Mule 610 windshield is hard to beat.
Recent Updates
May 21, 2021: Added the Direction 2 full-tilt windshield to the list.
March 31, 2021: Added the Kolpin full-hinged windshield.
We are committed to finding, researching, and recommending the best products. We earn commissions from purchases you make using the retail links in our product reviews. Learn more about how this works.
Can I get a glass windshield for my Kawasaki Mule?
You can, however the best options for a glass Kawasaki Mule windshield would honestly come direct from the dealership, as the aftermarket is rather slim pickings for most Mule models. For utility work, and most applications, the hard-coated polycarbonate windshields are just as well as any glass option, and the cost savings are significant to the tune of hundreds of dollars. If we were in the market foAdd Newr a Mule windshield ourselves, we'd look at one from the above list. Derrek Sigler
Derrek's love for all things ATV started when he was a mere 11 years old, growing up on his family farm. His mom gave him and his sister a choice - get a horse, or a three-wheeler. The sister wanted the horse, and Derrek wanted the ATV. Luckily he won out, and was soon burning up the trails on a Yamaha Tri-Moto 200. By the time he was 14, he had saved enough of his own money by working on the farm and in his folks restaurant to buy a new 4-wheeler. That happened the day he and his mom were driving past the dealership and saw 1987 Banshee. His mom had no idea what he was buying, and he never looked back. He's been riding ever since, and been writing professionally for many years. He has ridden all over North America and been behind the controls of just about every machine out there. And yes, he still has his 1987 Yamaha Banshee.
More by Derrek Sigler
Published May 11th, 2020 3:23 PM
Top Brands
Popular Articles