2 Views
August 25th, 2021 2:13 PM
Share
We're committed to finding, researching, and recommending the best products. We earn commissions from purchases you make using links in our articles. Learn more here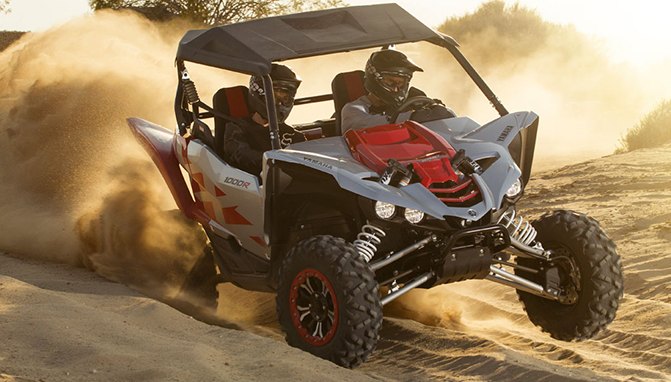 Give your UTV an upgrade in looks and strength with some of the best wheels in the business
Whether you're looking for a UTV wheel with better-than-stock performance on the trail, or you just want to give your machine a nice image boost, you can't go wrong with Method UTV wheels.
The Method Race Wheels brand is one of the absolute best-known and most trusted brands in the durable, high-performance off-road wheel space. Designing, developing, and distributing an elite line of off-road racing wheels for trucks and powersports vehicles from their California headquarters, Method's slogan is "Lighter. Stronger. Faster." They're not just blowing smoke, either; Method Race Wheels has extensive motorsport experience, subjecting their own designs to grueling off-road competitions and continually honing their craft along the way.
All this is to say that if you're looking for an outstanding set of strong, high-performance wheels for your UTV, Method UTV wheels should be some of the first ones you consider.
Here, we've rounded up the best Method UTV wheels on the market, with a mix of beadlock and non-beadlock options, covering a range of price points. Somewhere on this list is the perfect set of Method UTV race wheels for your machine.
1. Editor's Choice: Method 401 UTV Beadlock Wheel
If we could pick just one wheel that best exemplifies Method's relentless pursuit of off-road performance and strength, it would be the Method 401 Beadlock Wheel. Made from solid A356 aluminum with a T6 heat treatment, the 401 is rated for a staggering 1,600 pounds of load – far more than your typical aftermarket UTV wheel. A forged 6061 beadlock ring with zinc-plated Grade 8 hardware gives you genuine beadlock capability so you can air-down for the trail without having to fret popping the tire bead off the rim, and the 401 flaunts cool, brawny good looks with a large wheel center and 12 tapered spokes. Available finishes include matte black, titanium gray, and machined aluminum.
2. Best Non-Beadlock Wheel: Method 411 UTV Bead Grip Wheel
The Method 411 UTV Bead Grip Wheel is a standout among Method UTV race wheels for two reasons: it's the least expensive model in the Method UTV wheels lineup, and with 16 slender arched spokes, it's arguably one of the most intricate-looking UTV wheels the company makes. Available with a matte black finish, or sometimes a more elusive gloss titanium one, the Method 411 rocks the same T6 heat treatment and A356 aluminum construction as the 401 Beadlock wheel, contributing to its equivalent 1,600-pound load rating. The inner lip is reinforced for extra strength – a little trick borrowed from Method's genuine motorsport wheels – and while it lacks a beadlock ring, the 411 does have patented Bead Grip® technology, which keeps a strong hold on the bead for extra security when aired down.
3. Method 405 UTV Beadlock Wheel
Method UTV beadlock wheels are marked by their superior durability and rugged good looks, and the Method 405 UTV Beadlock Wheel is no exception. With a forged 6061 aluminum beadlock ring, zinc-plated Grade 8 hardware, and a reinforced rim lip, not only is the Method 405 rated for up to 1,600 pounds of load – it's also over-engineered to the extent that it exceeds SAE 2530 specifications. Translation: it's one heck of a tough wheel. The 405 is a real looker, too, with a pointed star split-spoke design and a choice of either matte black or bronze finishes, either of which would look stunning on any high-performance UTV. One of the more expensive Method UTV wheels on the market, a set of Method 405s isn't exactly cheap, but with wheels as with anything else, you often get what you pay for.
4. Method 401-R UTV Beadlock Wheel
Looking for a set of genuine Method UTV race wheels? Then the Method 401-R is for you. Related to the regular Method 401, the 401-R features a similar 12-spoke design and available low- and high-offset versions so you can keep your suspension geometry just how you like it. More impressively, the Method 401-R has an impressive resume, adorning genuine pro racing machines including Rhys Millen's Jackal and Polaris RZRs piloted by the likes of Branden Sim, Justin Lambert, and Kaden Wells. They were even the wheel of choice for Polaris's factory racing UTV that competed at Dakar. With T6 heat-treated A356 aluminum construction and Method's V.2 forged beadlock ring, which delivers improved strength and less deflection than its predecessor, a set of 401-Rs aren't just the best Method UTV beadlock wheels money can buy; they're among the highest-performance UTV wheels available from any manufacturer.
5. Method 407 UTV Bead Grip Wheel
As popular as Method UTV beadlock wheels are, there are a couple of very good reasons to forego beadlock rings on your next set of Method UTV wheels: less weight, and a lower purchase price. And as Method's non-beadlock wheel options go, the Method 407 is one of the best. With Method's patented Bead Grip® technology and a bead seat "safety hump" to help prevent de-beading even when aired down, the Method 407 has been developed for "the rigors of cross country/rally raid and desert races," according to the manufacturer. That helps explain the sharp, classic rally racing-inspired 16-spoke design and solid A356 aluminum construction with a racing-derived reinforced wheel lip. Method's usual matte black finish is available, but the 407 boasts a more exciting, elusive option, too: Bahia Blue.
6. Method 409 UTV Bead Grip Wheel
If slinky, sexy, racy good looks are your cup of tea, the Method 409 is your kind of wheel. Taking after some of today's sleekest, most open street performance wheel designs with ten super slender spokes and a full view of your UTV's braking equipment, the 409 is inarguably one of the prettiest Method UTV wheels. But just because it skews a bit "minimalist" does not mean that the Method 409 is any weaker for it; the model still boasts a tough 1,600-pound load rating with T6 heat-treated A356 aluminum construction, a reinforced inner lip, and innovative Bead Grip® technology. And with available matte black and steel gray finishes, you might just fall in love the first time you lay eyes on it.
Should I Go Bigger or Smaller with My UTV Wheels?
As you shop for new UTV wheels, you may start to notice that you have a choice when it comes to wheel diameter; generally, UTV wheels can be anywhere from 12 to 16 inches across. Method UTV wheels fit into a narrower range, all measuring either 14 or 15 inches in diameter, but still, the question might remain: is it better to opt for a bigger or smaller wheel size? That all depends on your UTV model and your performance goals.
Generally, you aren't going to want to bother dipping below the factory wheel diameter; manufacturers often fit the smallest wheels they can while leaving enough room for the brakes. Consider your factory wheel size your default minimum diameter whenever you're shopping for new wheels. Why would you stick to the minimum? It's simple: smaller-diameter wheels are generally less expensive, seeing as they require less raw material to produce and cost ever-so-slightly less to ship. They also tend to be lighter in weight and ditching excess wheel weight is especially beneficial because it helps not only reduce unsprung mass, helping optimize your suspension's reaction time, but also rotating mass, which makes braking, acceleration, and turn-in more immediate.
That said, there's one big reason why you might choose bigger wheels, beside the way they look: it opens you up to larger tires. Tire manufacturers will only go so tall with their sidewalls, so the larger your wheels, the more big-diameter tires will be available for you to run. Larger tires can bring a tremendous boost in off-road performance, raising your ride height and expanding your contact patch for more traction at each corner. They also roll more easily over objects on the trail, although they can impair acceleration by effectively making your UTV's gearing taller than stock.
So which size of Method UTV wheels – or any UTV wheels, for that matter – is right for you? We recommend figuring out what size tires you want to run first, and then seeing which wheel diameters those tires can fit.
Additional Resources
Become an ATV insider. Get the latest news first by subscribing to our newsletter here.
We are committed to finding, researching, and recommending the best products. We earn commissions from purchases you make using the retail links in our product reviews. Learn more about how this works. Aaron Brzozowski
Aaron is a freelance writer, videographer and car enthusiast based out of the Detroit area. He has a special affinity for the Porsche 944 series, and once owned a Volvo 240 sedan with a Weber carb in place of the factory EFI system. His work has appeared on AutoGuide, GM Authority, /Drive, and VW Vortex, among other sites.
More by Aaron Brzozowski
Published August 25th, 2021 2:13 PM
Top Brands
Popular Articles