28 Views
Best Polaris RZR Bumpers For Added Protection
May 19th, 2021 5:48 PM
Share
We're committed to finding, researching, and recommending the best products. We earn commissions from purchases you make using links in our articles. Learn more here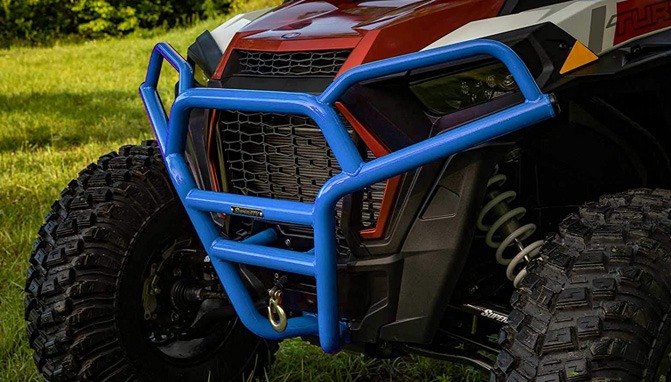 Beef up your front end protection with these RZR bumpers
A Polaris RZR is a big investment and it is worth protecting. To help you get started, we've put together a list of the best Polaris RZR bumpers available today.
No side-by-side is immune from trail hazards, but with the right bumpers, you can give your Polaris RZR a bit of extra protection from trees, rocks, and whatever else you're liable to run into. The market is full of well-built protective bumpers that wrap over and around your UTV's grille and headlights to deflect impacts and keep your radiator intact and your lights illuminating the trail. Nearly all of them are made from steel – a stamped sheet, mandrel-bent tubing, or some combination of the two – and finished with paint or a powdercoat finish to ward off rust, for years of faithful service.
Yet not all Polaris RZR bumpers are created equal. Some offer protection over a larger surface area than others, and certain designs and mounting strategies are more resilient to impacts. How can you be sure you're getting the best bumper for your money?
That's where we come in. We've put together this list of the best Polaris RZR bumpers on the market, to help furnish you with some vetted, trustworthy options when it comes to selecting the right protective bumpers for your UTV.
1. Editor's Choice: SuperATV Heavy Duty Front Brush Guard for RZR XP 1000
What we love most about SuperATV's heavy duty front brush guard for the RZR XP 1000 and XP4 1000 can be summarized in one word: customization. This brush guard is one of the most customizable Polaris RZR bumpers on the market, with a total of five colors available: Orange, Red, Velocity Blue, Lime Squeeze, and Black. That gives you more control over your UTV's appearance, before you even start getting into the nearly infinite selection of auxiliary lights you can mount to it. Besides that, it provides ample protection for your side-by-side with 1.75"-wide steel DOM tubing with a sturdy 1/16" wall thickness, and a shape that extends over your grille and headlamps. There's even a matching rear bumper available, with the same tubing specs and identical color options, designed to cover the XP 1000's vulnerable rear plastic bodywork and taillights. What's not to love?
2. Best Budget Option: Tusk Impact Heavy Duty Bumper
If your budget is a little tighter, Tusk is well known for making a wide variety of UTV accessories that are a little easier on the wallet. The Tusk Impact Heavy Duty bumper is no exception.
Made of 1.5" tubular steel, the Tusk Impact bumper is designed to bolt to in to the bumper mounts already on your RZR. It also comes standard with a 1/2" thick steel recovery loop, lightbar tabs to make adding accessory lighting a simple job, and CNC machined aluminum end caps. And you get all this at a price point considerably lower than anything else on our list.
The Tusk Impact bumper is designed to fit on RZR 900, RZR XP 1000, and RZR XP Turbo models, but be sure to check to see if it fits your RZR before you buy.
3. Best Rear Bumper: 50 Caliber Racing
While protecting the front end of your Polaris RZR is paramount, don't forget to look after your 6. The 50 Caliber Polaris RZR rear bumper will do this just...and look good in the process.
Made of beefy 1.75" steel tubing that is .095" thick, the 50 Caliber bumper means business. It is also a bolt-on design, so no cutting or drilling is necessary during installation. The bumper comes standard with CNC machined end caps and covered in a durable powder coat with multiple colors available.
Hand built in the United States, the 50 Caliber rear bumper will fit 2014-18 RZR XP 1000 and 2015-18 RZR XP Turbo models.
4. Polaris Desert Front Bumper for XP 1000/XP4 Turbo
We can hardly talk about Polaris RZR bumpers without mentioning the brand's own excellent factory options – like this Desert front bumper for the RZR XP 1000 and XP4 Turbo. It doesn't offer quite the same level of coverage as SuperATV's tubular steel bumpers, but the construction is just about unparalleled, with steel tubing that's fully e-coated and powdercoated for the utmost rust protection. What's more, because it's made by Polaris, you can count on this bumper bolting right up and preserving all factory functionality, while providing full protection for the grille and guarding your headlamps against most of the threats they're likely to encounter.
5. Wild Boar Front Bumper for Polaris RZR 570/800
One of the best Polaris RZR bumpers available for older 570 and 800 series models, the Wild Boar front bumper looks unlike anything else out there with its large-diameter central stinger, slim side stingers, and big "WILD BOAR" branding across the front of the bumper. It's every bit as tough as it looks, with rugged 10-gauge steel construction, a durable wrinkle black powdercoat finish, and internal support beams specifically aimed at providing proper winch support, good for winches rated up to 5,500 pounds. That's more pulling power than you're probably ever going to need on your RZR, but a little overkill never hurt anything.
6. Dragonfire Racing Racepace Front Bash Bumper
Dragonfire Racing has been making aftermarket parts for ATVs and UTVs for many years now and you can bet it has the Polaris covered front to back. One product offering some excellent front end protection is Dragonfire's Racepace front bash bumper.
This bumper relies on rigid mounting points to take advantage of the strength of the factory frame. The bumper itself is built of 1.5" steel tube with billet end caps for some added bling. It also comes outfitted with a laser cut light mounting plate, so you can easily add on an aftermarket light bar. Dragonfire Racing even used the same the powder coated red color that Polaris uses, so it is a perfect visual match.
Installation should be a pretty simple task as this bumper uses a bolt-on setup with no cutting, drilling or welding necessary. As for fitament, the bumper is designed to fit all 2014-19 Polaris RZR 1000 models, as we as several other iterations.
7. Bad Dawg Front Bumper with Winch Mount for Polaris RZR 570/800
Have the Polaris RZR 570 or 800 series model? You can get the same frontal protection from Bad Dawg with this stamped steel front bumper with winch plate. It features the same sharp-looking black powdercoat finish and aggressive, angular design, with a bull bar available as a bolt-on accessory. Even without the bull bar, however, you're getting some of the best radiator protection available, and a winch plate that makes it easy as pie to install your favorite UTV winch. There are even integrated tow hooks for easy recovery should you choose to run without a winch.
8. SuperATV Front Brush Guard for RZR 900/RZR 4 900/RZR S 900
For the Polaris RZR 900 and RZR 4 900, there's this equivalent piece from SuperATV, available in three colors: Orange, Velocity Blue, and Black. It offers the same outstanding protection as SuperATV's front brush guard for the XP 1000 series, with bent 1/16"-wall steel DOM tubing that's designed to protect your RZR's grille and headlamps from impacts, and a durable, UV-resistant powdercoat finish to defend against scratches. To paraphrase Yoda, scratches lead to exposure; exposure leads to rust; rust leads to suffering. Best to keep it at bay.
Recent Updates
May 19, 2021: Added the Tusk Impact, Dragonfire Racing Racepace, and 50 Caliber rear bumper to the list. Also added some FAQs.
Additional Resources
We are committed to finding, researching, and recommending the best products. We earn commissions from purchases you make using the retail links in our product reviews. Learn more about how this works.
What is the difference between a brush guard and a bumper?
You will often see "brush guard" and "bumper" used to describe very similar looking products, but technically there are differences. In fact, brush guards are supposed to be additions to a bumper to provide some additional protection to your headlights and radiator from passing branches and other trail debris. However, a brush guard is not typically designed to provide any real protection in the event of a hard collision.
Is a rear Polaris RZR bumper worth buying?
A front bumper on your RZR will definitely stand out and offers some obvious protection from mistakes you might make on the trail. And while you (hopefully) shouldn't be backing into any trees while you ride, a rear bumper can come into play if another rider isn't paying attention and makes contact with the back end of your RZR. Aaron Brzozowski
Aaron is a freelance writer, videographer and car enthusiast based out of the Detroit area. He has a special affinity for the Porsche 944 series, and once owned a Volvo 240 sedan with a Weber carb in place of the factory EFI system. His work has appeared on AutoGuide, GM Authority, /Drive, and VW Vortex, among other sites.
More by Aaron Brzozowski
Published October 29th, 2020 12:26 PM
Top Brands
Popular Articles