1 View
Best Polaris RZR Seats For Added Comfort and Style
April 15th, 2021 11:59 AM
Share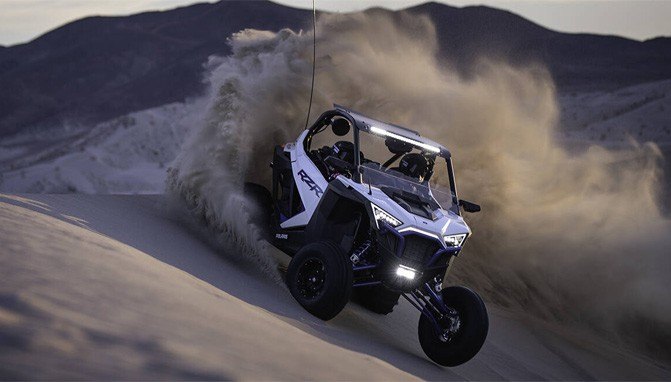 Increase the comfort and style of your Polaris RZR by upgrading with these popular RZR seats
The Polaris RZR is considered to be one of, if not the best, high-performance UTVs on the market, so why wouldn't you want a quality set of RZR seats to match? It doesn't matter if you're a weekend warrior or a seasoned racer, making a simple change like upgrading your RZR seats can make a huge difference in comfort when you're behind the wheel. In addition to increased comfort, new seats provide an additional level of customization with different configurations and color options allowing you to infuse your own style into your Polaris RZR.
We get that it can be overwhelming to look for the most basic of basic parts for your Polaris RZR and finding the perfect RZR seat isn't any different. With so many options on the market, where do you start? Do you need a rigid fiberglass seat or a suspension seat? Bucket or bench? We're here to help you make the process of finding the right RZR seat easy with a variety of options from popular and well trusted brands that you're likely already familiar with.
Sit back relax and let us simplify the process of finding the right RZR seat for you.
1. Editor's Choice: PRP RZR Seats
This PRP seat is a little wider than the stock RZR seat. It has a nylon-coated suspension liner, giving your butt a little more give when dealing with gravity while on the gas. The seat has thick, dual-density foam for comfort, while the extra width is designed to keep you planted in the same place in the seat as you ride, instead of sliding around on the seat. The side effect is that, in the event of an accident, you will stay planted in the seat and experience more safety. These PRP RZR seats will work with multi-point seat belt harnesses, as well as the stock seat belts.
Pro Armor is another company known for high-quality products. In fact, Polaris owns Pro Armor, but the company still makes products for other brands. The Pro Armor RZR seat is similar to the PRP, in that it is wider than stock with a built-in suspension system for your butt and back. It is covered in durable, thick UV-resistant vinyl and it bolts right on using stock hardware. These RZR seats also accept aftermarket harnesses, or the stock seat belts. You can also select various color options for a cool look.
This pair of front suspension RZR seats has a slot built in for a 5-point harness. These seats have a quilted backing and an internal suspension system with highly bolstered seat bases for security and comfort. They have plastic, molded inserts for the headrest seat belt slots. They use the stock hardware, and will fit most RZR models, but older models will require an adapter kit. Being a two-pack, you actually get a great deal on a pair of quality seats.
The Simpson Vortex seat is designed to allow easy entry and exit of your RZR while still providing the support and protection you'd expect from a high-quality performance seat. This recommendation mounts to the factory seat slider, but will require specific mounts to fit it to your particular RZR model. Like most aftermarket seats, the Vortex RZR seat will accommodate 5-point harnesses, or it can still be used with the factory seat belts.
The Beard RZR seats are wrapped in marine-grade vinyl for longevity but they don't just stop there. A lot of time went into making these seats fit your body great and add support where needed, while still making them look great, too. The way the back is formed allows for full mobility while still supporting your back in the spots that need support. The notched seat makes the seat easier to remove, but at the same time allowing extra comfort for larger riders with the seat belt. Multiple color options let you customize the look of your machine, too.
6. Best Racing Seat: Sparco QRT-R Series Racing Seat
If you want the feel of being strapped into a cockpit, adding a Sparco QRT-R Racing Seat might be the perfect RZR seat upgrade. This fiberglass molded seat is popular for racers and recreational drivers alike with features like cutouts for 4 and 5-point racing harnesses, removable fabric cushions/covers and an aggressive design that snugly holds drivers and passengers securely in place. It's the most expensive seat in our list, but if you're looking for the ultimate in comfort and safety, Sparco seats has you covered. Unlike other seats in this list, the Sparco QRT-R Racing Seat requires special mounts that are not included with the seat.
7. NRG FRP-300 Fiberglass Bucket Seat
The NRG FRP-300 Fiberglass Bucket Seat is another great option as a high-performance RZR seat replacement. The FRP-300 provides great lumbar support and comfort from the seat cover and strategically positioned padding, has cutouts to accommodate 4 and 5-point racing harnesses and is affordably priced when compared to other fiberglass seats in this category. Like most other rigid RZR seats, the NRG FRP-300 also requires additional mounting hardware to be installed in your Polaris RZR.
8. Best Bench Seat: UTV Mountain Accessories Rear Bench Seat
This is a bit of a departure, but if you want something a little different this rear RZR bench seat from UTV Mountain Accessories will definitely stand out. Not only is it a bench seat design, but it also allows for three people as it is outfitted with three four-point harnesses. One word of caution...if you are putting three people in the back, it's going to be a tight squeeze. This is not where you want to put the the 6'3", 225-pound passengers, unless you really want to put the squeeze on whoever gets stuck in the middle. This 45-inch wide seat is wrapped in vinyl and comes with sewn-in harness pads with chest buckles.
This will fit 2014-2021 RZR 4 900 and RZR 4 1000 models, including S, Turbo, and Dynamix variants. However, it will not fit in the RZR 4 Pro models.
Recent Updates
April 15, 2021: Edited some text for clarity, added the rear bench seat from UTV Mountain Accessories.
We are committed to finding, researching, and recommending the best products. We earn commissions from purchases you make using the retail links in our product reviews. Learn more about how this works.
Do aftermarket Polaris RZR seats make much difference?
There are several reasons to swap out the seats in your RZR. The most important reason has to do with comfort. Stock seats are great and were designed to fit a wide range of riders, but they can't fit everyone perfectly. Aftermarket options are available that offer more padding in select spots, suspension systems in the seat base for aggressive riding and overall better support for racing applications. Another reason is simply the look. If you're going for a cool, custom build, you will want seats that match the look you're going for. Either way, there are seats available to fit whatever you need from your machine.
Do suspension seats really help?
Suspension seats add a bit of extra travel to your overall feel when you hit a bump, or land a jump. The seats have some give in the seat base that absorbs some extra impact to your tailbone region and that can help with aggressive driving. These types of seats tend to offer a more comfortable ride for going fast, but aren't as soft as those seats with additional padding, so it mostly comes down to personal preference.
Which are better? Suspension seats or fiberglass (racing) seats?
Both have their advantages, but the main difference is comfort. If you're more of a recreational rider enjoying trails or dunes, a suspension seat will likely be more comfortable by providing an additional level of give during harsh impacts. It's because of this you may find yourself having to adjust your seat belt/racing harness more often. With a fiberglass (racing) seat, you might get more feedback through the seat to your body, but you'll also feel much more secure in the seat.
Published February 3rd, 2021 3:58 PM