33 Views
Best Riding Gear for Sand Dunes
May 25th, 2021 12:07 PM
Share
We're committed to finding, researching, and recommending the best products. We earn commissions from purchases you make using links in our articles. Learn more here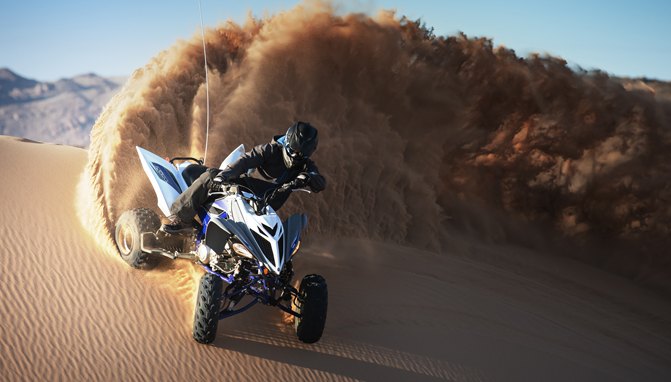 Pick the right gear to enjoy the sand the fullest
There are two main reasons to take the time to dress properly for a day of riding in the sand dunes – safety and comfort. Not adhering to those two tenants can ruin your day, your riding season and much more if you're not careful. But have no fear! We're here to give you some helpful pointers that will help make your dune-shredding fun and comfortable as well as safe.
We've put all of our dune experience to good use to help you find the best riding gear for sand dunes. This gear will not only help you stay cool, but you'll look cool, too. We promise!
Table of Contents
You always see people out riding in the dunes, with sunglasses and a backwards baseball cap on. They're having fun and ripping around. You may be tempted to join them and not wear a helmet. Don't do it. Yes, it is sand and it is kind of soft. Trust me when I say that at speed, it's not soft. And just because your UTV has a roll cage, don't think that is enough protection. How would your head feel if you hit it against that roll cage? Or the dash? When you hear about fatalities from accidents, you rarely hear them say, "They had to pull his helmet off."
You also don't have to be hot. There are several amazing helmets out there with outstanding ventilation that will help keep you cool. The LS2 Subverter helmet has about as many vents as we've ever seen, while air channels in the EPS help keep that cool air flowing while also action as a crumple zone for improved safety in case of a crash. Add in 3D laser cut cheek pads that promise no hot spots and you've got a lid that will be comfortable to wear all day.
2. 100% Accuri 2 Sand Goggles
Ever get sand in your eye? It sucks, doesn't it. Now imaging you're flying down a dune at 60+ mph, and you get roosted by someone traveling at a higher speed? That little piece of sand is now a silica-based bullet that just imbedded itself into your cornea. Always wear eye protection and the best route is a pair of goggles.
Our favorite specs for the dunes are the 100% Accuri 2 Sand goggles. These goggles feature a closed cell foam designed to keep out even the smallest sand and dust particles. The frame is made of flexible urethane and it fits over eye-glasses (a bonus for us four-eyed riders).
3. Fox Racing Airline Jersey
There are a bunch of reasons to wear more than a tank top when in your UTV. And if you're on an ATV, that list grows. First, for 89% of us, no one wants to see you in a tank top. Seriously though, a long-sleeve shirt is a better option for safety. Plus, it'll help reduce the risk of sunburn. And remember what we said about sand in your eye? Well, it'll hurt your skin, too.
A vented jersey is a smart move. It'll give you the protection you need, and still keep you cooler than a thicker jersey. The Fox Racing Airline jersey helps keep you cool and dry with its TruDri moisture-wicking fabric and vented mesh panels. It's the perfect companion for a day of dune riding in the hot sun.
4. Fly Racing Patrol Pants
I know – it's hot. But wearing shorts while you ride is, again, asking for trouble. If you're in a UTV, you don't really need to wear motocross-style pants to be covered. But if you are on a sport ATV, we do recommend pants with some protection. The Fly Racing Patrol over-the-boot pants are, in our experience, a little more comfortable and less confining than most riding pants and they are outfitted with mesh ventilated liner and large, zippered vents to help keep you cool. The durable 900D polyester construction will last for years and help provide some protection in case of a get off.
By now you can probably guess that I'm going to tell you that flip-flops and your ATV or UTV don't mix. Wearing a sturdy boot that goes up over your ankle is really the only smart choice for safety. I can tell you about worse circumstances, but just imagine getting out of your ride to dig out after getting stuck because you somehow lost momentum. You're wearing flip-flops or sandals and while you're digging or pushing, you roll your ankle.
These Italian-made Forma Adventure boots look great, are comfortable to wear, and offer up a plenty of protection. We are particularly fond of the mid-height design, as some of the full-length off-road boots are a cumbersome to walk around in.
If you've ever gotten roosted by another rider in the sand, you know that getting a face full of sand can lead to you picking sand out of your teeth for the rest of the day. Wearing a dust mask while you ride ensures you aren't breathing in any of that sand. The ATV Tek dust mask is the most well known one in the industry and it boasts a performance filter sewn into the mask that blocks a claimed 99.5% of all dust particulates. Other features include a 3D Nosebox, upgraded nose clip for a better seal, and adjustable Velcro strap. Best off all...it's completely washable, so you don't to worry about buying replacement filters.
Recent Updates
May 6, 2021: Added the Forma Adventure boots and ATV Tek dust mask to the list.
Additional Resources
We are committed to finding, researching, and recommending the best products. We earn commissions from purchases you make using the retail links in our product reviews. Learn more about how this works. Derrek Sigler
Derrek's love for all things ATV started when he was a mere 11 years old, growing up on his family farm. His mom gave him and his sister a choice - get a horse, or a three-wheeler. The sister wanted the horse, and Derrek wanted the ATV. Luckily he won out, and was soon burning up the trails on a Yamaha Tri-Moto 200. By the time he was 14, he had saved enough of his own money by working on the farm and in his folks restaurant to buy a new 4-wheeler. That happened the day he and his mom were driving past the dealership and saw 1987 Banshee. His mom had no idea what he was buying, and he never looked back. He's been riding ever since, and been writing professionally for many years. He has ridden all over North America and been behind the controls of just about every machine out there. And yes, he still has his 1987 Yamaha Banshee.
More by Derrek Sigler
Published October 18th, 2018 10:43 AM
Top Brands
Popular Articles