7 Views
Big Tool Rack ATV Sport Rack
November 18th, 2016 5:10 PM
Share
We're committed to finding, researching, and recommending the best products. We earn commissions from purchases you make using links in our articles. Learn more here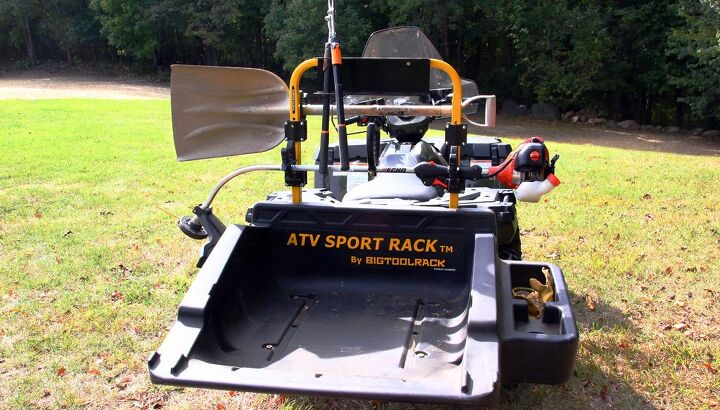 The ultimate organizer and storage device for your ATV or UTV
Last year our sister site, Tractor.com, tested the original Big Tool Rack tractor accessory and were suitably impressed. Now there's a Big Tool Rack designed for ATV and UTV applications.
The original, and still available, Big Tool Rack mounts a 45" x 25-1/2" bed with folding tailgate and 600-pound carry capacity on a tractor's three-point hitch. It has available carriers/holders for every conceivable tool, optional legs to make it a HD portable workbench, available side hoops to allow stacking of a quarter cord of wood, and added a 2" receiver hitch to the rear of the tractor.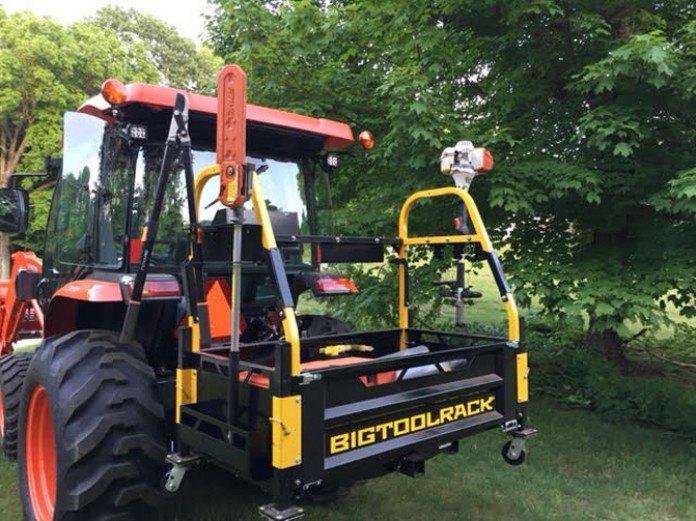 The original Big Tool Rack
The added versatility was pretty impressive, with the marketplace responding as expected. The price-point, though, proved too much for some, along with the original model being a little large and heavy for smaller lawn and garden tractors. Enter two new models, one for ATV/UTV use and another for tractors.
Big Tool Rack founder Tim Descoteaux right from the very beginning knew a lighter, less expensive, but still versatile carrier would need to be part of his product lineup. For the lightness, a plastic of some sort would have many advantages, but the challenge was finding the right vendor and absorbing the upfront mold cost. The vendor came courtesy of the need to keep up with original model orders and the shifting of production to a Canadian manufacturer. That relationship led to another Canadian plastics rotomolder with extensive expertise with HDPE.
HDPE stands for high-density polyethylene, which is used in everything from milk cartons to automotive fuel tanks. HDPE is strong; a 2-oz. carton can carry a gallon of milk, is weather and chemical resistant, able to withstand temperatures to 248 degrees F (for a short while), and highly moldable. HDPE is also highly recyclable (look for the number 2 inside the triangle). Another advantage associated with the high strength of HDPE is the ability for an owner to drill and add a choice mounting hole for a specific tool they wish to carry. Big Tool Rack offers its standard lineup of clamps, brackets and tie downs for everything from chainsaws to lawn trimmers and shovels that fit the predrilled holes in the powdercoated metal hoop shared across model offerings.
ATV Sport Rack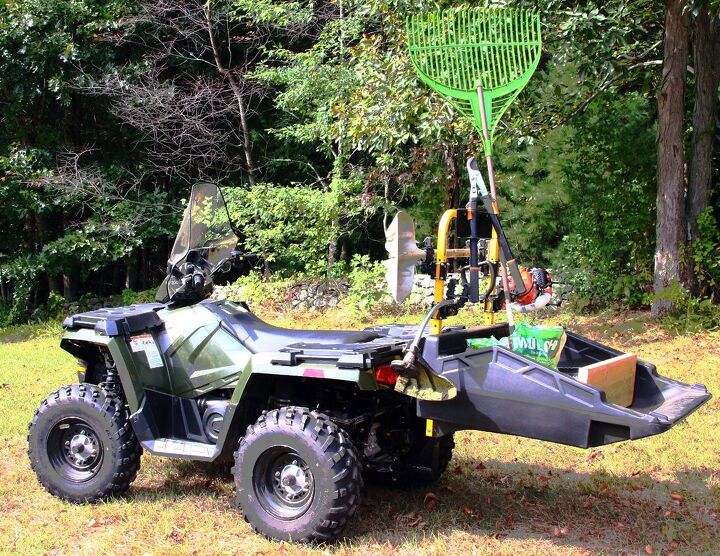 The ATV/UTV Sport Rack made from HDPE measures 46" wide by 43" deep and is 38" high. The 75-pound unit (80-pound shipping weight) mounts to the ATV/UTV using either a 1-1/4" or 2" receiver hitch. Carrying capacity is 100 lbs, so prospective owners should consult their ATV/UTV owner's manuals so manufacturer carrying weight recommendations are not exceeded. The basic carrier bed has molded-in ribs that allow an owner to insert a 2×8 or 2×10 board as an inexpensive divider/tailgate. There is also a convenient right side storage area with cup holder molded into the bed.
Descoteaux calls the upward slanted bed bottom a beavertail, which greatly aids in ground clearance when encountering slopes or driving up/down a ramp to a trailer/pickup. Drain holes are molded in for the bed and side storage, so water pooling will never be an issue. Cost for the basic rack (preproduction) is $479 and will be available beginning this month.
Big Tool Rack XP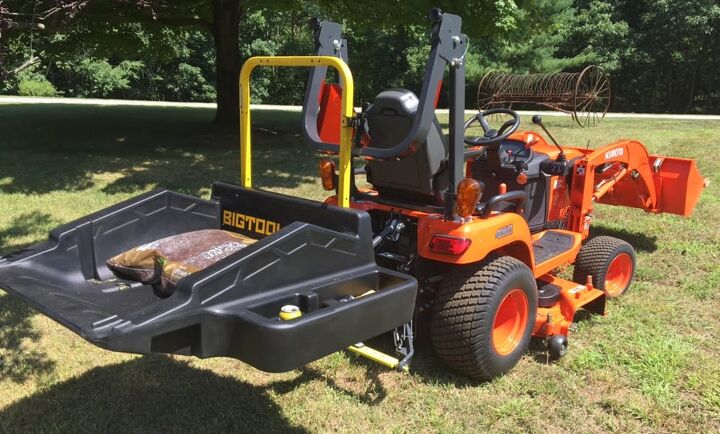 The XP model for tractors is available in two configurations. For smaller tractors, the XP is available in much the same setup as used for ATV/UTVs and attaches using it weight is again 75 lbs.
For tractors equipped with a 3PH, the XP HD 3PT model is the way to go. This model uses the same basic 46" W x 43" D x 38" H box/metal hoop, but mounts it to a HD frame with standard pins for a Cat-I tractor 3PH. Unit weight goes up by 34 lbs, but carrying capacity shoots up to 600 lbs. The HD framework also supports additional tractor ballast and can accept up to (6) standard 42-pound suitcase weights. With six weights (252 lbs) the XP HD 3PT can, in many instances, replace a factory ballast box for similar cost. And, the HD framework also allows for, and comes standard with, a 2" receiver hitch so the XP doesn't have to be removed to also haul around a small attachment such as a log splitter or small utility trailer. Cost for the basic rack (preproduction) is $499 and will be available beginning mid-month November 2016.
Descoteaux's vision with the Big Tool Rack family was for a solution to the question "We move boulders, firewood and mountains of snow with our tractors and ATV/UTVs, why can't our machines carry our tools, too?" We expect the two new offerings to be popular and round out a product line designed to make lives easier and more productive. For more information, contact http://www.bigtoolrack.com/. Published November 4th, 2016 3:08 PM
Top Brands
Popular Articles