61 Views
Fox V1 Helmet – Everything You Need To Know
August 10th, 2021 4:17 PM
Share
We're committed to finding, researching, and recommending the best products. We earn commissions from purchases you make using links in our articles. Learn more here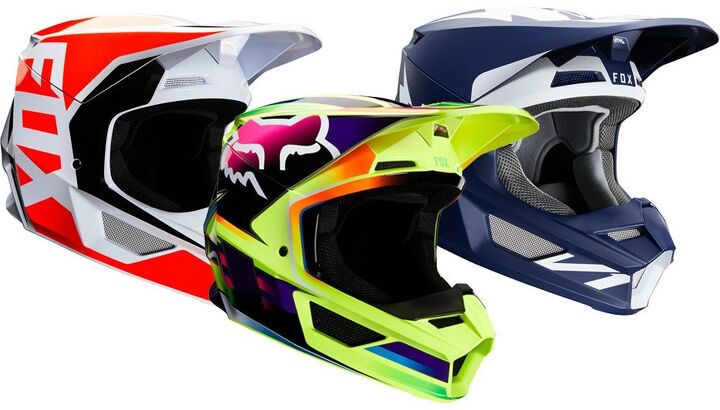 We take a deep dive into the popular and affordable V1 helmet from Fox Racing
The Fox V1 helmet is one of the most popular ATV helmets in the industry, we are taking a deep dive to look at features, sizes, user reviews and more.
If you value safety, no purchase you ever make will be quite so important as your helmet. It's one of few things you'll ever buy that you hope to never need. But with so many ATV helmets on the market, how can you be sure what you're putting on your noggin will protect you when you need it to? Enter our "Everything You Need To Know" series, which aims to arm you with as much information as you need to make an informed purchase. In this article, we'll take a look at the Fox V1 helmet, going over features, designs, available sizes, possible alternatives, and what real Fox V1 owners are saying about their helmets.
Table of Contents
The Fox V1 is the most affordable option in Fox Racing's off-road helmet lineup, but that doesn't mean it's short on quality – nor features. The shell is made of a strong, lightweight mix of polycarbonate and ABS plastic, which effectively disperses energy in a crash. Lining the inner Expanded Polystyrene (EPS) layer – the foam layer that crushes in a crash to absorb the blow - is a comfort liner and cheek pads that can be removed and washed to keep the inside of the helmet fresh and clean.
The Fox V1 boasts a total of nine intake and four exhaust vents, for what Fox Racing says is "best-in-class" airflow, to help manage moisture and maintain comfort. But probably the most advanced feature on the Fox V1 helmet is its Magnetic Visor Release System, MVRS, which safely releases the visor from the helmet in the event of a crash to manage rotational forces, while keeping it securely in place during normal use.
The Fox ATV helmets are available with a wide array of different designs, from the simple, understated look of the Fox V1 Matte, to the loud, frenetic styling of the V1 Yorr and V1 Gamma. All five designs come with the same great features and renowned Fox Racing quality, but with so many colors and design options, chances are strong you'll be able to find one that perfectly suits your tastes and personality.
Offered in black, blue, flame red, hot pink, and bright orange, the Fox V1 Prix helmet boasts the widest range of colors in the V1 design portfolio. Each color has sharp contrasting graphics in black or white, and the FOX name is printed vertically along either side of the helmet. Neither too busy nor too tame, the V1 Prix sits somewhere in the middle.
Available in white, navy blue, and bright orange, the Fox V1 Werd helmet is a cleaner, sleeker alternative to the Prix, with the FOX name printed in huge letters along the back, and "V1" printed along the jaw on either side. The graphics are rendered in contrasting colors – white on the navy blue helmet, and black on the bright orange one – but the white version gets arguably the coolest treatment, with FOX print and helmet-top graphics that fade from purple to pink.
The Fox V1 Matte helmet design is the most understated design in the lineup, with a matte finish in white, gray, or black, and simple Fox logo graphics. The graphics are even the same shade on the white and black V1 Matte designs, for an even more subtle look. The gray, or "Stone," V1 Matte is the only one with some contrast, featuring black Fox logos and a few matte brown accents.
The Gama is one of the more busy, vibrant designs in the Fox V1 helmet range, with color-shifting purple-pink side graphics with inset white Fox logos, multi-colored blocks and stripes along the jaw and helmet top, and color-shifting graphics around the face opening. It's available with white or yellow as a base color.
Perhaps the wildest Fox V1 helmet design is the Yorr, which is distinguished by its Japanese script graphics along the helmet sides and the big "FOXRACINGCO." font on the top of the helmet. It's available in a blue/red color scheme that looks decidedly "Speed Racer", with big blue, red, yellow, and black color blocks over a white backdrop, or a vibrant multi-colored scheme with splashes of orange and green alongside pink and purple color-shifting elements.
3. Available Helmet Sizes
The Fox V1 helmet is offered in five different sizes, designed to fit most any adult. Check out the chart below to see how the sizing works and what each helmet weighs.
| | | |
| --- | --- | --- |
| Size | Head Circumference | Weight (lbs) |
| S | 55-56 cm / 21 5/8 – 22 in | 2.75 - 3.00 |
| L | 59-60 cm / 23 1/4 – 23 5/8 in | 3.00 - 3.25 |
| XL | 61-62 cm / 24 – 24 3/8 in | 3.25 - 3.50 |
| XXL | 63-64 cm / 24 3/4 – 25 1/8 in | 3.25 - 3.50 |
4. Alternative Options: Bell MX-9 MIPS
Similar in price to the Fox V1 helmet is the Bell MX-9 MIPS helmet. "MIPS" stands for "Multi-Directional Impact Protection System" - a technology that's supposed to dramatically improve the helmet's ability to displace rotational impact energy. The shell is made of lightweight polycarbonate, and like the Fox V1, it features a removable, washable comfort liner for comfort and moisture control. However, the MX-9 MIPS lacks the V1's nifty magnetic visor, and it's available in just three sizes.
5. O'Neal 5 Series Helmets
Another option in the Fox V1's price class is the O'Neal 5 Series, which opts for an ABS shell instead of a polycarbonate one. It's designed to keep your head cool and dry with a plush, removable, washable liner that wicks away moisture, and multiple vents to supply cooling airflow. Available with a range of wild multi-colored, matte-coated graphic designs, including a couple inspired by fighter planes, the O'Neal 5 Series is arguably the most visually interesting helmet of the three.
The best way to get to know a product, shy of trying it for yourself, is to look at what real owners are saying about it. On that front, the Fox V1 helmet excels, garnering overwhelmingly positive reviews from users.
If there's one area where the Fox V1 falters, it's in its sizing; numerous customers have noted that Fox's sizing tends to run small, so that it's often best to go one size up, and more than one buyer was forced to return a helmet due to a poor fit.
But in every other area, the Fox V1 helmet has earned some hefty praise. Several reviewers have commented positively on its overall comfort and fitment, and more than one has praised its excellent visibility. One review we saw even went so far as to call the Fox V1 helmet the best motocross helmet available for the money.
And not that it will help you in the event of a crash, but multiple reviewers also raved about the Fox V1's appearance. Looks must count for something.
How do you measure your head to get a properly fitting helmet?
To ensure the best fit for your new helmet, your first step is to get a cloth tape measure or a long piece of string that you can use to wrap around your head. Start by putting the end one inch above your eyebrow line and centered between your eyes, then wrap around the circumference of your head. Do this a couple of times at varied angles to get the largest possible measurement and start from there. If you used a string, put that string up agains a yard stick or metal tape measure to get your needed measurement.
Once you have this done, you can compare your measurement to the sizing chart of the helmet(s) you're looking to purchase as a start. Because all heads aren't shaped the same, you may need to change some of the padding in the helmet for a proper fit. Ultimately you want the helmet to be comfortably snug all the way around your head, including the cheek pads providing firm, comfortable pressure.
Additional Resources
We are committed to finding, researching, and recommending the best products. We earn commissions from purchases you make using the retail links in our product reviews. Learn more about how this works.
Updated 8/9/2021: Updated product descriptions, added FAQ, Added additional resources Aaron Brzozowski
Aaron is a freelance writer, videographer and car enthusiast based out of the Detroit area. He has a special affinity for the Porsche 944 series, and once owned a Volvo 240 sedan with a Weber carb in place of the factory EFI system. His work has appeared on AutoGuide, GM Authority, /Drive, and VW Vortex, among other sites.
More by Aaron Brzozowski
Published August 19th, 2020 12:31 PM
Top Brands
Popular Articles