34 Views
GBC Motorsports Kanati Mongrel UTV Tire Review
May 25th, 2021 12:01 PM
Share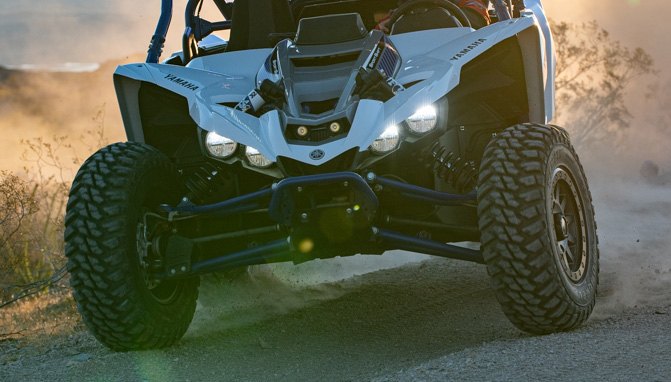 How does this all-terrain tire perform in the real world?
The GBC Kanati Mongrel is a solid all-around UTV replacement tire that offers up impressive tread life and high-speed handling.
It's inevitable – eventually you're going to wear out your stock UTV tires and need replacements. The big question is, which set of replacement tires do you buy?
There are many good answers to this question. We wanted to take this article a step further than a simple Buyer's Guide and test out one of the UTV tires that has been around the longest to see if it is still one of the best options around. The tire I'm talking about is the widely praised GBC Motorsports Kanati Mongrel.
GBC Motorsports has a plethora of ATV & UTV tire options, and its Kanati Mongrel is one of the original UTV aftermarket tires that is best known for longevity and all-around performance. This tire has a 10-ply radial construction, which means that it has 10 plies on the outer carcass to resist puncture from the sharpest objects in the trail. It is also DOT approved for anyone who is allowed to drive their UTV on the street from trail to trail. With a compact tread pattern and 16mm tread depth from the factory, there isn't much space to get sharp objects through to the surface of the tire. All of this means that this particular tire is going to have exceptional puncture resistance from rocks, roots, branches, and anything else looking to take a slice out of your fun.
To properly test out a performance-driven tire, we had to use one of the highest performing UTVs on the market – the Yamaha YXZ1000R. This particular vehicle may also have a sneaky GYTR Turbo Kit on it, which helped spin these Kanati Mongrel tires to near shredding speeds in a mere instant. Cue the fun-having, err tire testing…
As with any tire and wheel setup, weight is an important factor when we look at performance. The Kanati Mongrel tires we tested, which measured out to be 30x10R15 in size, weighed in at 34.5 pounds on the scale. Combined with the Icon Alloys 15" beadlock wheels, which weighed in at 22 lbs each, this complete tire & wheel setup put us at 56.5 pounds. This is about middle of the road when it comes to a tire/wheel setup, and it's pretty good for beadlocks. For comparison's sake, the stock beadlock wheels on the YXZ weigh in at 51.5 lbs (with the larger rear tires), so this GBC/Icon setup is comparable but heavier for sure. A more dense tire tread pattern and 2 extra plies contribute to this higher weight.
We wanted to test a 30" tire because that is such a common offering in the marketplace, and this is the largest tire that you can put on a stock YXZ1000R. When mounted on Icon Vehicle Dynamics' new Icon Alloys UTV Compression wheels, which are beadlocks and easy to put together yourself, this setup is built to take on the harshest of terrain at whatever speed you can handle. Some of you might not want to put these tires and wheels together yourself, but you can rest assured that if you want to put these together in your garage like I did, then it takes a bit of soap, a couple of valve stems, a torque wrench to tighten all of the beadlock bolts (20 lb-ft is where I put these), and an air compressor. The process takes about 45-55 minutes per tire to get all of the beadlock bolts to a consistent torque rating – the trick is to do this in a star pattern to get everything consistent.
Upon mounting up these tires, I noticed several beneficial things that GBC built into this tire. First and foremost, the Kanati Mongrel has a deep rim guard built into it. This means that the outer sidewall of the tire extends over the rim, thus protecting the top lips of the rim from rocks, roots, and any other item that could potentially snag the rim and bend or break it. The consistency of the tire sizes, especially when I'm referring to the inner diameter of the tire bead and how it fits onto the 15" rim, was also much appreciated. GBC has been making tires for a long time, and the consistency shows.
Once we had these GBC's mounted up to our YXZ, it was time to hit the desert and mountain trails to see how these would do compared to the stock setup. Initially, I noticed the round profile that the Kanati Mongrel tires have when aired up. When out on the trail, my first thoughts about this tire being a predictable and confidence-inspiring tire came true, and I was pleasantly surprised with how this tire handled in a variety of different terrains.
The GBC Kanati Mongrel excels in the hard pack terrain. The stability is exceptional when you fling the back end into corners and want it to stick without over-rotating on you like some of the flat-top profile tires will do. The predictability of the Kanati Mongrel is exceptional, too – it goes where you want it to go when you want it to go there. The tire doesn't roll over on you and bite when you want it to keep sliding. It just handles like you want it to without any quirks, which is really refreshing. I also found that this tire was pretty sticky in the rocks, even with the tight spaced lugs. With 4WD engaged, the YXZ was able to easily gain traction on loose rocky sections and up inclines.
This Yamaha YXZ1000R was also the perfect vehicle to test out these tires because of the high horsepower of the GYTR Turbo. When we generally evaluate UTV tires, increased wheel speeds in a desert and rough environment lead to chipping of tires very quickly, even after just 50 or 100 miles. I've now put a couple hundred test miles on the Kanati Mongrel test tires and they are showing very little wear, even on the back tires after leaving it in 2WD for an extended period of time and using a heavy right foot at every opportunity. The resistance to tread wear, combined with the predictable handling, are great features of the Mongrel. I definitely don't want to be buying tires every 1000 miles, and the Mongrel has excellent tread life. The high speed stability of this GBC setup also shined. Going 60+ mph was no problem all day long, and I found that braking performance was also plenty adequate for the Kanati Mongrel. I never had any "oh crap" moments when slowing down for corners.
At the end of our test session, I did find that the Kanati Mongrels weren't the best in the mud or on sandy/washy roads. The close spaced lugs prevent the tire from truly digging into the terrain, thus giving the Mongrels less forward-bite on the washboard roads. However, once on top of the bumps, the tires bite in just fine and offer plenty of stability, it just takes a bit longer to get on top of the bumps. And, for everyone who enjoys the slop, the mud doesn't easily clean out of this tire.
So, who's this tire for?
If you're looking for a UTV tire that has been on the market for a long time, offers great puncture resistance with a 10-ply rating, fantastic handling and predictability in multiple terrains, and a long life span with great resistance to wear, the GBC Kanati Mongrel is an all-terrain tire that will be right up your alley. Occasional mudders and dedicated sand riders will want to steer away from this particular tire, but the trail riders and desert riders should definitely look into the GBC Kanati Mongrel.
We are committed to finding, researching, and recommending the best products. We earn commissions from purchases you make using the retail links in our product reviews. Learn more about how this works.
Published January 3rd, 2020 4:30 PM
Top Brands
Popular Articles