142 Views
Sedona Coyote Tire and Storm Beadlock Wheel Review
May 25th, 2021 11:57 AM
Share
We're committed to finding, researching, and recommending the best products. We earn commissions from purchases you make using links in our articles. Learn more here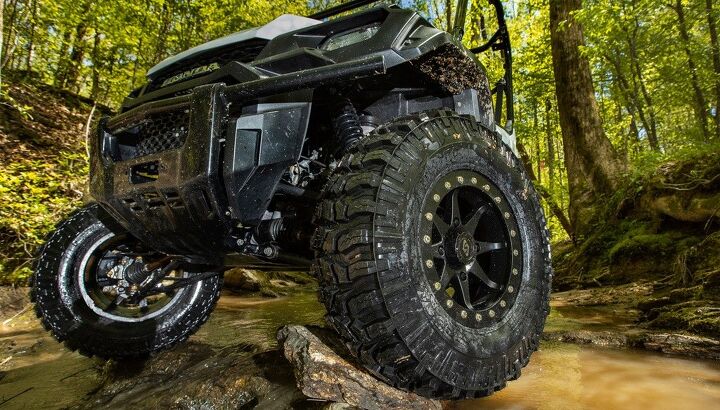 We test out some grippy tires from Sedona
During a recent adventure in our 2017 Honda Pioneer 1000 we were able to experience the effectiveness of a brand-new tire from the crew over at Sedona Tire and Wheel. The Sedona Coyote AT is an all-terrain style hoof for your workhorse. It is not only sharp looking on the Pioneer, but as the day wore on, we found that it actually performed pretty well in many conditions.
We mounted our 28×10 Sedona Coyote tires on 14-inch Sedona Storm beadlock wheels and from first glance we immediately liked the new touch of style on the Honda Pioneer. This tire/wheel combination seems to not only raise the look of the rig and add ground clearance, but it also commands attention from the side as well. They say curb appeal is everything and from first glance I knew this was a great match. All we needed to do was confirm the look to the performance and go from there.
The very first thing i noticed was the seemingly soft feel of the tread on the Sedona Coyote tires. I'm not sure just how soft, but without having a durometer I can say they feel very grippy to the touch. Sedona says its tire is "Ultra-Durable" and has a long-lasting tread. This formulation should translate to good rock crawling ability. They have a seemingly durable 6-ply carcass using Sedona's "New Tech" formulation. Basically, Sedona tells us that it's a super tough tire as a 6-ply. The bead saver lip on the Coyote is also a nice addition, as this takes the beating and not the impressive Sedona Storm beadlock wheel. This deep bead saver lip should also keep our tire in place on the rim should we get into the sharper rocks during those fast whacks on the trail.
So, finding a riding location to test the new skins has been difficult here in Georgia, as most of our OHV parks have been closed in recent weeks. However, we found a private landowner that was gracious enough to allow us to ride around 25 acres for a day. The variety of dirt and rocks mixed with silty mud and deep mire as well as a wide-open stream crossing or two was something just shy of a perfect testing facility. The Honda Pioneer 1000 is already a very smooth driving UTV and with the added height as well as width of the Sedona Coyote tire it leveled out even more. The EPS does help in that respect quite a bit, but I noticed on the hard pack to the creek crossing that the ride was really smooth and quiet.
Inflated to the recommended 8 lbs of free air and ready to rock, we climbed up a few moderately steep sections of muddy embankment out of the creek below. The dirt on the banks is the Georgia red clay and when wet it gets slick. We did not have too much trouble getting up out of those sections, but did notice the mud packed into the lugs as they dug at low RPM. The simple solution for this was to pound the go pedal and although it didn't throw it all out, the lugs are spaced nice enough to clear themselves. Being an all-terrain rated tire, we were impressed by this ability as these tires are not exactly designed for pure mud performance.
Once we found our way deep into the tree lined woods, our first goal was a few hill climbs. The mixed terrain included soft loose leaf covered soil. We knew going up that this would be slick and switched the Pioneer into 4WD for the trip to the top. At speed, the Honda Pioneer could most likely climb with any tire, but the Sedona Coyote tires did get us to the top with minimal loss of traction. The loamy soil needs good, solid grip and even at slower speeds of around 3-5 mph it seemed the Coyote tires performed very well. Just for reference, these side hills (you cannot tell by the image) are probably equivalent to a 12/10 or so pitch on a roof. Fairly steep for a city boy, but not even a wink for those from the country.
One of the best tests I thought was our trip up the creek with no paddle. These layered, wet, moss-covered rocks under the country spring water made it really difficult to get a good picture without getting our feet wet. They were incredibly slick and we weren't ready our weekly bath yet. After perching on a step ledge, we had our most skilled and brave driver (Kevin) slip up through the waterfall several times. We were both surprised at how well the tires gripped the slick rocks and also just how much ground clearance the new Sedona Coyote tires added to our rig. These treads made very easy work of the trip up and back down and we both thought they worked well. In hindsight we could have lowered the air pressure by a pound or maybe two to get the best possible grip on those rocks, but we were very satisfied with them at 8 lbs of pressure.
The UTV revolution has taken over the industry and many companies are coming out of the woodwork blowing smoke up our south end to buy their products. It doesn't take much effort to find whistle banger humdinger gadgets and Yee Yee lighted whips to make a 30-year-old male with too much disposable income scream like a kid at the school prom. However, there are products that might actually work for the overall good of your UTV. This Sedona Coyote and Storm wheel package is a perfect example of that. We'd take them to the dance and show them off, that's for sure!
Sedona Coyote Tire Sizes and Weights
| | | | | |
| --- | --- | --- | --- | --- |
| Size | Construction | Weight | Load Rating | MSRP |
| 25×8-12 | Bias | 21.4 lbs | 340 lbs | $89.95 |
| 25×10-12 | Bias | 24.0 lbs | 420 lbs | $99.95 |
| 27×9-12 | Bias | 26.6 lbs | 440 lbs | $109.95 |
| 27×11-12 | Bias | 30.0 lbs | 495 lbs | $119.95 |
| 28x10R-14 | Radial | 33 lbs | 535 lbs | $165.95 |
Sedona Storm Beadlock Wheel Sizes
| | | | | |
| --- | --- | --- | --- | --- |
| Size | Pattern | True Offset | Industry Offset | MSRP |
| 14 in. x 7 in. | 4/110 | +10 mm | 5+2 | $178.95 |
| 14 in. x 7 in. | 4/115 | | 5+2 | $169.95 |
| 14 in. x 7 in. | 4/137 | +10 mm | 5+2 | $178.95 |
| 14 in. x 7 in. | 4/156 | +5 mm | 4+3 | $178.95 |
We are committed to finding, researching, and recommending the best products. We earn commissions from purchases you make using the retail links in our product reviews. Learn more about how this works. Published April 20th, 2020 3:22 PM
Top Brands
Popular Articles