6 Views
Polaris News: Scissor Doors Patent; Trademark for PRO R
May 29th, 2020 4:15 PM
Share
We're committed to finding, researching, and recommending the best products. We earn commissions from purchases you make using links in our articles. Learn more here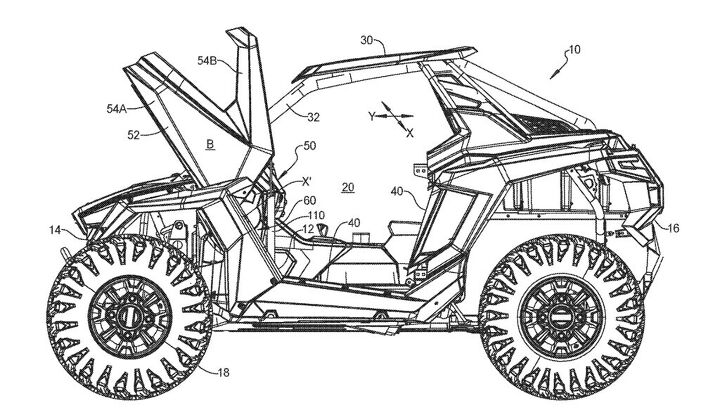 Is this a glimpse into Polaris' future plans?
A little Internet sleuthing has unearthed a couple of interesting tidbits from the always innovative team at Polaris. First, Polaris has applied for a patent for scissor doors. Second, Polaris has filed a trademark application in Europe for "PRO R."
Polaris Scissor Doors
Let's start with the scissor doors patent application, as there is a little more meat on this particular bone. The concept is pretty straightforward – instead of doors that pull outward like on a car, truck or existing UTV, scissor doors would instead vertically. Here's what Polaris says in the patent application's abstract, which you can read here:
A door assembly for a vehicle. The door assembly has a door body and a hinge. The hinge is connected to the door body and is rotatable about an axis of the hinge. The hinge is configured to expand along the axis from a contracted position to an expanded position when rotated in a first direction, and is configured to contract along the axis from the expanded position to the contracted position when rotated in a second direction that is opposite to the first direction. In the contracted position, the door body is in a closed, lowered position. In the expanded position, the door body is in an open, raised position.
According to the patent application, one of the benefits of the scissor doors is to make it easier to open the doors and get into the vehicle when in a tight space like a crowded garage or a trailer.
Polaris RZR PRO R?
The second tidbit of Polaris news is a little more vague. Polaris submitted a trademark application in Europe through the European Union Intellectual Property Office (EUIPO) for the name "PRO R." Check out the link here.
All the application confirms is this is related to "side-by-side sport all-terrain utility vehicles and structural parts thereof." However, our guess is that this will be the name of a new Polaris RZR PRO R.
Could this be a sportier version of the already impressive RZR PRO XP? Unfortunately, we don't have nearly enough information to offer anything other than a guess. But we can certainly hope, right? Published May 29th, 2020 4:13 PM
Top Brands
Popular Articles