1 View
Buying an ATV – Alerts, Tips and Anecdotes
February 4th, 2016 4:17 PM
Share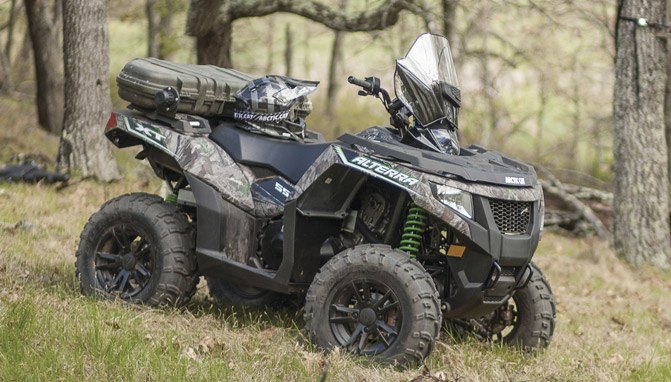 Some things to look for when buying, selling, riding or repairing
If you're thinking of buying an ATV, we've put together a series of Alerts, Tips and Anecdotes to help you along your way.
Alert!
Beware of deals too good to be true
All-terrain vehicles are not cheap. However, with the influx of dozens of 'off-brand' four-wheelers, some of the price tags on new quads have dropped to enticing levels. Most of these low-priced machines are copies of models from the established manufacturers. And most of these copies are mini quads or small-motored two-wheel drives.
The quality of some of these quads is quite questionable and the old adage 'you get what you pay for' may apply. It's especially tough when something breaks and the company doesn't back it up or the replacement parts are hard to find.
Tip
Listen to your pals about unreliable brands
A riding group or club often has knowledgeable riders who have a good feel for which brands are durable and dependable.
If several of them have had bad experiences with certain models or brands, pay attention. And keep in mind that some quads that may break down quite frequently, in say muddy conditions, may run just fine for many years in the desert if all their troubles were caused by water and mud.
Anecdote
Consider the dealer
After buying my first ATV, I was pretty much stuck going to the one dealer in my small town that carried parts for the brand I bought. Even after several years of going into their shop, I still really don't like their attitude. On the other hand, I get along just fine with the folks who work at the only other dealership in town and at times I wished I had bought one of their brands instead.
Of course, one shouldn't buy one brand or another solely based on how well you happen to like the dealership, but it is something to consider.
Alert!
What's the word on engine break-in time?
There are lots of opinions regarding the break-in period of an ATV engine. Some will argue to baby the engine for the first few rides, while others claim you should run it as hard as you can. The safe bet is somewhere in between.
The thing you don't want to do during break-in is run the engine at the same rpm for an extended period of time. Vary the throttle, but avoid full-throttle runs and hard starts and hard stops. Make sure during your first rides that the engine is warmed up before riding. After breaking it in, hitting the throttle hard on a cold engine is still a bad idea.
Tip
Don't void your warranty
If you like the idea of having a warranty as an insurance policy against early failure (ATV warranties don't tend to last very long), make sure you follow the manufacturer's recommendations regarding maintenance and fluid changes. If you have a catastrophic engine failure during the warranty period and your dealer sees that the air filter is filthy and the oil is old and dirty, you may be out of luck.
Tip
Consider replacement part costs
Different ATV manufacturers charge different prices for their replacement parts. Most are in the same ballpark; however, there can be drastic differences on some parts. If you're close to buying one brand or another and need a deciding factor, go to each dealer and ask to see OEM (original equipment manufacturer) replacement prices for some fairly expensive items such as brakes, clutches, tie-rods, batteries and plastic.
Published November 22nd, 2007 12:39 AM
Top Brands
Popular Articles