11 Views
Tire Blocks Run Flat System
June 19th, 2015 4:36 PM
Share
We're committed to finding, researching, and recommending the best products. We earn commissions from purchases you make using links in our articles. Learn more here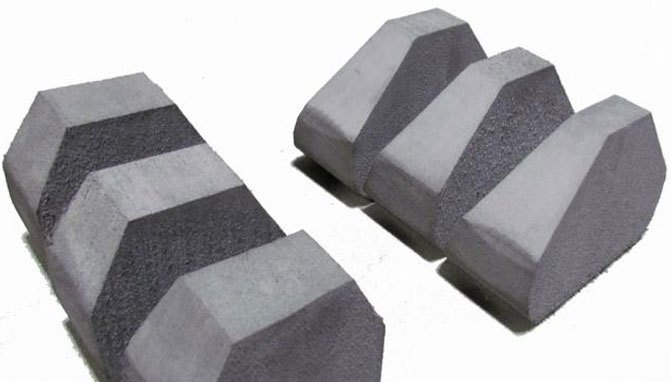 Peace of mind for racers and trail riders alike
Racer or not, flat tires are something every off-roader has deal with at some point in time. Over the years there have been many run flat systems that attempted to solve this problem with inflatable inserts, foam inserts or even slimy goo that supposedly plugs the whole and patches the tire. Some work better than others, but most are just a temporary fix, add significant weight or cause a change in the performance or handling of the vehicle.
A true run flat solution that allows the tire to continue performing as if it had air in it, without affecting the handling of the vehicle or adding significant weight, is a tall order. Tire Blocks, the newest name in run flat technology to hit the market, seems to be on to something.
The blocks themselves are custom cut, high-density foam inserts that remove all of the dead space inside the tire. Although not meant to serve as a replacement to air, in the event of a puncture, the blocks are firm enough to allow the tire to continue operating as though it were fully inflated. Each block is coated in a silicone lubricant to help dissipate heat. Friction is a major problem for any insert and that seems to be the area where other run flat systems have failed.
If the tire loses air and runs completely on the foam, the heat usually causes the foam to break down very quickly, leaving you with the same problem you started with. Finding a lubricant to help solve the heat issue as well as foam durable enough to withstand the rigors of off-road racing without breaking down was a challenge for minds behind Tire Blocks.
With Tire Blocks installed, a puncture or tear in your tire won't leave you stranded.
"Initially we began developing the product in Baja which usually means high speeds, more friction and higher temperatures" says Tire Blocks founder Kenny Sanford. "The issue became finding a material that was durable enough to withstand the abuse of off-road racing without compromising ride quality or adding excessive weight. The lubricant was probably the biggest challenge because we had to find something that could withstand high heat without evaporating or requiring constant reapplication."
Once he had a combination he was happy with, Sanford began testing with WORCS Pro ATV Champion Beau Baron early in 2012. Baron, along with his H&M Motorsports teammate David Haagsma, ran Tire Blocks in the WORCS series for all of 2012 and put them to the test on the motocross track in the Yamaha Quad X series.
Beau Baron has won multiple championships with Tire Blocks.
So is it really worth it? Depending on your perspective, it could be thought of as pretty cheap insurance. If you're a competitive racer battling for points, a flat tire could cost you a championship. Especially in off-road racing, where the courses seem to be getting rougher and rougher, trying to finish a race without a run flat system of some kind is almost ludicrous. That's probably why the entire pro ATV class at the WORCS series has made the switch.
According to several of the racers we talked to, the blocks are lighter and feel less squishy than TireBalls. Because all dead space in the tire is eliminated, racers tell us Tire Blocks actually help soften the blow of square edges and provide a more solid feel. In hard turns we were told the tire feels more planted and has less of a tendency to roll.
Several UTV racers actually reported the blocks improve traction by allowing them to run lower air pressure. "Normally in a side by side I couldn't get away with anything less than eight to 12 pounds of air minimum," says Beau Baron, 2013 WORCS Pro ATV and Pro Production SXS champion. "I've been able to run my tire pressure at four pounds so the tire would spread out and catch more traction. You can't do that with just air because it would flip off the bead or be so much easier to get a flat."
Some racers told us they can run lower air pressure with Tire Blocks installed.
Unlike other run flat systems that rely on inflatable cells inside the tire, Tire Blocks are designed to handle a stick, a rock or even the tire to coming completely off the bead while continuing to function. Inflatable cells can become punctured which can then throw the wheel out of balance. With Tire Blocks, even if a stick were to puncture the tire or tear a big gash in the sidewall, the tire should maintain its shape and rigidity because the foam doesn't move or lose its shape. "We actually took the valve stems out and ran no air at all and couldn't feel a difference," says David Haagsma.
Maxxis Razr Xc ATV Tire Review
The big question on every racer's mind is how much does it weight? Because the blocks come in various shapes and sizes depending upon the tire/wheel setup you use, Sanford gave us a couple of "worst case" scenarios. For a 30-inch tall UTV tire mounted on a 14-inch rim, the blocks add three pounds per tire. For a typical off-road ATV application, like a 20x11x9 tire, the blocks add just over one pound per tire. Serious racers might squawk at the added weight, but if you consider the time it takes to change a tire along the race course, let alone time lost limping back to the pits, those couple of extra pounds aren't going to make too much of a difference.
ATV riders can expect Tire Blocks to add about a pound to each wheel.
And just in case you're getting the idea that this is a racing only application, think again. "Ride Confidently" is Tire Blocks' slogan and whether you're an ATV racer battling it out for a championship, a hunter trying to haul out your latest kill or just a weekend warrior, everyone will succumb to a flat tire sooner or later. The question is are you willing to risk the race, the hunt or the riding trip that you've had planned for months, being derailed or, at the very least, complicated by having to deal with a flat tire?
With applications for virtually every Sport or Utility ATV and Side-by-Side, Tire Blocks is rapidly building a name for itself as a leader in run flat technology.
Like most other run flat systems on the market, Tire Blocks can be somewhat challenging to install. When we installed a set, the first ten or so blocks went in easy but it's those last couple that can be a challenge. "Installation is an area where pretty much every run flat system has struggled" says Sanford. "There's not really an easy way to do it, and we didn't want to sacrifice performance or reliability just for the sake of making it easier to install. We kind of created it from a standpoint of, 'this is the product we know works, now we figure out how to put it into the tire.'"
Squeezing in the last couple of blocks into your tire is a challenge.
Sanford is working on developing a small, easy-to-use installation tool to be included in every kit sold. The tool is designed to slide in between two blocks and separate the foam so another block can be installed. Additionally, the company has authorized dealers in various parts of the country who can handle installation if that's a task you'd rather not tackle yourself. Sanford also offers trackside support at all WORCS races and is working on getting more dealers involved at other series around the country.
Tire Blocks range in price from about $500 per set for ATVs and between $700-800 for UTVs, depending upon the size.
Detailed fitment information as well as info on other applications is available at http://www.ridetireblocks.com/. Seth Fargher
Growing up in Oregon, most of Seth's involvement in the powersports world was limited to what he saw in magazines and videos. Following a brief stint in the corporate world, Seth took a flying leap (literally) and moved to California to pursue a career in freestyle motocross. Though short lived, the opportunity immersed him in the industry and is now a well-established off-road writer.
More by Seth Fargher
Published November 5th, 2013 2:25 PM
Top Brands
Popular Articles