1 View
Yoshimura RADFIN Radiator Louver Kit
April 11th, 2008 2:54 PM
Share
New radiator guard for Suzuki LT-R450
Yoshimura developers have designed a new radiator guard for the Suzuki LT-R450.
Mechanics from team Rockstar/MSR/Suzuki/Yoshimura/Pro Taper had been trying to use a radiator guard from a RM-Z450 dirt bike on the LT-R450 before handing the project over to the research and development crew at Yoshimura to find a better solution.
What Yoshimura came up with is its brand new RADFIN Radiator Louver Kit. According to Yoshimura, the new kit comes with fins that force more air into the radiator, allowing for cooler operating temperatures. A cooler environment improves the reliability and durability of the engine.
As an added bonus, Yoshimura says its design also blocks debris from getting into the radiator and plugging it up. With more free flowing air the LT-R450 can only go faster on the track.
The RADFIN Radiator Louver Kit can be purchased for US$109.95.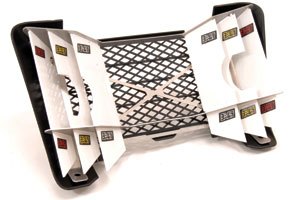 Published April 11th, 2008 2:54 PM