1 View
Say Watt: Companies See Huge Potential With All-Electric Powertrains
August 2nd, 2022 4:47 PM
Share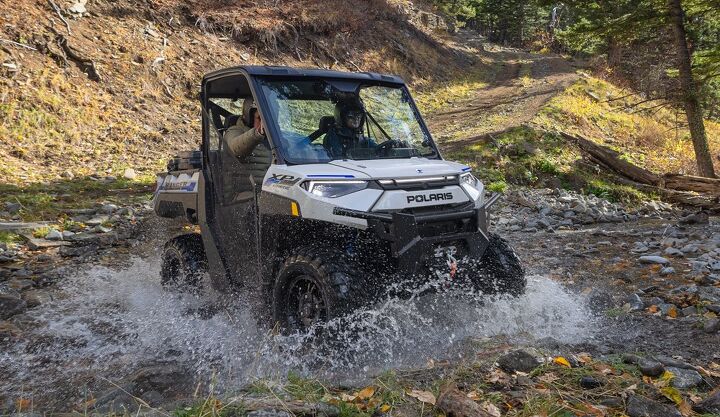 There is no shortage of on-highway EVs beginning to flood the nation's driveways but, with charging facilities in notably short supply in places owners generally take their ATVs and side-by-sides (the Back 40, a frozen pond, and that mud pit behind Uncle Walt's place), pressing all-electric powertrains into our sport may be a bit more of a challenge. Still, it seems big companies are willing to try.
According to a report from an outfit called Research & Markets, the global electric ATV and UTV (referred to as all-terrain and utility terrain in the report) market is expected to grow by about 20% each year for the next decade. Math students will note this doesn't equal 200%, rather this is the eggheads saying there will be 20% EV growth each year based on the previous year's sales of the industry as a whole. They predict demand will be driven by low cost of ownership, increasing ATV and UTV use in military and recreational activities, plus a dash of global awareness in reducing tailpipe emissions.
These are not small numbers. It is estimated the UTV market is currently worth north of $6 billion in America with an estimated growth of 5% year-over-year. If R&M's estimates hold water, EV demand will outpace the market's overall growth, meaning the electron eaters will gradually make up a larger percentage of the fleet.
It's true that many existing ATV/UTV enthusiasts deride the thought of an electric rig (we've all made golf cart jokes, right?) but the fact remains that battery technology is advancing at a rapid rate. Total range is skyrocketing, charging times are falling, and the whole package is becoming a lot more appealing. Some users are finding great applications for EVs, including being able to run a rig in enclosed spaces without choking on fumes or near animals without causing a stampede.
Anyone in our ranks who's sampled the Polaris Ranger Kinetic, for example, reliably comes away impressed with its acceleration properties and ability to out-haul a gas-powered Ranger to the tune of 250 pounds. Alert readers will know the Kinetic roughly doubles the gasser in terms of torque output. Driving range maxes out at around 80 miles and the thing can be juiced back to full in about five hours with the Level 2 charger.
With stats like that, EVs aren't for everyone – yet. But the R&M eggheads make a good point: the take rate on these machines will improve in lock-step with technology advancements.
Published August 2nd, 2022 4:46 PM
Top Brands
Popular Articles