1 View
Tanner Godfrey Sets Longest UTV Jump World Record + Video
May 29th, 2019 1:17 PM
Share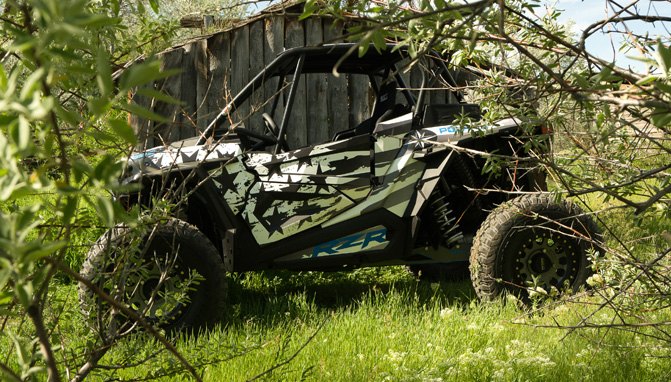 Semi-paralyzed athlete jumps his RZR XP Turbo S 247 feet
No stranger to pushing the limits and setting records, semi-paralyzed extreme athlete Tanner Godfrey made history by jumping a Polaris RZR XP Turbo S over 240-feet on live television. The Memorial Day jump was part of the two-hour season finale of Discovery Channel's hit show the Diesel Brothers.
Godfrey reclaimed the world record for the longest jump ever made in a side-by-side UTV, soaring past the previous record of 223-feet. The event honored men and women of the U.S. Armed Forces and military families at the historic decommissioned military base, Wendover Airfield outside Salt Lake City, Utah.
View this post on Instagram
Things got a little western yesterday going after the record. Even with a 14 mph crosswind and landing a little sideways we did it! We hit 247 feet and got the record back!!! We'd been fighting wind and rain this entire week. The winds were gusting up to a 30 mph cross wind. Everyone was told I wasn't hitting it because of the wind. But right as we they canceled it the wind died just enough for @gregggodfrey to give me a green light. As I was heading to the ramp I saw the flag pick back up from the wind. I almost lifted off the gas from it. I then thought well let's see what happens and hit that skinny pedal. I ended up hitting it at 84 mph. The back kicks over to the left as I'm in the air. I dropped my driving stick and grabbed the wheel with both hands. I land and it kicks hard back to the right but I was able to counter steer out. What a ride!! Thank you everybody for the support! And thank you to @desert_speed_shock_tuning for dialing the car to fly perfectly flat! What an awesome event to be a part of!! @heavydsparks @the_diesel_dave @diesel.brothers @discovery @polarisrzr @hcrracing @methodracewheels @evo_powersports @sdrmotorsports @sparcousa @bfgoodrichtires @godfreytrucking @superatv_com @gavgodfrey @hans_smco @pgodfreyy @chansgodfrey @jswankers @courts_taylor @warfightermade and everyone else, thank you!!
A post shared by Tanner Godfrey (@tgodfrey155) on May 28, 2019 at 6:47am PDT
He went ALL. THE. WAY. Tanner Godfrey just reclaimed his record of jumping his UTV and he got to 240 feet! Congratulations, Tanner! 🔥 🙌 pic.twitter.com/PHnKsmae1q
— Diesel Brothers (@DieselBrosTV) May 28, 2019
"It's evident I can fly better than I can walk," said Godfrey after mastering the ramp. "When I took off, all I could think was hit it straight, hold on and hope for a clean landing. I can't thank Discovery Channel, the Diesel Brothers and Polaris enough for the support."
The Diesel Brothers installed aftermarket parts and accessories to convert the stock RZR into a premium, long-jumping machine. Godfrey's RZR features HCR suspension, BFG KM3 tires, Sparco racing seat with harness system, and a SDR Motorsports roll cage. The new record jump final measurement of 247-feet was the first of multiple gravity-defying stunts featured during the two-hour live television show on Discovery Channel, which culminated with Heavy D jumping a Monster Truck over a flying airplane.
In 2007, Godfrey fractured his T6 vertebra in a motorcycle accident. He was paralyzed from the sternum down. After years of physical therapy, Godfrey was able to regain strength in his legs and can now walk using canes. Now 29, Godfrey has a fun-loving, daredevil spirit where nothing holds him back. Godfrey first claimed the world record in 2013 with a 105-foot jump, then again in 2015 when he jumped 202-feet.
Published May 29th, 2019 1:17 PM
Top Brands
Popular Articles