1 View
Top 10 Photos & Videos From the Maverick X3's First Race
November 14th, 2016 10:41 AM
Share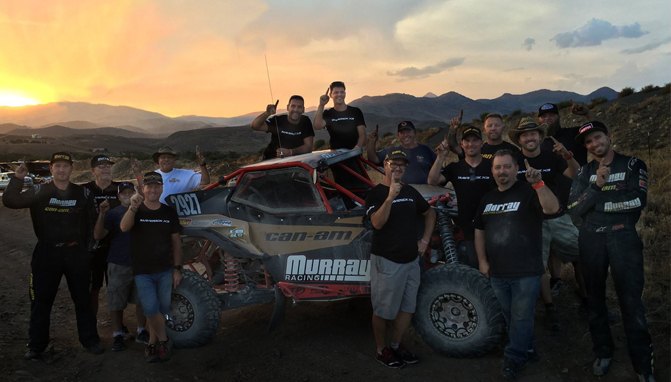 One race, one win
Just a week ago, Can-Am nearly broke the internet following the release of the all new, groundbreaking Maverick X3. Apparently one big reveal for the week wasn't enough as both of Can-Am's factory desert teams unveiled their own race prepped X3s that would tackle the Vegas to Reno event the following weekend. Here are 10 of our favorite photos and videos from the Maverick X3's maiden voyage.
First photo surfaces of S3 Racing's Best in the Desert Vegas to Reno Maverick X3.
First photo of Murray Racing Maverick X3.
Murray Racing's Jason and Derek Murray.
S3 Racing's Dustin Jones and Shane Dowden.
The all new Maverick X3 leaving the the starting line.
A video posted by FOX (@fox) on Aug 19, 2016 at 2:34pm PDT
S3 Racing off and running the Vegas to Reno.
Murray Racing piloting the Maverick X3 to a win in its first ever race.
Dang that new Maverick X3 sounds good!
Unfortunately poor visibility due to the dust lead to a multi-car pileup that took out the S3 Racing Maverick X3 in the first 18 miles of the race course.
A photo posted by RzR Addicts (@rzraddicts) on Aug 21, 2016 at 11:39am PDT
It's a team effort and the Murray Racing squad was able to pilot the Maverick X3 to a win in its first ever racing debut!
Published August 24th, 2016 9:33 AM