1 View
A Motorhead's Second Home
March 30th, 2016 2:41 PM
Share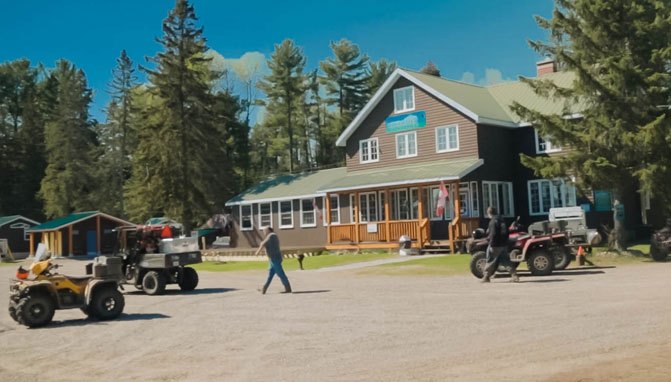 Ontario's Edgewater Park Lodge has it all
It's not often you'll see an entire article dedicated just to a place to stay, especially when it comes to powersports, but there's this one place, just off Highway 11 heading North from Toronto, that 100% warrants it's whole own article to praise just how boldly awesome and made for motorheads it truly is.
I first discovered the Edgewater Park Lodge on a snowmobile trip with my buddy Dan Arcard of Muskoka Sports and Recreation (if you ever need a snowmobile guide in Ontario, Dan is the man). We were doing the " Big Loop" starting in Parry Sound, and we were finishing up our second last day. Dan had recommended we stay at the Edgewater, and after an awesome day of quiet freshly groomed trails that twisted all around the region known as Explorers' Edge, we finally made it to Kearney.
The Edgewater Park Lodge is a sight for sore eyes after a long day on the trails.
I have to mention right off the bat, that we were low on gas, low on clean clothes, and low on energy. But the OFSC snowmobile trail goes right to the front door at the Edgewater. And even though we rolled in late at night, they quickly got us checked in and we were off to our incredible cabin, complete with all we'd need for a weekend, or even week long stay.
We were about to hit that hay when Dan and his brother burst in with pizza and beer, and rest got further and further away – but no one cared. When we woke up the next morning, we had quite a few miles left to do, and weren't in the mood to go hunting for the next town to get gas in, but lo a behold, the Edgewater has gas!
Any time you can find gas where you are staying is a win.
We were getting too lucky we thought, and then we asked Dan where we could get a good old fashioned greasy breakfast to keep us running all the way back to Parry Sound – and he drew us into the main lodge, and sat us down at the restaurant to one of the most satisfying resort meals I've ever had.
Food can make or break a trip, and over the five or six times I've had the pleasure of stopping at the Edgewater Park Lodge, it has been killer comfort food done a few notches up. My last trip was one of the best chilli and toasts I've had, and I know what I'm talking about when it comes to chilli.
Hungry snowmobilers make their way inside the Edgewater.
The next time I was there was for a club ride with the Algonquin West ATV club – a real gem of a trail system that connects to the other main trail systems in the area. We woke at dawn, rode all over their backcountry trails (they're on the same kind of land as Algonquin park, but just…to the west a bit) and had a cookout in the woods before heading back to the Edgewater for the night. We hadn't even scratched the surface of their trails – you could ride for a week here and never get tired.
ATV trails in and around Explorers' Edge are seemingly endless.
The crazy thing is that even though all these ATVers who were riding with us from the club weren't staying at the resort, the Edgewater makes room for them to unload and leave their trucks as they were out on the trails with us.
When we got back at the end of the day, understandably we were covered in mud. But the Edgewater had us covered again with a full laundry service in its recreation building – another plus for groups too big to all fit in one cabin.
The Edgewater Park Lodge has cabins available for rent that look out onto Sand Lake.
We opted to hang out on the Edgewater's licensed patio after our ride and watch the water go by on beautiful Sand Lake.
This is what the Edgewater Park Lodge seems to be all about – exactly what you need, right when you need it. Be it gas for your sled, washers for your clothes, direct access to the ATV or snowmobile trails, or just a calm peaceful view over a tall glass of cold beer.
Now all I have to do is visit on a motorcycle and a boat, and I'll be able to call this the motorsports capital of Ontario!
Views of Sand Lake await visitors to the Edgewater Park Lodge.
Published March 22nd, 2016 10:50 AM
Top Brands
Popular Articles