14 Views
ATV Trails: Durhamtown Off Road Resort
June 8th, 2016 12:06 PM
Share
We're committed to finding, researching, and recommending the best products. We earn commissions from purchases you make using links in our articles. Learn more here
Fast Facts
150 miles of one-way trails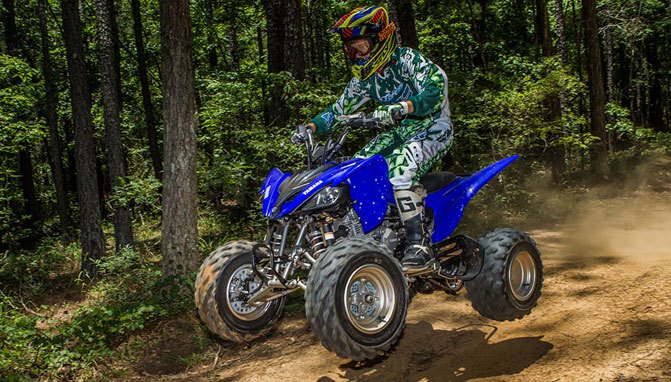 The all-inclusive off-road destination
Finding a good place to ride with your family can be tough these days, as more and more private land is being closed off because of the rotten apples in the bunch. There are, however, some nice "pay to play" destinations to camp and ride if you look hard enough. One of these places is located just about two hours southeast of Atlanta, Ga. off interstate 20 in Union Point.
Durhamtown Off Road Resort is a family owned and operated ride location in Union Point, Ga. that has a host of amenities for the entire family to enjoy. A total of 6,750 acres awaits those who need that week-long or weekend ride fix and we have been enjoying this destination for years.
Owner Mike McCommons had envisioned a place that would be a great hunting club and founded Durhamtown Off Road Resort in 2002, but the dream of Durhamtown has grown to become so much more. The ground that this ride park is on has a long family history and gets its name from the Durham family name. Durhamtown resides on land awarded to Samuel Durham in 1793 in return for his service in the Revolutionary War. The Durham family has lived on and managed this property for more than 200 years. This heritage is something that Mike is very proud of and the Durham legacy lives on through his dedication to the land.
Durhamtown Off Road Resort caters to the whole family.
Durhamtown has varying types of riding from the wide open trails to the tight rocky and technical courses that can get your heart rate up with excitement. Most national caliber ATV racing champions and aspiring champions come to Durhamtown to practice on the mild to wild MX tracks here. These tracks vary from a full on AMA-style racecourse to a Pee-Wee style mini track for the ones that are just learning to dig in the dirt.
The wooded trails are fun and keep the riders who visit on their toes as well. Sport quads are very fun here and the rolling humps in the trails make for exciting airtime. But I have to say that after a good rain, I prefer to break out the Utility ATV or Side-by-Side and get muddy. These trails are, in my opinion, a lot more fun the day after a good rain. It can get dusty quickly, so bring plenty of filtering goggles and maybe a facemask. I personally know many GNCC racers who come to Durhamtown to practice before the Georgia round of the national series and they feel it is a great workout to help them acclimate before the big event.
Durhamtown offers 150 miles of one-way trails and an additional 40 miles of single track for dirt bikes.
Let's not forget about the UTV riders either because Mike has fought hard to provide very good riding for these customers. There is a massive GP-style racecourse at Durhamtown that is so fun for the driver who wishes to try it on for size. This course can almost all be seen in its entirety from one or two spots, so it makes for a great racecourse. What can catch folks off guard is the fact that many big name racers come to Durhamtown to ride and race. During a Georgia off-road race series event, Tony Stewart showed up and entered his Arctic Cat Wildcat in the mix. You will also see national cross country legends like Mike Penland in the mix either testing tires or machines for the industry.
Tony Stewart sits in his Arctic Cat Wildcat at Durhamtown.
It is clear that woods riding, both turtle speed and quick paced, combined with track racing are a grand part of the activities available at Durhamtown. But it's the dragway we had mentioned in a previous story and the huge dirt oval that help to round out the types of riding you can enjoy on your visit.
Sport Quad riders can fly around one of Durhamtown's MX tracks.
If you plan on coming for a few days, then you might want to reserve one of the many camper spots or cabins available as they fill up pretty fast. Full camper hookups are available and home cooked meals inside the main lodge keep the hunger at bay. Several hotels are located nearby, but it is my experience that it is so much more fun to camp and sit out in the cool night air in front of a crackling bon-fire while telling lies about how fast you really are to your friends.
After you've parked the gas burners, don't forget to check out all of the other great activities offered at Durhamtown Off Road Resort like fishing, hunting and even shooting ranges. Durhamtown even has an on-site pro shop for visitors with everything from protective riding gear to parts for their quads. If you should accidently break down, just haul the machine to the on-staff mechanics waiting to work and get you running again. I think you get the idea when I say Durhamtown is an all-inclusive destination.
Deere, hog and turkey hunting are available at Durhamtown.
Durhamtown has been here in Georgia for many years and Mike, along with his staff, fight for great riding and customer satisfaction every day. These people live to keep you riding and safe while doing it. If you have not had a chance to visit Georgia and need a place to go, then this would be the choice I would recommend. Most likely you will bump into Mike in the Lodge in front of the fireplace or showing a new family the resort.
ATV and dirt bike riders can spend a day riding at Durhamtown Off Road Resort for as little as $25 ($40 for UTV drivers). Annual memberships are available starting at $325 for those that want to ride again and again. Visit Durhamtown.com for more information. Published May 10th, 2016 12:20 PM
Top Brands
Popular Articles