160 Views
2017 Cub Cadet Challenger 750 Review
April 21st, 2017 10:42 AM
Share
We're committed to finding, researching, and recommending the best products. We earn commissions from purchases you make using links in our articles. Learn more here
Fast Facts
Engine: 735cc Single
Ground Clearance: 12.0 in.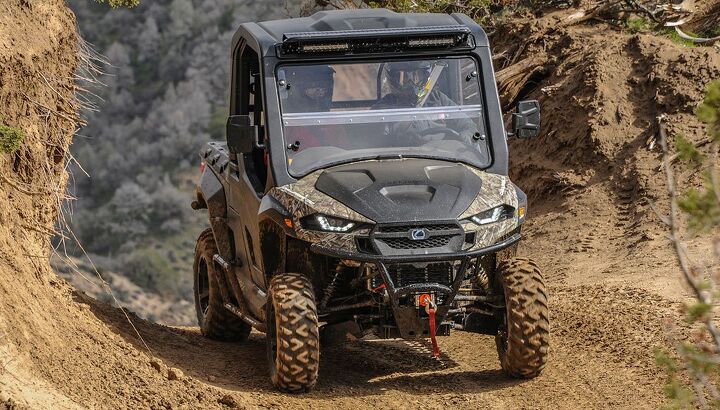 A feature-rich and affordable Utility Side-by-Side
Finding your way around the world of Side-by-Sides these days can leave you with a scattered sense of direction. The choices are endless and to tell you the truth it may be something that is already keeping your mind busy at work. Looking through the storefronts with dreams of owning your very own UTV may just be a window-shopping experience for some. Up until the last few years of impressive growth in the industry buying a fully loaded machine was only for the wealthy. This is where Cub Cadet hopes to change that feeling of attainability and "Challenges" the market with its latest offering – the 2017 Cub Cadet Challenger 750.
I have always loved the Cub Cadet mower line, as my Grandfather used these mowers to build his business and Cub Cadet Yellow was always his favorite color. Man, what I would give to see the look on his face when these 2017 Cub Cadet Challenger series Side-by-Sides were unveiled some 16 or so years after Sosebee's Lawn and Garden slowly became family history.
Somewhere in the hills of California's Hungry Valley recreation area I found myself immersed in the newest offering from Cub Cadet. The 2017 Cub Cadet Challenger 750 was right before me and I have to say that the initial reaction was of how good this machine looked. Realtors say curb appeal is everything and if you cannot get a buyer out of the car and into the home you will never sell it. This rig surely caught my eye and I was ready to try it on for size.
The Cub Cadet Challenger 750 looks the part of a more expensive machine.
Various off-road media members spent some time on the very chilly morning walking around the Cub Cadet Challenger 750 and hearing about the features that are offered with the ride. This all-inclusive package comes with many extras and the pricing is extremely reasonable. With starting price tags at $10,999, the Challenger now had my attention. Our very first sample was in a Camouflaged unit that costs an additional $300 for the suit it was wearing. The base units have several premium features that are included in the base price. Here are a few of those items:
3500lb winch
Sporty Aluminum wheels
Full Doors
3500lb winch
2-inch receiver hitch both front and rear
Full windshield
Twin side mirrors
Performance adjustable shocks
Custom bumper
Turn signals
The one and seemingly only option that is not currently available is power steering. This is something the engineers at Cub Cadet are working on and do offer as an add on option for about $800. Regardless, this initial list of goodies should be enough to get the energy flowing for sure.
A 3,500-pound winch comes standard on the Challenger 750.
Turning a package like this takes a lot of precise engineering and being able to come into the market with a fully functional, safely engineered machine alone is a huge step for any company, but Cub Cadet has been around since the 1960s and is no stranger to UTV sales. Cub Cadet partnered with Hi-Sun, who builds the Rolling/Powered chassis of this Challenger 750. Cub Cadet takes the reigns from there to complete the machine's look and features in the Martin, Tenn. MTD products plant. You might even remember its earlier 700cc unit that has been on the market for a few years now.
During our ride day we had some incredible mixes of terrain and I will say that some of the hillside trails at the Hungry Valley OHV did "Challenge" us to be more reliant on the machine instead of our own understanding. From the low banks of the wash to the steep climbs up the mountainsides there was enough of a variety to get very familiar with the Cub Cadet Challenger 750. For a vehicle that is initially designed for light play as well as a great hand on the ranch, this machine feels pretty comfortable in the cab.
The cockpit of the Challenger 750 is comfortable.
Once seated, each and every item for controlling the various functions from 4WD locking to the horn (yes it has a horn, too) has been laid out in a reachable and reasonable position. The one thing that seemed to get my attention as we rode the trails were the four switches to the lower right of the steering wheel that seemed to be visually blocked by the steering wheel. There were I think eight total slots for multiple switches and the factory had filled four and could simply move those to within a more visible location to the left in that same panel. Easy fix in my humble opinion, but worth noting that these switches control the drive-line engagement, 4WD/differential lock and are used fairly regularly as varying terrain reveals itself.
The sporty steering wheel is molded to give the driver a custom feel as well as look and the tilting allows the driver to get comfortable. Pressing in the button on the large shifter allows you to select your drive mode (Low, High, Reverse or Neutral) and functioned as you would expect and with an integrated park gear you wouldn't need a parking brake. The fuel-injected 735cc engine rated at 37.5 horsepower seems to carry itself well and pulls the 500-pound cargo capacity around as expected.
The tow rating of the Cub Cadet Challenger 750 is set at 1,200 pounds and with a front as well as rear receiver there is no shortage of direction to pull cargo. Another feature that is very welcome is the fact that you can enable the dump of the bed from either side of the Challenger, making your job easier and encouraging the passenger to help out as well! We did not have a chance to load the cargo bed, but you can tell by the amount of tie down points and molded in dividers there would be ample space for a large variety of stuff.
Looking at the handling of the Challenger 750 we found that on semi-rough terrain the rig handles itself well and even without power steering guiding the machine is as expected. But when you lock in the differentials, the steering gets a bit heavy. Quite frankly, I'm not sure why anyone wouldn't automatically install power steering straight from the dealer. Once you have it you just simply cannot live without it. Well you can, but you know what I mean.
Under normal riding conditions, steering the Challenger was fine. But we would appreciate power steering for when the going gets tough.
During our spirited ride around the Hungry Valley OHV area it was clear that this machine gives you every bit of the price and could be a real fun rig with just a couple of modifications to the engine output or clutching. Now we know it has an intended target and for that it is built well.
Speaking of locking differentials, this machine comes with an un-lockable rear differential, so if you have sensitive grass areas or land you wish to keep the ground covering on this is the ticket. Something worth noting is that this doesn't cost you any extra either!
Overall we were pretty impressed with the way Cub Cadet has approached its market and we had a great time challenging ourselves to hill climbs that seemed insurmountable in many ways, but the Cub Cadet Challenger 750 chugged right on up to the top. Published April 11th, 2017 11:32 AM
Top Brands
Popular Articles