6 Views
The Moose Racing 361 X Is a Brawny Wheel With Serious Curb Appeal
June 9th, 2023 11:19 AM
Share
Upgrading the wheels on your ATV or UTV can be sort of a crapshoot. Steel or aluminum; cast, flow-formed, or forged – there's a lot of variation in the manufacturing process from manufacturer to manufacturer, and even from wheel to wheel. Unfortunately, unless you've got a degree in metallurgy and you've toured the production facility yourself, it's not always easy to tell exactly what you're looking at.
For that reason, brand reputation counts for a lot, and there are few brands in the ATV/UTV space as trusted and recommended as Moose Racing. From snow plows and bumpers to cargo bags and even tires, there's practically no corner of the ATV/UTV aftermarket that Moose isn't involved in. Moose takes all-terrain vehicles seriously.
So, if you're looking for a new set of rugged, high-quality, slick-looking wheels that can hang with you over every boulder and on every ORV trail, take a look at the Moose 361 X wheel.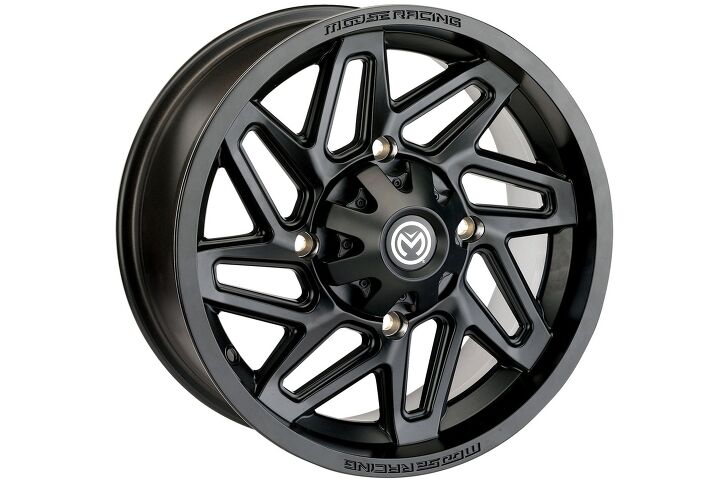 The Moose 361 X is a sharp, sporty-looking wheel offered in satin black with matching Moose logo wheel caps. It lacks the faux beadlock fasteners featured on so many of Moose's other offerings in the space, which depending on your sense of taste, might actually be preferred; those faux fasteners add weight, and they add visual complexity that can take away from a strong, simple wheel design. Made entirely from high-grade aluminum alloy, the Moose 361 X is also inherently lightweight; a 14x7 inch wheel tips the scales at just over 14 pounds. That could mean several pounds of weight savings at each corner of your vehicle, over your typical factory stock steel wheels, so your steering and suspension can react more quickly out on the trail.
Like so many of Moose Racing's wheels, the Moose 361 X is x-ray inspected on the assembly line to check for imperfections and ensure that each and every example is structurally sound and ready to go the distance. Best of all, the Moose 361 X is available in a range of sizes, from 12 to 15 inches in diameter and 7 or 8 inches of width, with three of the most common four-lug bolt patterns. Suffice it to say that no matter what you ride, there's a very good chance that Moose Racing has a 361 X wheel that will work for you.
Of course, the Moose 361 X is just one wheel out of Moose Racing's expansive lineup, which includes brawny bead lockers like the 351 X and 544 X; flashy, colorful wheels like the show-stopping 387 X; and even a super-lightweight forged carbon fiber wheel, the 325 X. Available only in a size of 15x6 inches, the 325 X weighs a scant 8 pounds, 14 ounces - approximately half the weight of a comparable alloy wheel, Moose says – yet it's rated to handle as much as 1300 pounds of load.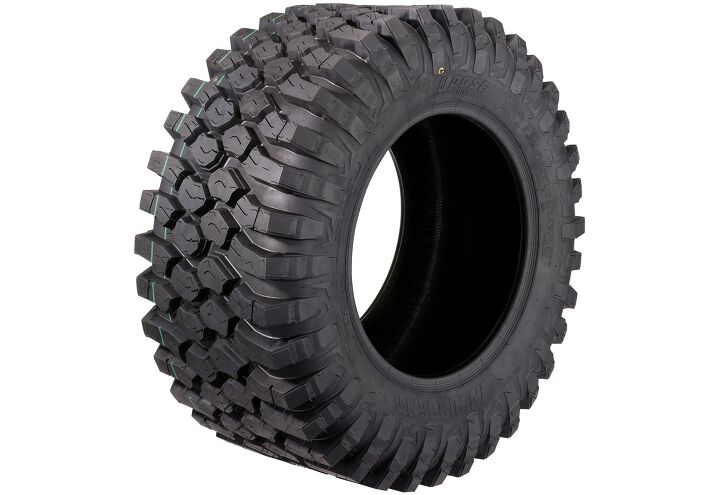 Not sure what tires to pair with your new Moose Utility 361 X wheels? Don't forget: the manufacturer also has a line of truly great ORV tires, comprising everything from the humble all-purpose Rattler to the mud-specialist Aggro. Our personal recommendation, however, is the Moose Utility Insurgent tire. It's an aggressive and capable all-terrain beast as at-home in mud and snow as it is pounding the sand and clawing its way over rocks. Available in diameters ranging from 25 to 32 inches, it's suitable for a wide range of ATV and UTV models, with a wide, flat profile for more ground contact and outstanding cornering traction, and radial construction for ride and stability.
To check Moose Racing's range of available 361 X sizes and see if there's a match for your ride, and to scope out the rest of their product lineup, head over to mooseutilities.com.
Published June 9th, 2023 11:19 AM
Top Brands
Popular Articles