1 View
Video Game Preview – 2XL ATV Offroad
February 8th, 2010 3:49 PM
Share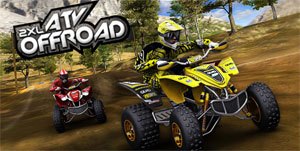 A new racing game is out for the iPhone and iPod Touch – 2XL ATV Offroad.
2XL ATV Offroad calls itself the "hottest action-packed racing game to hit the iPhone or iPod Touch." It features 16 ATV Supercross and Outdoor National tracks, two freestyle levels, up to 16 stunts and a "massive" career mode.
The game, which retails for $4.99, allows users to choose between 250cc and 450cc ATVs, as well as hundreds of ATV and rider skin combinations. Multiplayer mode is available, which allows you to race other users. You can check out a trailer of the game after the break.
We haven't played the game ourselves yet, but the graphics from the trailer look fairly advanced for an iPhone game.
When you watch the trailer, you'll notice a variety of real ATV sponsors across the race tracks. Names like DWT, Motoworks, Troy Lee Design, Pro Taper and others are easily spotted, much like at a real ATV race.
To find out more about 2XL ATV Offroad, just click on the link.
Get the Flash Player to see this player.
Published January 25th, 2010 12:58 PM