321 Views
Best ATV Sound Bar and Speaker Options
August 4th, 2022 3:13 PM
Share
We're committed to finding, researching, and recommending the best products. We earn commissions from purchases you make using links in our articles. Learn more here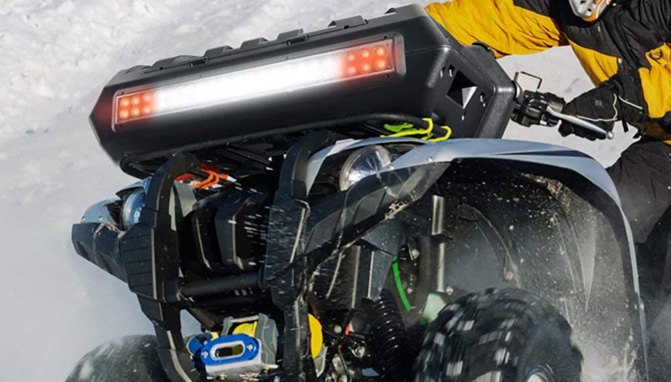 Bring the music with you on your next ride
Taking your music with you has never been easier thanks to the ATV sound bar and speaker options that are available today. Picking up one of these rugged, waterproof systems can make your ride even more enjoyable.
ATVs are amazing machines. They offer us a way to explore, relax and escape into the great outdoors. Music is often a big part of our enjoyment, too. Who doesn't like to crank up the radio when cruising down the open road in your car? Adding an ATV sound bar or stereo system to your machine used to be hard, but thanks to technology, it is now easier than. ATV systems differ slightly from those used in UTVs, mostly due to space constraints, so be careful when picking an audio system for your ATV. Here are five of the best ATV sound bar and speaker options that we've found.
Table of Contents
1. Editor's Choice: BOSS Audio ATVB95LED
BOSS Audio ATV sound bar options have been popular for quite a while. The new LED systems combine two popular and useful upgrades to your machine in one unit. This system has two poly-injected eight-inch speakers and 1.5-inch tweeters that are completely IPX5 weatherproof. They are powered by an internal 700-watt amplifier inside the enclosure. The system connects via Bluetooth to play your MP3 audio files, or streaming music services. The unit also has additional storage for your stuff. But wait, there's more. A dual-row LED light system is incorporated into the BOSS Audio ATV Stereo system, too. Mount the unit on your ATV's front rack for added light as well as adding your tunes to your ride. A very cool ATV stereo system for sure.
2. Pyle Marine ATV Speakers
Pyle Audio created a powered ATV sound bar system that, like other options, uses your Bluetooth-connected audio player to provide the tunes. Pyle provides 1000 watts of power through two 6.5-inch waterproof cone speakers. Like the Boss system, you simply mount it onto your front or rear rack. These systems are neat because they are portable. You can swap it out onto other machines, or your boat, Jet Ski, what have you. You can plug it into any 12-volt accessory outlet on your machine, or you can hard-wire it in for a permanent setup. The Pyle system has color-changing LEDs in the speakers that allow you to have a cool, custom ATV stereo system. Pretty slick.
BOSS Audio makes our list again, this time with its ATV8BRGB weatherproof sound system. This system relies on 8-inch marine speakers and 1.5-inch tweeters, along with a 450-watt max built-in amplifier. You can easily connect your smartphone and play music via Bluetooth, though if you like to go a little more old school you can use the 3.5mm aux-in connector. As you would expect, the BOSS Audio ATV8BRGB is designed to perform in the nastiest weather, as it has been outfitted with the latest weatherproofing techniques. To get started, simply plug in the unit with the included 12V power adapter and secure the ATV sound bar to your front or rear rack with the four mounting straps. As an added bonus, you can change the look of the BOSS ATV8BRGB with is multi-color illumination option.
4. Bazooka ATV Sound Tube
For those that like a little thump, the Bazooka ATV Sound Tube has two 8-inch marine grade co-axial speakers with front-firing tweeters. There is a built-in 450-watt amplifier. Like other ATV sound bar options, this unit uses your MPS player or phone for audio files and uses a Bluetooth connection or a direct input.
The NOAM system will actually work for ATVs and UTVs, making it a great option for both. The key thing here and something you'll find in every ATV stereo system in this story, is marine-grade, waterproof speakers. The NOAM system includes four, 100-watt 4-inch poly-injected cone speakers that are sealed watertight. The system comes with a compact amplifier to power the speakers as well. The amplifier has a simple on/off switch in the line so you can power it down and not worry about a power drain on your ATV's battery when not in use. The system is controlled by a compact Bluetooth-enabled controller that also has a seal AUX-line input, so you can connect your phone or MP3 device with ease. Simply put – one of the best ATV stereo system going.
When it comes to ATV audio systems, the the fully self-contained, U-shaped ATV speaker systems are far and away the easiest to use, which is why you see so many of them on this list. We really like this Planet Audio PATV85 unit. It has eight-inch speakers and 1.5-inch tweeters, to go along with an internal 700-watt amplifier that cranks out the juice. There is a Bluetooth interface that mounts anywhere, and the whole unit plugs into your 12-volt outlet on your machine. This gives you some versatility with where you mount it, and when you want to move it to use elsewhere, it's easier still. There is a storage compartment built into the casing and a 24-LED lightbar that sheds a little extra light on the trail for you. Everything is sealed up and water tight.
7. BOSS Audio MCBK420B Speaker System
This is a pretty interesting set of speakers. The basic kit consists of two three-inch round, enclosed speakers that have built-in clamps to mount to your handlebars. They'll mount to any bars ranging from 0.75-inches to 1.25-inches, so you can play around with where you want to mount them. You can upgrade the kit to a set of four speakers, too. You could then mount the other two to the rear grab bar, or perhaps to your racks if the tubing is big enough, or you have some sort of homemade spacers. The kit also includes a two-channel, Bluetooth-compatible, 600-watt amplifier with an inline volume control you can mount anywhere. It's a pretty slick setup and gives you some options to mount things where you want.
Not everyone needs a complete system when it comes to the best ATV speakers. If you already have a stereo system on your ATV and just need some additional speakers, or you already have the amp and media interface, give these 6.5-inch marine speakers from Rockville a try. They are 300-watt speakers that are made for wakeboard towers. However, they work amazingly as ATV speakers, too. They can handle abuse and water just fine. They are completely sealed and have steel-reinforced mounting points. They mount to any bar-style surface that is 1.26 to 2.05 inches in diameter. A longer screw can make them fit larger diameter bars as well. They sound great, too. If you're into expanding your current system, or making your own setup, this is a good start.
Recent Updates
August 4, 2022: Removed promoted product recommendation
August 27, 2021: Added a promoted product - Belva BPS8RGB
April 29, 2021: Added the Planet Audio PATV85, BOSS Audio MCBK420B, and Rockville RWB80B.
March 16, 2021: Added the BOSS Audio ATV8BRGB to the list.
We are committed to finding, researching, and recommending the best products. We earn commissions from purchases you make using the retail links in our product reviews. Learn more about how this works.
What Makes a Good ATV Sound Bar?
One thing that is vital to making a system work for your machine, and is something all of the best ATV stereo systems have in common, is marine-grade speakers. Let's face it, when we ride ATVs, we often ride in some pretty harsh conditions. It can be wet, dirty, muddy and worse. But that is part of the fun, too. Marine-grade waterproof ATV stereo systems are designed to work in some pretty harsh conditions, too. Salt-water environments are brutal on components and boating can pound electronics with bouncing over waves. For your ATV, you want a sealed system that uses components that can handle the way you ride. The ATV stereo systems on this list will do that.
Why Do Some ATV Stereo Systems Use a Tube or Pipe Design?
There are several reasons why some ATV stereo systems look like big tubes. One reason is it allows the whole system to be self-contained and sealed. The amplifier and all the wire connections are sealed within the ATV sound tube and protected from the environment. Another reason for the tube is portability. Several of these systems are designed to plug-and-play and can be swapped out between your ATVs, boats and other toys. One of the added benefits to the ATV sound tube design is sound quality. While everything is self-contained within the tube, the tube itself acts as an echo chamber for the speakers, giving your speaker quality a boost. This is especially evident of the lower range of sound, giving your bass tone an added boost.
Do I Need a Waterproof Speaker for my ATV?
We like to ride our ATV in just about any kind of weather and just about anywhere we can legally go. This means you definitely need a waterproof speaker for your ATV. The good news is that pretty much any ATV sound bar or stereo are designed to handle most any moisture you can send its way. Some of the ATV sound bars on this list are fully marine grade designs, which means they can even be submerged. While we wouldn't recommend dunking your speakers in the nearest mud hole, it's nice to know they can handle the wet stuff when the situation calls for it. Derrek Sigler
Derrek's love for all things ATV started when he was a mere 11 years old, growing up on his family farm. His mom gave him and his sister a choice - get a horse, or a three-wheeler. The sister wanted the horse, and Derrek wanted the ATV. Luckily he won out, and was soon burning up the trails on a Yamaha Tri-Moto 200. By the time he was 14, he had saved enough of his own money by working on the farm and in his folks restaurant to buy a new 4-wheeler. That happened the day he and his mom were driving past the dealership and saw 1987 Banshee. His mom had no idea what he was buying, and he never looked back. He's been riding ever since, and been writing professionally for many years. He has ridden all over North America and been behind the controls of just about every machine out there. And yes, he still has his 1987 Yamaha Banshee.
More by Derrek Sigler
Published February 11th, 2020 2:50 PM
Top Brands
Popular Articles