158 Views
Best 25x8x12 ATV Tires For All Types of Terrain
January 18th, 2022 2:22 PM
Share
We're committed to finding, researching, and recommending the best products. We earn commissions from purchases you make using links in our articles. Learn more here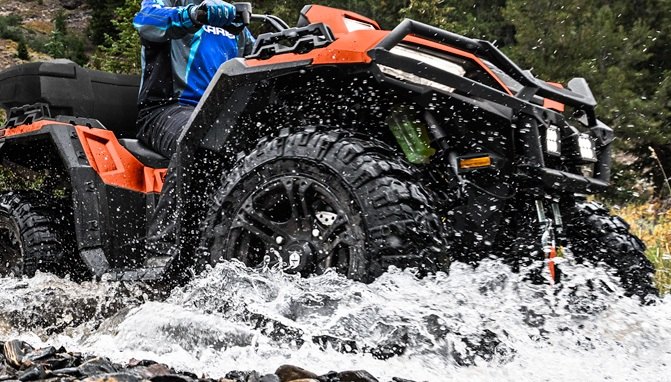 Find the right set of tires to get more out of your ATV
If you're shopping around for the best 25x8x12 ATV tires for your ride, you've come to the right place.
The savvy shopper knows that the quickest, surest way to transform an ATV's performance isn't with a new exhaust or a suspension overhaul; it's with a fresh set of tires. Your tires are the only parts of your ATV that actually make contact with the trail, responsible for turning all your throttle, brake, and turning inputs into action. Fortunately, there are countless tire models on the market, each with its own unique strengths and terrain specialties, so that no matter what sort of riding you do, there is a set of 25x8x12 ATV tires out there that's just right for you.
Unfortunately, the sheer volume of options means that there are a lot of tire models to sift through before you find a winner.
That's where we come in. Here, we've rounded up the very best 25x8x12 ATV tires on the market, suitable for a range of different terrain types, so you can spend less time comparing specs and more time ripping up the trails.
1. Editor's Choice: Tusk Terrabite
If you want a great value tire that won't disappoint on the trails, the Tusk Terrabite is a solid 25x8x12 option. The Terrabite is a solid all-around tire and features a rugged 8-ply carcass, radial construction, and is DOT certified. To top it off, it comes with aggressive shoulder and sidewall tread to help you climb up, over or through most anything. Considering its features, the price tag of the Tusk Terrabite is hard to beat when it comes to 25x8x12 tires.
2. Runner Up: Sedona Rip Saw R/T
An extreme-terrain 25x8x12 radial tire from one of our favorite ATV tire manufacturers, the Sedona Rip Saw R/T has the sort of aggressive, in-your-face looks and extreme off-road capability you might expect from a tire named "Rip Saw". Looking more like an off-road truck tire than your average 25x8x12 ATV tires, the Sedona Rip Saw R/T has positively massive 1-1/8-inch-deep tread blocks that wrap around onto the sidewalls for maximum traction in mud and deep ruts; a 6-ply rating that lends the radial tire excellent durability; and an open tread design that boasts superb clean-out in muddy conditions and outstanding traction over all sorts of extreme terrain. If you can't get there with the Sedona Rip Saw R/T, you probably weren't meant to go there.
3. Best Mud Tire: Maxxis Zilla
Ever since the Maxxis Zilla first rolled onto the scene, it's been delivering exactly the sort of multi-terrain performance we'd been looking for out of 25x8x12 ATV mud tires. A lightweight radial tire with a 6-ply rating and a deep mud-slinging tread pattern that means business, the Maxxis Zilla borrows its tread block design from the excellent Mudzilla, but with revised spacing that creates a nearly continuous center tread for a smoother ride on the trail. That, in combination with the predictable handling and high-speed performance delivered by its radial construction, makes it a capable mud-slinging tire that's just as at-home on intermediate and soft-pack trails.
4. Best Trail Tire: ITP Mud Lite AT
Like the Maxxis Zilla, the ITP Mud Lite AT is a muck-slinging mud-terrain with a design that renders it just as at-home on the trail. Or maybe it's a trail-oriented all-terrain with a mud-compatible tread design. Either way, what it delivers is versatile performance, with mud-throwing 3/4-inch tread lugs arranged to provide a smooth ride on the trail, and lightweight bias-ply construction with a durable 6-ply rating. It's a true all-conditions sort of tire, with excellent acceleration, braking, and turn-in thanks to its low weight, a long-wearing tread compound engineered to go the distance, and a tread design that blends the best all-terrain and mud-terrain performance.
5. Best General Purpose Tire: Carlisle AT489XL
Based on one of the best selling, most recommended replacement ATV tires out there, the Carlisle AT489, the AT489XL isn't the most original choice we could have come up with. But then, the classics are classics for a reason. Manufactured in Italy with a 3-star ply rating, the AT489 XL is a more heavy-duty alternative to the ubiquitous AT489, with the same excellent shock-absorbing tread blocks, beefed up to three-quarters of an inch – the deepest in the AT489 lineup. It also shares the regular AT489's wraparound shoulder lugs, which deliver maximum forward traction while reducing lateral slip on slick terrain. A solid all-rounder most in its element on soft and intermediate terrain, the AT489XL isn't averse to a bit of mud, making it a versatile option in the 25x8x12 ATV tires market.
Up there with the Carlisle AT489 in terms of popularity, the Kenda Bearclaw is about as common as salt. There's a perfectly good reason for that: it's among the most versatile, general-purpose 25x8x12 ATV tires out there, at one heck of a good price. With a tread design that puts it somewhere between a paddle tire and a typical directional-tread tire, the Kenda Bearclaw has been used to tackle dirt, sand, mud, gravel, grass, snow, and everything in-between. Sure, if it's maximum sand performance you're after, you should spring for an actual paddle tire; if it's the very best mud performance you want, you would be better served by a true mud-terrain tire. But if you want a single tire that's up for a bit of everything, with a rugged 6-ply rating and built-in rim protectors, you get a set of Kenda Bearclaws.
7. Sun F Power I All Terrain Tires
A relative newcomer to the ATV tire game, Sun F has taken a page from one of the most popular ATV/UTV tires on the market when they made the Power.I line of tires. These 25x8x12 ATV tires feature a 6 ply construction for great puncture resistance and the multi-directional angled knobby tread design provides excellent traction in a wide variety of terrains. The hard rubber compound ensures that you'll get long life out of your tires regardless of the terrain that you tackle.
8. MASSFX MS ATV/UTV Tires
Another relatively new name in the ATV/UTV tire market, MASSFX has designed a trail tire that is very comparable to another from a well known brand featured on this list. The MASSFX MS tires feature a durably 6 ply construction and a directional tread that works well on groomed and hard packed trails, as well as some muddy pits that you might encounter along the way. the 1/2" deep tread provides a smooth ride while still offering excellent traction in a wide variety of terrain. When looking at the reviews, people love the performance that these tires deliver and the affordable price for a pair.
My UTV has the same tire size (height) but has two different widths. Can I put the same size tire on all 4 wheels?
Absolutely! This is actually fairly common for UTV owners so they can keep a spare that can go on any corner of the unit. The main thing is you'll want your wheels to be similar in size so there is no variance in the width.
With so many tire tread options, how do I know which to go with?
When you read about the tire features, you can pretty accurately gauge where they will shine. If you're blasting through the desert, the Maxxis Zilla or ITP Mud Lite tires probably aren't the best options. the same can be said for the Rip Saw or Terrabite in sloppy muddy trails. Find a tread that will shine for the riding you primarily do.
Additional Resources
Recent Updates
12/16/2021: Updated product descriptions, updated product links, added new product (MASSFX and Sun F tires), added additional resources and added FAQ.
We are committed to finding, researching, and recommending the best products. We earn commissions from purchases you make using the retail links in our product reviews. Learn more about how this works. Aaron Brzozowski
Aaron is a freelance writer, videographer and car enthusiast based out of the Detroit area. He has a special affinity for the Porsche 944 series, and once owned a Volvo 240 sedan with a Weber carb in place of the factory EFI system. His work has appeared on AutoGuide, GM Authority, /Drive, and VW Vortex, among other sites.
More by Aaron Brzozowski
Published December 10th, 2020 11:49 AM
Top Brands
Popular Articles