333 Views
2020 Yamaha Kodiak 700 EPS Vs. Yamaha Grizzly EPS: By the Numbers
July 30th, 2019 4:35 PM
Share
We're committed to finding, researching, and recommending the best products. We earn commissions from purchases you make using links in our articles. Learn more here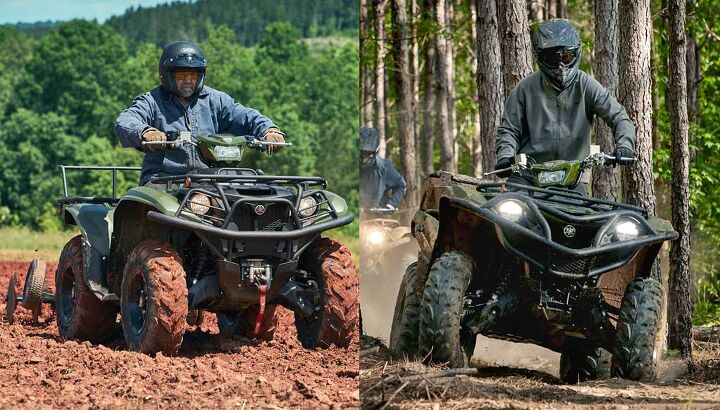 These closely related cousins have some key differences
In the wild, Kodiak bears and Grizzly bears stem from the same species of brown bear but are sufficiently different to merit being named to different sub-species. Variances in their bone structure and where they live are more than enough to call them two separate animals. It's the same deal at your local ATV dealer – at least when it comes to the 2020 Yamaha Kodiak 700 EPS and Yamaha Grizzly EPS.
More than one casual shopper, and even the seasoned off-roader, has confused this year's utility ATV brothers from Yamaha. At a glance, it can be tough to tell them apart. It's under the skin that the Kodiak and Grizzly start to diverge and reveal themselves as two different machines with distinctive purposes. The quick Cliff's Notes is essentially the 2020 Yamaha Kodiak 700 EPS is tuned for more low-end grunt work while the Yamaha Grizzly EPS is better equipped for higher speed recreational riding. There's more to it than that, of course, including variations in seat height and tire size, so strap on a helmet and let's get to work
Powertrains
2020 Yamaha Kodiak 700 EPS Front
The Kodiak is available with two different engine options, but for simplicity and accuracy of comparing equal machines, we'll stick with the 700cc class. The 2020 Yamaha Kodiak 700 EPS displaces 686cc and the liquid-cooled four-stroke has a 10.0:1 compression ratio and is hooked to Yamaha's Ultramatic transmission. The company likes to refer to it as "big bore power" but all you need to know is that it is tuned for low-end grunt, making it a solid choice for towing and other work-related thrashing.
Thumbing the throttle on a Yamaha Grizzly EPS will fire up an engine that is, well, virtually identical in physical construction to the one found in its Kodiak cousin. Displacement, compression ratio – it's all the same. The difference reveals itself out on the trail, where the Grizzly is more apt to pick up the pace with greater speed compared to the Kodiak. Mid-range power is noticeably more accessible on this rig.
Bottom Line: It definitely boils down to the intended purpose you have for your new four-wheeler. If daily slogging around the ranch tops the list of duties, the Kodiak's engine tuning is likely the best fit of these two. But if you're planning a mix of work and play, the more responsive Grizzly may just be the ticket to a powerful ride.
Off-Road Prowess
2020 Yamaha Grizzly EPS Beauty
The 2020 Yamaha Kodiak 700 EPS offers up 10.8 inches of ground clearance, enough to get over that feed bucket your farmhand left in the middle of the trail on his way back to the barn. A high-mounted air intake should keep out most of the gunk. Yamaha's gone so far as to install a high-capacity radiator, knowing that this machine will be primarily used for low-speed technical riding, an activity which isn't exactly conducive to good natural airflow. The burly rad should help offset that challenge.
With an extra two inches of width compared to the Kodiak (48.4 vs 46.5), the Yamaha Grizzly is a bit more stable when running at high speed over a trail. It is also half an inch taller, providing the same amount of extra ground clearance. Keep in mind that its turning radius is nearly two feet more than that of the Kodiak (146 inches vs 126 inches), so be sure to budget for that extra space if you're trying to turn around in a tight situation.
Bottom Line: For 2020, selecting the EPS trim of Kodiak bestows Yamaha's On-Command 3-way locking diff, yet another way in which these two machines are growing ever similar to each other (base Kodiaks have a lever operated 4WD system). The Grizzly has half-an-inch more wheel travel front and rear, checking in at 7.6 and 9.1 inches, respectively.
Brakes and Suspension
2020 Yamaha Kodiak 700 EPS Trail
Independent double wishbone suspension shows up on the front and rear of the 2020 Yamaha Kodiak 700 EPS, along with an anti-sway bar out back. Its rear brakes are of the multi-disc wet variety, compared to the dual hydraulic discs installed front and rear on Grizzly. A dandy argument can be made that the latter setup offers more stopping power.
The basic suspension setup on Yamaha Grizzly EPS is, word for word, identical to its cousin described above, save for an extra half inch of travel. The Grizzly does have bigger tires, wearing 26-inch Maxxis hoops compared to the 25 inchers on Kodiak, impacting turning circle a bit. Keep in mind the Grizzly is about two inches wider, a difference which does add a bit of high speed stability.
Bottom Line: Tuned for more aggressive and higher speed riding duties, the Grizzly earns its keep as a true dual-purpose machine. With extra front suspension travel and bigger tires, the more expensive rig is better equipped to take on a variety of duties, including tearing back to civilization over the trail with a load of cargo after a day's hunting.
Rider Comfort
2020 Yamaha Grizzly EPS Mud
The Yamaha Kodiak 700 EPS features a seat designed to be lower than the Grizzly to simplify mounting and dismounting. This decision was likely made thanks to the Kodiak's intended lot in life, which is work-focused and may involve a lot of getting on and off the thing while its owner is fixing fences out on the back forty.
Even though its basic suspension geometry is largely the same as Kodiak, the Grizzly EPS adds nitrogen-charged shocks for a slightly more compliant ride at speed. Riders will sit slightly higher in the saddle on a Grizzly than a Kodiak, but it's up to you if that's an advantage or not.
Bottom Line: Both ATVs weigh about 700lbs wet and have a (nearly) five gallon fuel tank, so expect similar cruising ranges and levels of exertion in extracting them when you get stuck. Both models selected for this comparison have electronic power steering, which saves riders from getting arms like Popeye after a long day's ride.
Cargo & Towing
2020 Yamaha Kodiak 700 EPS Working
Taking the 2020 Yamaha Kodiak 700 EPS out on the ranch for a day's work will be productive, since it can tow an oddly-specific 1322 pounds (it's exactly 600kg for those of you who don't reside stateside). It will bear 110 lbs on its front cargo rack and 198 lbs on its rear rack, so go ahead and load the thing up with hay or feed or whatever you're bringing with you to get the job done.
Given they deploy an engine of equal displacement and have the same 44mm fuel injectors, it shouldn't be a surprise the Yamaha Grizzly EPS tow rating mirrors that of its brother. It can also handle the same amount of weight on its front and rear cargo racks. However, remember that while the Grizzly is the same length as the Kodiak, it is about two inches wider, meaning riders can distribute the weight of their gear just a little a bit more on the Grizzly.
Bottom Line: One could argue that the Grizzly allows for slightly better weight distribution given its additional width, but it is the low-end grunt provided by Kodiak's tuned-for-work engine that makes it an ideal workhorse.
Pricing
When it comes to sticker shock, the 2020 Yamaha Kodiak 700 EPS starts at $8799, a couple of hundred more bones than last year. It makes up for its price hike by including aluminium wheels as standard equipment. A bank draft for the sum of $9049 will net buyers a Kodiak in Fall Beige trimmed with Realtree camo, which is actually $150 less than the 2019 price.
As for the Grizzly 700 EPS, Alpine White and Tactical Green units are priced at $9899, both of which come standard with aluminium wheels. Last year's snazzy Ridge Red has vanished. Be prepared to shell out an extra $400 for a camo-painted version, as adding Realtree to a Grizzly brings the sticker price to three bills over ten grand.
Bottom Line: Customers will have to carefully weigh the extra kit and different power-delivery style of the Grizzly to determine if it is worth the extra cash. Reliably priced about $1000 more than the Kodiak, the slightly sportier Grizz makes a compelling case for itself. Note that the brush guard that is shown on the front of most Grizzly and Kodiak rigs is a near $300 option.
Style
2020 Yamaha Grizzly EPS Alpine White
To be honest, both of these four wheelers look markedly alike. In fact, most people would have a hard time telling them apart especially if they are not parked side by each. The new-for-2020 shade of Alpine White on the Grizzly is a bit more bold than the muted Kodiak options, if you care about that sort of thing. The more expensive Grizzly features 26-inch tires, which seem to fill out the rig's profile a bit better than Kodiak's smaller 25-inchers. It is dealer's choice here, folks.
The Verdict
Just like their real life namesakes, these two bears are definitely offshoots of the same species. While they might look similar to the untrained eye, there are definite and marked differences in their bone structure and personality. Those looking for a workhorse are likely better off opting for the Kodiak and its low-end grunt, while shoppers seeking something they're going to take on the trail from time to time should check out the Grizzly. Published July 30th, 2019 4:35 PM
Top Brands
Popular Articles