1.3K Views
Ladies Only: ATV Adventure in Ontario's Ottawa Valley
October 24th, 2023 10:59 AM
Share
We're committed to finding, researching, and recommending the best products. We earn commissions from purchases you make using links in our articles. Learn more here
What does it take to be a female rider?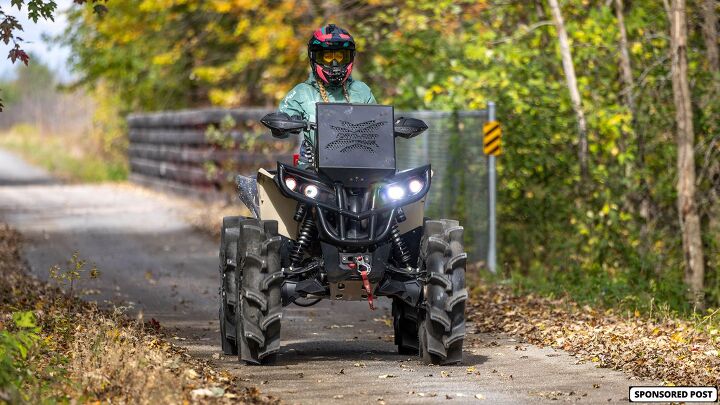 Confidence, patience, and strength come to mind. Confidence to believe in yourself and take that first step to get out of your comfort zone. Patience with yourself because things on the trails don't tend to go according to plan. Strength to persevere when things get tough, or when you need to get out of your own way to overcome an obstacle.
These are the qualities that were demonstrated by some pretty awesome women who joined me on the trails recently in Eastern Ontario. With help from both the Ottawa Valley Tourist Association and the Renfrew County ATV Club, we managed to pull off a woman only ATV "ride and learn" and it was a weekend to remember.
It started with checking in to the Best Western Pembroke Inn & Conference Centre which is right across the road from Pembroke Big Stop Restaurant but more importantly, the trail head. They were dog friendly (treats too!) so we even got to bring our doggo, which is always nice to come back to at the end of the day. With lots of room to park your trailer, I even took the opportunity to practice backing up our trailer a few times (spoiler alert, I'm better than I thought!).
The next morning is when I finally got to meet up with everyone and I was surprised at the diversity of the group. Young and "seasoned" alike, there were varying experience levels in the group from new riders who had never ridden before, to experienced riders who were looking to share their knowledge with the group. Today was going to be an introductory ride exploring the different ways you can access what the Ottawa Valley has to offer, all by ATV.
With a little road running and a ride up the old railbed, we rode to Cobden, Ontario where we were able to take our first pit stop at Whitewater Brewing Co. (or as the locals call it "The Brewery"). If you haven't been, you're missing out. It's right off Hwy 17 and not only is it trailer friendly, but right as you go inside, you're immediately greeted with a shelf for your helmet and hooks for your gear. They get all types of folks there from ATV riders, to cyclists, to snowmobilers in the winter. When it comes to the food, it doesn't disappoint either. Not only do they source most of their food locally, but in doing so their menu changes with the seasons so you know it's going to be good. Some of their staple items that have made it to the top of my list though are their Bison burger and their Caesar salad (yes, you read that right). Definitely worth the trip.
From there, we hopped back on the highway to make our way "downtown" Cobden to grab ourselves a coffee and a treat at the Little Coffee Shop – a true hidden gem. I can't describe it any other way than it felt like home. With so many options, it was hard to choose! We ran into a group of cyclists who had pre-ordered their food to go (smart!) and after a few jabs and jokes we were on our way to the rail bed. It was fun seeing a whole other community of outdoor enthusiasts enjoying the same trails as us.
The day ended at the Pembroke Marina where we ran into a couple young fellas with a special interest in my Renegade XMR 1000R; paying particular attention to the mud tires of course. A few photos later, we were all on our way.
The following day was the day I was looking forward to the most. I knew we were going to challenge some of the women and I was excited to see them succeed. We met at the Warmup Shack and promptly said goodbye to the husbands who dropped some of them off. From there we'd be exploring the Pakkotinna Trail System via the B-101 and B-102 trails. Fall has always been my favorite time of year to spend in the Ottawa Valley, yet the fall colors always seem to catch me off guard.
Throughout the ride, we got to stop and take in some sights at a nearby lookout, practiced filling up tires with air when a couple of the women had some slow leaks, and even worked our way "up" to going up and down a large hill with a steep incline with loose boulders and rocks (see what I did there?). There was a learning opportunity at every turn and it was so cool watching the riders progress from railbed riding to riding trails with various technicality ratings. Their final "exam" on the trail was probably my favorite part of the whole weekend; mud.
Anyone who's ever ridden mud probably remembers their first mud hole and this was going to be theirs. With a quick lesson on winches, straps and technique, they were on their way. Smiling from ear to ear, we knew our job was done. That was it, they had caught the mud bug; and just like that, they knew first hand what it took to be a female rider. Published October 24th, 2023 10:51 AM
Top Brands
Popular Articles