105 Views
June 14th, 2023 12:52 PM
Share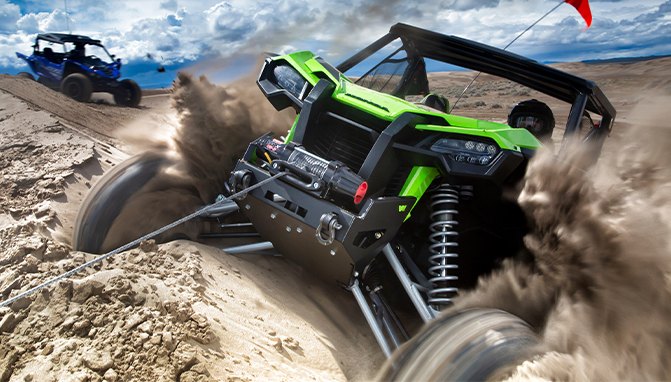 Whether you use it for work or play, a quality winch can make your off-road life easier
Take it from us: You'll never think you need a good UTV winch until you actually need one. This means that you're probably already stuck, and being stuck on the trail without a winch is a major buzzkill.
While the UTV winch is by no means universally embraced, it should be; having a reliable winch with sufficient pulling power to unstick your UTV can be the difference between a long, arduous walk back to camp in dwindling sunlight, and a leisurely cruise with plenty of time before dusk. Not only that, but the UTV winch market is flooded with good, stout electric winches from reputable brands, possessing more than enough pulling power for even the heaviest UTVs, many priced about the same as a fresh set of all-terrain tires.
And lest we forget, vehicle recovery is far from the only trick up the winch's sleeve. There's a whole slew of other uses for the electric winch, including moving large rocks, pulling dead shrubs or bushes, helping erect structures like sheds and hunting blinds – even setting up makeshift ziplines. (We can't recommend that last one, but if you are brave enough to try it, at least wear a helmet.)
Our staff experts want to help you find the right winch for your needs, so we've put together this list of the best UTV winch options on the market today, spanning a range of different price tags to suit every budget.
Lead photo by Warn
1. Editors Choice - SuperATV 4500 Lb. Black Ops UTV Winch
A well-built unit from one of our go-to providers of aftermarket ATV and UTV equipment, this 4,500-pound Black Ops winch from SuperATV is the real deal. Powered by a 1.3-horsepower electric motor turning through a 166:1 gear ratio, this winch's greatest strengths are its waterproof solenoid and housing seals, its 50' synthetic rope – as opposed to steel cable, which tends to break with a lot more "snap" when it goes – and its wireless remote control with up to 50 feet of effective range. It's got plenty of other great attributes, too, like a wired dash rocker switch and an automatic braking feature, all for a thoroughly reasonable price, which makes it one of the best UTV winch options around.
2. Best Budget Winch - QuadBoss 5000 Lb. Winch
If you're looking for the best bang for your buck, try this 5,000-pound-rated QuadBoss powersports winch on for size. Costing a fraction of what you might spend on a comparable winch from other brands, this electric UTV winch delivers more for less coin, with a fairly basic, no-frills design and a steel cable to keep costs down. That's not to say that this unit is utterly lacking in features; it still includes a wireless remote controller, an automatic brake, and a sealed, water-resistant housing to keep the inner workings safe from rain and snow. There's even a synthetic rope version available for just a bit more cash, but in our opinion, it's the steel cable version that represents one of the best-value UTV winches out there.
3. Best Compact Winch - Warn Axon 45-S Powersports Winch
We dare say it's impossible to talk about vehicle recovery winches without mentioning WARN – perhaps the most well-known, sought-after brand in the business. If you've got a bit more budget, you might be interested in this: the WARN Axon 45-S powersports winch. It's expensive, with a sticker price that exceeds that of any other winch on this list, but if you simply must have the best – things like 50 feet of Spydura synthetic rope, a compact IP68-rated housing, digital control, and WARN's revolutionary "motactor" unit, which combines the motor and contactor into one assembly – there's no substitute. Digital control helps make this Warn UTV winch one of the smoothest, most responsive and best-performing winches around, while furnishing users with valuable load and temperature information, and a corded remote delivers an instant, reliable interface.
4. MotoAlliance Viper Elite 4500 UTV Winch
Proving that you can, in fact, find a premium UTV winch at a not-so-premium price, the MotoAlliance Viper Elite 4500 is 21 pounds of well-priced UTV recovery equipment. There's a 6,000-pound version available for those who prefer a generous amount of overkill, but realistically, 4,500 pounds is plenty enough for most folks. The winch features a powerful 1.8-horsepower electric motor with an automatic brake and 40-feet of BLUE Am-Steel blue synthetic rope, available in a range of different colors including green and orange so you can pick out something that matches your ride. The housing is IP67-rated against dust and water intrusion, so you don't have to sweat the prospect of it conking out on the trail, and the included waterproof wireless remote has a range of up to 75 feet.
5. WARN VRX 45-S Powersports Winch
For the mix of price, pulling power, and just the sort of robust build quality that put WARN on the map, we recommend this WARN UTV winch: the VRX 45-S. Its 4,500-pound rated capacity makes it strong enough to pull the average side-by-side with ease, thanks to 50' of WARNs Spydura synthetic rope. The real reason to opt for this WARN over one of the less expensive options on our list is the top-notch quality, with its attractive powder-coated all-metal housing and IP68 dust- and water-resistance rating. If reliability still counts for something, you can't go wrong with WARN.
6. KFI SE-45 R2 Stealth Winch
One of the best-known names in ATV and UTV winches and accessories, KFI offers a range of different recovery winches with the pulling power to free a stuck UTV, but none of them are quite as well balanced as this: the SE-45 R2 Stealth Winch. Foregoing the usual wireless remote control and incorporating a 14' corded remote instead, the KFI SE-45 R2 is a powerful, stout synthetic rope winch that performs like something costing significantly more. The rope measures just 38 feet in length, but that's plenty for most of the situations the average rider will find themselves in, and it features an automatic brake, a heavy-duty all-metal clutch, and a new dash rocker switch for cockpit control. It's hands down one of the best UTV winch values around.
Which UTV winch is right for me?
UTVs are, as a rule, heavier than the average ATV, with curb weights typically in the 1,200 - to 2,000-pound range. As such, you might think that any winch rated for 2,500 pounds or more will do for your next UTV winch, but that's not a safe assumption; how many pounds of force you need to free your stuck UTV is largely up to what it's stuck in/on, and the angle of the incline where it's stuck. That number can easily exceed your UTV's curb weight, and as with most things, it's better to have too high a rating than too low.
Do I need anything other than just a winch to get myself unstuck?
While a winch is a great item to have, there are a good handful of winching accessories that we highly recommend having on hand. In no particular order we recommend the following items:
Tree Trunk Protector
Soft Shackle
Clevis D-Ring Shackle (at least one, preferably two)
Snatch Block
Not only can these items make getting yourself unstuck easier, but you can also protect the environment when using them properly.
Braided steel rope vs. synthetic
Another big choice you'll have to make is what type of line you prefer. Braided steel cable has long been the default, but synthetic rope has exploded in popularity in recent years, and each material has its advantages and disadvantages. Steel is heavier than rope, introducing more weight on the front (or rear) of your vehicle and requiring more effort to use out in the field. It can also develop sharp burrs over time that can be painful to the touch, even if you're wearing gloves, and when it breaks, it tends to do so explosively, snapping back with great force that can be dangerous. However, steel cable is also cheaper, less sensitive to chemicals, less sensitive to UV light, and less prone to the sort of abrasions that can accumulate over time and lead to a break. As a rule, we might say that steel is the better option if you don't plan on often using your winch, but it's still largely a matter of choice.
Do I need to modify my electrical system to use a winch?
Most UTV winches will work with your electrical system just fine under NORMAL operating conditions. If you're subjecting your battery to heavy loads from constant winch use, like pulling through mud or hard core technical rock crawling, you may want to consider a dual-battery kit for your UTV. There are plenty of aftermarket kits available, and depending on how many accessories you have drawing on your electrical system already, it might not be a bad idea to get one.
Recent Updates
6/14/2323: Updated product links and removed discontinued product (Tyrannosaurus winch), added to FAQ
11/4/2021: Updated product descriptions, replaced OOS product with in stock items, added Tyrannosaurus 5k lb winch
Published June 14th, 2023 12:52 PM
Top Brands
Popular Articles