21 Views
Best Yamaha YXZ1000R Accessories
August 3rd, 2021 3:17 PM
Share
We're committed to finding, researching, and recommending the best products. We earn commissions from purchases you make using links in our articles. Learn more here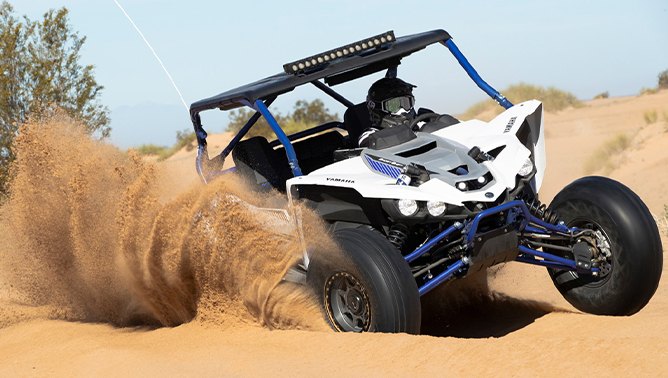 These accessories help to take your YXZ1000R to the next level of comfort and convenience
If you're looking for the best Yamaha YXZ1000R accessories to complement your hyper focused, high-performance side-by-side? You've come to the right place.
Here at ATV.com, we make it our business to know the ATV and UTV accessory markets front to back. We've tested, reviewed, and priced out most everything out there, from tires to windshields, audio systems to lift kits. That's given us a unique understanding of what's available, where to get the most bang for your buck, and which mods and accessories are worth skipping. In the case of Yamaha YXZ1000R accessories, there are scores of practical or experience-enhancing bolt-ons that can take the already great Pure Sport side-by-side and turn it into the perfect trail companion.
Here, we've rounded up the best Yamaha YXZ1000R accessories on the market today, encompassing everything from $30 door storage bags to high-end audio equipment.
1. Editor's Choice: Labwork UTV Door Storage Bags
Finding enough spaces to stow all your stuff can be a struggle in any UTV, but with these UTV door bags, it doesn't have to be an issue on the Yamaha YXZ. These are among the most practical Yamaha YXZ1000R accessories on this list, giving you a convenient mesh pocket in which to stick your wallet, keys, sunglasses, and other small items while you ride, along with a fully enclosed pocket for larger or more sensitive items. Each door bag also provides a soft sponge knee pad so that you don't bang your knee against the door when the trail gets rough, and they're made from durable, reinforced 1680D nylon fabric, which is weather-resistant and long-lasting.
2. Best Windshield Option: SuperATV Scratch-Resistant 3-In-1 Flip Windshield
If you're just about done with being pelted in the face by twigs, pebbles, and other trail debris, a good UTV windshield is a must-have. SuperATV makes some of the industry's best, and this 3-in-1 Flip Windshield is one of our absolute favorite Yamaha YXZ1000R accessories. With a precision design that perfectly fits the Yamaha's hood contours and hard-coated polycarbonate construction that yields a windshield some 250 times stronger than a comparable glass one, this windshield boasts a flip pane that can be propped fully open for maximum airflow or cracked slightly for full passenger protection with a moderate amount of ventilation. It ships pre-assembled and installs with ease, and it's even compatible with most Yamaha YXZ1000R roof designs on the market.
3. Best Audio Upgrade: Rockford Fosgate YXZ-STAGE2 Stereo Kit
Plenty of audiophiles know that if you want the clearest, kickingest audio available in your vehicle, you could do worse than Rockford Fosgate. Lucky for Yamaha YXZ owners, the high-end audio brand offers this complete, bespoke stereo kit, which includes a color touchscreen Rockford Fosgate head unit, a pair of full-range Rockford Fosgate speakers, and contoured enclosures designed to perfectly fit the YXZ1000R dashboard. That PMX-2 head unit is "element ready," naturally, meaning it's been engineered to withstand routine weather exposure, and it boasts four crystal-clear 50W audio channels for superb sound. The included marine grade speakers are 6.5" full-range units that deliver rocking frequency response befitting a well-respected name like Rockford Fosgate, and although the full kit is undeniably a bit on the pricy side, the sound quality more than makes up for it.
4. Best Side Mirror Option: Chupacabra Offroad Rear View Side Mirror For UTV
The importance of trail visibility can hardly be overstated, and with how affordable these Chupacabra Offroad side mirrors are, there's little excuse not to add them to your list of Yamaha YXZ1000R accessories. Boasting 4"-by-7.2" convex mirror elements with impact-resistant black ABS housings and near-universal mounting clamps, these side mirrors offer plenty of adjustability and a clear view of your surroundings, while a nifty "breakaway" feature allows them to fold in instantly and safely in the event of an impact. But the best feature of all is the lifetime warranty, which ensures that you'll be able to use these mirrors ride after ride, season after season.
5. Best Rear View Mirror: XJMOTO Rear View Mirror
Supplement your side mirrors and get the complete picture with this affordable, adjustable center rearview UTV mirror from XJMOTO. Most "universal" clamp-on rearview mirrors don't fit the YZX1000R because while most of the roll cage is formed from 1.75"-diameter tubing, the bar that spans high up across the front of the cage is just 1.5" in thickness, which is smaller than most clamps go. This XJMOTO mirror features rubber clamp gaskets that help it clamp down to 1.5", and they do a decent job absorbing shocks and vibrations to boot. The 15" width provides a broad, panoramic view of what's behind the vehicle, and it's a well-designed and constructed accessory with precision laser-cut steel brackets and an easy-to-install butterfly clasp system.
6. Best Replacement Trail Tires: ITP Mud Lite XXL Tires
The factory Yamaha YXZ1000R tires – a specially developed set of Maxxis Bighorn radials measuring 29x9-14 front and 29x11-14 rear – are superb. But if you're looking for a little bit more firepower, the ITP Mud Lite XXL can deliver, with 1.2"-deep lugs and a mud-focused tread design that's equally at-home over loose and intermediate surfaces, rocks, ruts, and snow. With 6-ply-rated construction, the ITP Mud Lite XXL is lightweight for its size, and the available 30" tire height yields a slightly larger contact patch for superior traction, not to mention a raised ride height with more ground clearance. These tires are an even bigger upgrade on 2016-2018 YXZ1000Rs, which came with 27" tall tires from the factory.
7. Best Body Protection: SuperATV Heavy Duty Nerf Bars
If keeping your side-by-side's chassis and mechanical bits protected is important to you, a pair of nerf bars or rock sliders ought to be on your list of top Yamaha YXZ1000R accessories. These ones from SuperATV are a very smart purchase, offering outstanding strength and durability with their 1.75"-diameter steel tubing and UV-resistant black powdercoat finish. Installation is a simple bolt-on affair, with no drilling or other modifications required, and these bars can be a lifesaver on tight, twisty trails, deflecting trees and other hazards that could otherwise catch a rear tire and cause a nasty crash, not to mention over rocks, where they help your Yamaha slide over without its underbelly getting all scraped up.
How Do You Get More Ground Clearance from The Yamaha YXZ1000R?
As with most any side-by-side, there are two ways to raise the ride height of the Yamaha YXZ1000R and get more ground clearance: fit taller tires or raise the suspension. The factory YXZ1000R tires measure 29 inches tall on 2019+ models, and 27 inches tall on earlier models. In either case, upsizing to a taller tire puts more sidewall under the axles, raising the ride height by about half the increase in tire diameter.
Going that route to net more ground clearance does require some care; taller tires effectively change the gearing on any vehicle, reducing wheel torque and potentially slowing acceleration, not to mention exposing the drivetrain to extra strain. What's more, if you plan on upsizing your tires, you'll want to ensure that your taller tires won't interfere with your YXZ's chassis or body panels. There's good news on that front, because the Yamaha YXZ1000R was practically made for larger tires, featuring open, high-cut fenders with lots of clearance. Models from 2019 onward even feature a substantially shorter first gear than earlier examples, giving owners a bit more tire upsizing headroom before take-off is seriously impaired.
Raising the Yamaha YXZ1000R's suspension can be done either using a set of lift spacers or installing a more complete lift kit with different shocks, dampers, and other components. The latter route is more expensive, but the advantage is that a properly good kit can extend your suspension travel and upgrade handling while keeping the suspension geometry more or less correct.
Additional Resources
Become an ATV insider. Get the latest news first by subscribing to our newsletter here.
We are committed to finding, researching, and recommending the best products. We earn commissions from purchases you make using the retail links in our product reviews. Learn more about how this works. Aaron Brzozowski
Aaron is a freelance writer, videographer and car enthusiast based out of the Detroit area. He has a special affinity for the Porsche 944 series, and once owned a Volvo 240 sedan with a Weber carb in place of the factory EFI system. His work has appeared on AutoGuide, GM Authority, /Drive, and VW Vortex, among other sites.
More by Aaron Brzozowski
Published August 3rd, 2021 3:15 PM
Top Brands
Popular Articles