488 Views
Best ATV Phone Mounts For Tough Trails
May 31st, 2023 9:20 AM
Share
We're committed to finding, researching, and recommending the best products. We earn commissions from purchases you make using links in our articles. Learn more here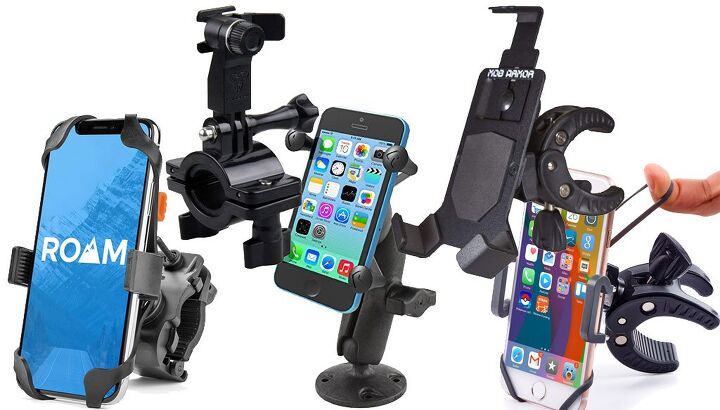 Keep your phone handy and secure when and where you want it
If you are looking for a way to securely carry your phone on your next off-road adventure, these ATV phone mounts might be just what you need.
When it comes to cell phones, most of us take them with us when we go out for a ride on our ATV or UTV. While you can always keep it in your pocket, some times you need quick access to the phone – especially if you are using it as a map or an action camera. Fortunately, the aftermarket has a host of UTV and ATV phone mounts available to help protect your phone while using it as a display. We've taken to the web to find some of the best ATV phone mounts available from some of the best known companies to give you plenty of options. Take a look and see which ATV cell phone mount works best for your needs.
Do You Need A Phone Mount For Your ATV?
This all depends. Do you need to have instant access to your smartphone to get calls? Are you using your phone as a music source for the bluetooth speakers that you've installed to enjoy while you ride? If you've answered yes to either of these, then you likely would benefit from installing one of these mounts on your ATV. Sure you could leave your phone in your pants or jacket pocket while you ride, but there is a strong chance that your phone could fall out without your knowing it until you stop for a break. At least with a phone mount, you'll have a better chance to see if your phone comes off of your ATV. With the quality of phone mounts on our list, we're pretty confident that is something you'll never have to worry about again. Even if it did happen, some of the mounting options offer a backup to ensure you don't lose your phone.
Aside from minimizing your chances of losing your phone while riding, these phone mounts allow you to have instant access to your screen so you can easily see and touch your screen if you're using as a GPS, with one of the many apps available, or even to shuffle your music choices for your sound system.
1. Editor's Choice: Quad Lock Motorcycle Handlebar Mount
When it comes to making a secure cell phone mount designed for extreme use, we have to put the Quad Lock handlebar phone mount on the top of our list. Just like most other phone mounts, this unit is clamped to the most convenient place on your handlebars but that is where the similarities stop. Instead of using elastic bands or a pinch system to hold your phone in place, the Quad Lock system requires you to install your phone into one of their phone cases (sold separately or bought as a complete kit) which you push down onto the mount and give a little twist to lock it into place. Once locked into place, your phone won't budge until you press the blue lever and twist your phone off. To give a little more protection to your phone on the rough trails, Quad Lock also has an optional vibration dampener that they claims to reduce engine vibration by up to 90%.
While some consider having to use the Quad Lock phone case an inconveneince, we can personally attest that their case is extremely durable and one of the least bulky on the market. The downfall to the case is that they're not waterproof like other cases, but it definitely gets the job done when it comes to protection.
2. Best Value: TruActive Bike Phone Mount Holder
Figuring out what companies make the best ATV phone mounts out there, it can be fairly hard to make a decision. We like to base our decisions off of how the mount is secured, what kinds of materials are used, what the user reviews are like, and finally the cost of the mount itself. These are many of the reasons our staff chose the TruActive phone mount holder as our favorite in the quest for Best ATV Phone Mounts. This ATV phone holder was designed for rough riding on your ATV, mountain bike, UTV or anything else that has bars. This ATV cell phone mount comes with 2-different size clamp bolts to accommodate a variety of tube sizes up to 1.26-inches in diameter, making it a perfect UTV phone mount that fits on most grab handles, and doesn't require any tools for installation.
3. Caw.Car Crowfood Handlebar Phone Mount
Another of the more affordable ATV phone mounts is the Crowfoot Handlebar Mount, which has a price tag in the $20 range. This mount has a universal clamp that works on any tube measuring 0.2" to 1.6" in diameter making it a suitable ATV or UTV phone mount. The Crowfoot ATV cell phone holder comes with an adjustable grip that has 360-degree rotation, so you can set your phone in the ideal spot for your ride, and a rubberized clip with silicone belts are designed to grip your phone securely and soak up vibration from the trail.
4. Mob Armor Mob Mount Claw
If you are looking for ATV phone mounts that can clamp onto a larger piece of tubing, the Mob Armor Mount Claw ATV cell phone holder is an interesting choice. You can secure this mount to roll cages or irregular shaped tubing from 1/4-inch all the way up to 2-inches, making it a suitable UTV phone mount as well. It is made from 5052 aluminum and features a powder coat finish. Thanks to its adjustable slide, it can fit even large phones with a case. Protecting your device from trail shock and abuse is high density closes-cell EVA foam, and securing the phone to the Mount Claw is as simple as locking down the twist lock.
One of the more affordable ATV phone mounts is the Roam Co-Pilot. Retailing for about $12, this ATV cell phone mount is designed to secure any phone up to 3.5" wide. This mount is best suited to ATV handlebars or front storage racks, as it can fit tubing from 7/8" up to 1 ¼". The Co-Pilot ATV phone mount locks on to your ATV with a hard plastic grip and silicone neck, using two points of contact.
6. RAM X-Grip Large Phone Mount with RAM Snap-Link Tough-Claw
When it comes to popular mounts for electronic devices, RAM has a solid grasp on the market that is almost as good as they mounts they sell. The RAM Tough Claw allows for quick installation and removal from round, square, and other odd shaped bars you can utilize as mounting locations ranging from .625" to 1.5" in diameter, so it's perfect for mounting on your handlebar or the accessory racks of your ATV. As for the actual phone mount, the spring loaded "X" design utilizes rubber caps to securely hold most large surface while you're taking on rough terrain. Even better is that the arms of the mount keep your phone locked into place without hiding any of your screen. If you're still unsure about how secure this phone mount is, you can even use the included device tether for some added piece of mind.
7. RAM Flat Surface Mount
The RAM Flat Surface Mount is different from most ATV phone mounts in that it doesn't clamp onto a handlebar or roll cage. Instead, this device secures itself to flat surface on your vehicle and has be screwed down. Once installed, the RAM Flat Surface Mount holds our phone using a four-leg design where the legs expand and contract to fit most any phone. That makes this ATV cell phone mount extremely versatile. The RAM flat surface ATV cell phone holder also allows you to move your phone into perfect position via the ball and socket-style joint putting your screen perfectly at your fingertips.
Will having a cell phone mount protect my phone from the elements?
While some brands of cell phone mounts require the use of a special case ( Quad Lock) to protect your phone with special add-on items, most ATV phone mounts will not. This is why we recommend that you also purchase a waterproof/weatherproof cell phone case if you're taking your phone off-road.
Is there any mount better than another?
In our list of ATV phone mounts there are two distinct styles. One is the flat mount from RAM and most others have a clamp system that will go onto your handlebars. If you have a lot of accessories on your handlebars and don't have room to use the clamp style, installing a flat mount system may be better for you, but know that you'll be having to drill through your bodywork to do the install.
Is there anything I need to look out for when installing my phone mount?
First and foremost, you want to ensure that where you install your mount won't interfere with your steering or controls. If you're using a handlebar style mount, you want plenty of clearance from brake and throttle controls. For both handlebar and/or fender mounted systems, make sure that when you turn your handlebars they wont be hitting your mount causing a limitation in steering or the possibility of knocking your phone off.
Recent Updates
05/31/2023: Added new item (RAM X-Grip Large Phone Mount with RAM Snap-Link Tough-Claw) and added to intro paragraph (Do I need a phone mount)
04/26/2022: Added new item (quad lock motorcycle mount) added FAQs, updated product links.
03/08/2021: Updated the link for the Roam Co-Pilot product recommendation.
Become an ATV insider. Get the latest news first by subscribing to our newsletter here.
We are committed to finding, researching, and recommending the best products. We earn commissions from purchases you make using the retail links in our product reviews. Learn more about how this works. Lucas Cooney
I have been working exclusively in digital media since 1997. I started out with TSN.ca, spending nearly nine years creating and editing content on Canada's leading sports website. I left to join VerticalScope, Inc., one of the world's largest online publishers, to start a number of powersports publications. While at VerticalScope, I've helped create and oversee content for a wide variety of different publications, including ATV.com, Off-Road.com, ArcheryTalk.com, Tractor.com, RVGuide.com, and many more.
More by Lucas Cooney
Published May 31st, 2023 9:20 AM
Top Brands
Popular Articles