2K Views
Honda ATVs and UTVs – Models, Prices, Specs, and Reviews
We're committed to finding, researching, and recommending the best products. We earn commissions from purchases you make using links in our articles. Learn more here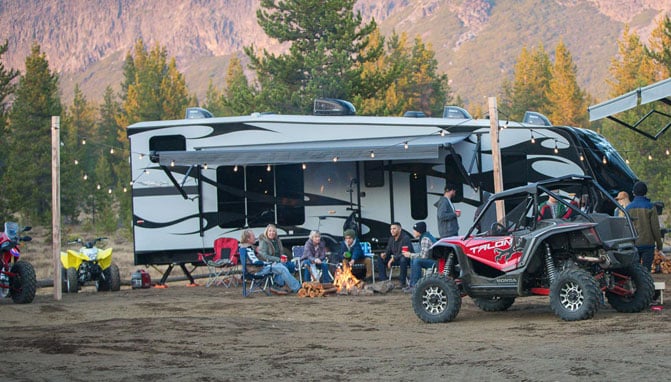 Honda ATVs have been at the forefront of the industry since the beginning when it introduced the vehicle that basically created the ATVs as we know them – the 1970 Honda ATC.
Honda three-wheelers dominated the market for more than a decade before engineers turned their focus to four-wheel ATVs with the TRX200 in 1984. More than 30 years later, the TRX name is still part of the Honda family of off-road vehicles.
As technologies improved and the industry progressed, Honda ATVs kept pace with its Utility and Sport models for the next 25 years or so before Side-by-Side vehicles (UTVs) grew in popularity. Honda introduced its first UTV (the Big Red) in 2010 and replaced it with the Pioneer four years later.
Racing Heritage
Over the years, Honda ATVs developed a reputation of reliability. ATV racers came to appreciate how much abuse Honda ATVs could take and even today if you go to just about any Sport ATV race and you are likely to see more Honda ATVs on the starting line than anything else. Long-distance desert racers in particular have been using the TRX450R for years with no signs of slowing down.
With the introduction of the Honda Talon Sport UTV, you can expect to see Honda machines making appearances in UTV races going forward.
2021 Honda ATVs
TRX90X
Recommended for riders 10 years old and older, the Honda TRX90X is Honda's only Youth model and is designed specifically for beginning riders. It is powered by an 86cc single-cylinder engine and relies on a user-friendly no-clutch transmission that allows riders to shift gears manually without a clutch.
TRX250X
With the venerable TRX450R no longer in the Honda lineup, the TRX250X is the brand's only current Sport ATV. This machine benefits from the Honda SportClutch, that gives you the control of a manual shift while eliminating the chance of shift-induced stalling. With a 229cc engine, the TRX250X is powerful enough to entertain most anybody, but still light enough for smaller riders.
FourTrax Rincon 4×4
The big dog among Honda ATVs is the 2021 Honda Rincon, which relies on Honda's largest ATV engine – a 675cc single-cylinder mill with twin-plug cylinder head. Features include a three-speed automatic transmission, independent rear suspension with 8.0 inches of travel, double-wishbone front suspension, 9.1 inches off ground clearance, and a turning radius of 10.8 feet. Prices start at $9399.
FourTrax Foreman 4×4
Long known as the workhorse of the Honda ATV lineup, the FourTrax Foreman is a proven reliable Utility ATV. It features a 518cc single-cylinder engine, proven swingarm rear suspension, front differential, and much more. It is available in three trim levels for 2021: Fourman 4×4. Fourman 4×4 EPS, and Fourman 4×4 ES EPS. Prices start at $7399.
FourTrax Foreman Rubicon 4×4
The Honda FourTrax Foreman Rubicon 4×4 relies on a 518cc single-cylinder engine and features independent rear suspension and steel front and rear racks. Four trim levels are available for 2021: Foreman Rubicon 4×4 EPS, Foreman Rubicon 4×4 Automatic DCT, Foreman Rubicon 4×4 Automatic DCT EPS, and Foreman Rubicon 4×4 Automatic DCT EPS Deluxe. Prices start at $8699.
FourTrax Rancher
A step down in size from the Foreman is the Honda Rancher line of ATVs. There are eight different Rancher trim levels available for the 2020 model year, each outfitted with a 420cc single-cylinder engine. The base Rancher comes with a manual transmission and a solid rear axle suspension and the Rancher ES features electric start. Upgrade to the Rancher 4×4 for four-wheel drive, while the Rancher 4×4 ES drops includes Honda's electronic shift program. Up next is the Rancher 4×4 EPS with power steering, followed by the Rancher 4×4 Automatic DCT EPS, which adds Honda's dual-clutch transmission. The Rancher Automatic DCT IRS features independent rear suspension, while the Rancher Automactic DCT IRS EPS is essentially the same vehicle with electronic power steering. Prices start at $5499.
FourTrax Recon
Among 2021 Honda ATVs, the most affordable model is the FourTrax Recon. It is built around a 229cc air-cooled engine geared for low-end performance. It also has a smaller footprint than the rest of the Honda Utility ATVs. The Honda FourTrax Recon is available in a base model and another (Recon ES) with Honda's Electric Shift program that lets you upshift or downshift using two handlebar-mounted buttons. Prices start at $4299.
2021 Honda UTVs
Pioneer 500
When it comes to 2021 Honda UTVs, the most affordable option is the Pioneer 500. At just 50 inches wide, the Pioneer 500 is narrow enough to legally fit on most off-road trails and easily fits in the bed of a full-sized pickup truck. Features include automatic and manual transmission modes, paddle shifters, rear rack with 450 pounds of capacity, independent rear suspension with dual rate springs, and a towing capacity of 1,000 pounds. Prices start at $9199.
Pioneer 520
While similar in name to the Pioneer 500, the new 2021 Honda Pioneer 520 is different enough that it warrants its own write-up. First off, the newest Pioneer has a larger and more powerful 518cc engine. It also comes standard with a tilting dump bed that can holdup to 450 pounds. Pricing starts at $9499 and there is just a single trim level for 2021.
Pioneer 700/700-4
Honda's middleweight Utility UTV is the Pioneer 700. Available in two-seat (700) and four-seat (700-4) versions, the Pioneer 700 is built around a 675cc single-cylinder engine and boasts up to 1,500 pounds of towing capacity. Both the 700 and 700-4 are available in base and Deluxe trims, with the Deluxe trims offering up automatic/manual modes. All feature 10.7 inches of ground clearance, and 1,000 pounds of bed capacity. Prices start at $10,999.
Pioneer 1000/1000-5
The heavyweight of the 2021 Honda Utility UTV family is the Honda Pioneer 1000, which is offered in three-seat and five-seat models. Every Pioneer 1000 features a 999cc Twin-cylinder engine. A total of five models are available, starting with the base Pioneer 1000. Upgrade to the 1000 Deluxe for 14-inch blacked out aluminum wheels, LED headlights, and available Honda Phantom camo. As for the five-seaters, the Pioneer 1000-5 comes stock with power steering and QuickFlip convertible seating. The 1000-5 Deluxe adds the 14-inch alloy wheels, LED headlights, and painted bodywork. The 1000-5 LE boasts I-4WD, Hill-Start Assist, Electronic Brakeforce Distribution, aluminum skid plates, under-dash storage, and Fox QS-3 shocks. Prices start at $15,899.
Talon 1000X
Honda first entered the Sport UTV market with the Honda Talon 1000. The Talon 1000X features a 999cc Parallel-Twin engine, six-speed automatic transmission, independent double-wishbone front suspension with 14.6 inches of travel, 3 link trailing arm rear suspension with 15.1 inches of travel, and a 64-inch width to go along with a compact 87.6-inch wheelbase. Upgrade to the Talon 1000X Fox Live Valve and you get Fox Live Valve Suspension with 2.5-inch shocks at all four corners. The systems adjusts damping on each shock independently and automatically. Prices start at $19,999.
Talon 1000R
The Honda Talon 1000R shares much in common with the 1000X, but it sits 68.4 inches wide, offers up 17.7 inches of front suspension travel, and features a unique 4+ link trailing arm rear suspension controlling 20.1 inches of travel. Like the 1000X, a Fox Live Valve version is also available if you are interested in shocks that automatically. Prices start at $20,999.
Talon 1000X-4
For those looking for a multi-passenger Sport UTV, the Honda Talon 1000X-4 offers four seats of off-road fun. This machine boasts the same 999cc parallel twin engine and offers up stadium seating so rear passengers are higher up for a better view. Independent double-wishbone suspension controls the ride up front with 14.6 inches of travel, while in the rear you'll find a three-link trailing arm design with 15 inches of travel. Like the other Talon models, the 1000X-4 is also offered in a Fox Live Valve trim. Prices start at $21,999. Lucas Cooney
I have been working exclusively in digital media since 1997. I started out with TSN.ca, spending nearly nine years creating and editing content on Canada's leading sports website. I left to join VerticalScope, Inc., one of the world's largest online publishers, to start a number of powersports publications. While at VerticalScope, I've helped create and oversee content for a wide variety of different publications, including ATV.com, Off-Road.com, ArcheryTalk.com, Tractor.com, RVGuide.com, and many more.
More by Lucas Cooney
Published February 4th, 2021 4:00 PM
Top Brands
Popular Articles