46 Views
2020 Kawasaki Teryx KRX 1000 Vs. Honda Talon 1000R: By the Numbers
March 15th, 2021 12:43 PM
Share
We're committed to finding, researching, and recommending the best products. We earn commissions from purchases you make using links in our articles. Learn more here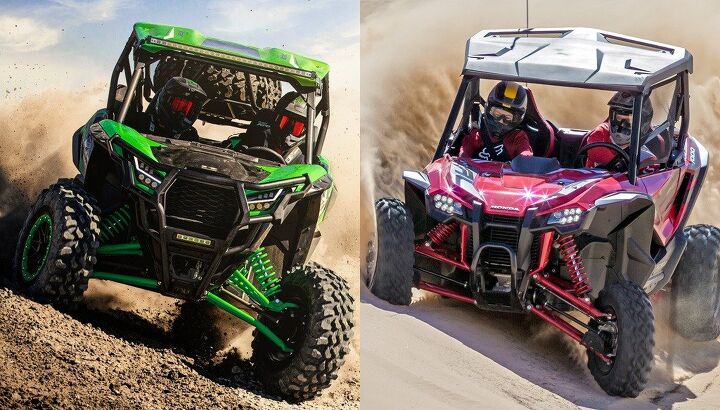 How does the KRX compare to the Talon?
How does the new Kawasaki Teryx KRX 1000 compare to other naturally aspirated Sport UTVs? Let's see how matches up with the Honda Talon 1000…by the numbers.
High-powered side-by-sides are one of the best inventions ever created. In two-seat form, they allow riders to blast along their favorite trail in comfort while still piloting a machine capable of getting into (and out of) a good bit of fun. Their four-seat counterparts permit the whole family to enjoy a day of being sandblasted.
Still, not everyone needs a near-200hp turbocharged psychopath as their UTV. One step back from the edge are machines in the non-turbo 1000cc class. For 2020, the Kawasaki Teryx KRX 1000 and the Honda Talon 1000R are a pair of off-road funbags with a lot more to offer than a set of chairs and some ground clearance.
Powertrain
2019 Honda Talon 1000R Review + Video
The Kawasaki Teryx KRX 1000 was built to be one of the brawniest side-by-sides on the market, a world away from its appropriately-named Mule line of workhorses. Powered by a parallel-twin DOHC 4-stroke, the 'saki displaces 999cc and whips out around 112 horsepower, if estimates are to be believed. An automatic CVT with centrifugal clutch delivers that power to all four wheels.
The Big H finally got into the sport side-by-side game with the Talon. Under the rig's composite body is a 999cc liquid-cooled twin, making 104 horsepower. If this sounds familiar, that's because it's also found in the utilitarian Pioneer. The transmission is like nothing else on the market, though, deploying a six-speed dual clutch automatic complete with paddle shifters.
Suspension
Honda endows the 1000R with independent double wishbone front suspenders, good for 17.7 inches of wheel travel. Out back is a 4+ link trailing arm allowing for 20.1 inches of stretch. Fox Podium QS3 2.5 shocks take up residence both fore and aft.
Now, stop us if this sounds familiar, but the KRX 1000 has double wishbones up front and a 4-link rear. Development of these machines rarely happens in a vacuum, folks. Further similarity between this and the Honda are evident in the shocks, which are also Fox 2.5 Podiums with piggyback reservoirs. Kawasaki's engineers managed to find a bit more wheel travel front and back than in the Honda – 18.6 and 21.1 inches, respectively.
Dimensions
Wearing a ladder type tubular steel frame, the Kawasaki Teryx KRX 1000 weighs in at a hair under 1900 lbs and rides on a 98.8 inch wheelbase. It is part of a family of widebody machines, though still falling four inches short of the 72-inch RZRs at Polaris. Overall length is 130.1 inches and it stands an even 75 inches tall.
The Talon is about identical in width to the Teryx, but has a more compact 92.7-inch wheelbase. This can be good or bad, depending if you're busting desert dunes or straddling Moab rocks. Total length checks in at 123.9 inches, potentially taking a bite out of cargo space. Curb weight is a comparatively feather-like 1545 lbs, speaking to Honda's ability to get the job done when it puts its mind to it.
Styling
2020 Kawasaki Teryx KRX 1000 Review: First Drive
If aliens landed on Earth and started their planetary assault in machines that looked like the Kawasaki Teryx KRX 1000, we'd likely all be more than a bit terrified. With a scowling face, mean mugging grille, and a palette of loud colors, the KRX is one of the more aggressive performance-based side-by-sides on the market. It's rear fender flares give it Shakira-like hips and its over-the-top color-keyed accents make this thing looker of today's comparo. And those green on black beadlock wheels make for a great looking and functional pair of shoes.
On the other hand, the Honda is just mean-looking enough to qualify for its Aggro-Card(TM) but incorporates a grille and pair of headlamps that are much less frenetic than those found on the Teryx. A typically Honda red paint scheme is about what one would expect from a company not known for taking styling risks. Pro tip: surprise your buddies and pick the Pearl Green.
Pricing
At $20,499, the Kawasaki Teryx KRX 1000 is priced within reason, but jumps over that psychological twenty grand barrier. This can give some shopper pause, especially once one starts layering on accessories (though the optional spare tire looks baller).
The base Honda Talon 1000R two-seater is $500 more than the Teryx KRX 1000 two-seater, ringing the bell at $20,999. Accessories run the gamut from protruding front bumpers to nerf bars and a particle separator which sounds like a component of the starship Enterprise, but is actually a military-grade intake system. Published October 25th, 2019 11:52 AM
Top Brands
Popular Articles