1 View
Best ATV Goggles To Fit Every Budget
August 2nd, 2021 6:01 PM
Share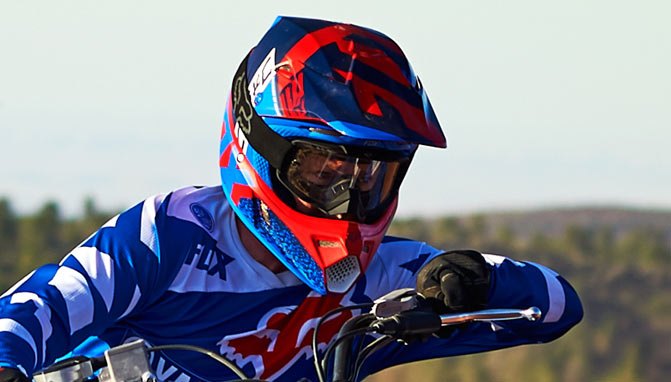 We simplify goggle shopping with our list of staff favorites
The hunt for the best ATV goggles can be overwhelming to say the least with as many brands and models you have to choose from. We're here to help make your decision easy with our favorite goggles for every rider, big or small, and every budget.
ATV goggles are one of the first pieces of protective gear we recommend, along with a good helmet, purchasing before you ride, but probably one of the most underrated pieces of gear as well. Sure, the most basic of basic goggles can get the job done, but comfort, durability and even adjustability should all play key factors when you're making your purchase. Our staff has had the opportunity to test practically every goggle under the sun and here are what we feel are some of best ATV goggles you can buy.
1. Editor's Choice: 100% Accuri 2 Goggles
When it comes to finding the best ATV goggles available, 100% is a brand that you need to consider. Their latest offering in the ATV goggle market, which are even good for dirt bike riders, is the 100% Accuri 2 goggle. The original Accuri was a favorite of ours for its affordable price, dust catching closed-cell face foam, and excellent fit. Well, it seems that 100% doesn't believe in the saying "if it isn't broke, why fix it," because they found ways to make a great product even better. The new Accuri 2 features a 17.5-percent larger vertical field of vision, better nose fitment for increased comfort, a wider outrigger system for a more balanced fit and a triple-layer face foam that not only enhances comfort but also helps to soak up sweat keeping your eyes clear. Available in a wide range of colors and with your choice of clear or mirrored lens, they're your best bang for the buck with prices ranging from $45 - $60.
2. Best Budget Goggle: Fly Racing Zone
Like most of you, we're on a budget, too. You put a bunch of money into your machine, and your gear, and now you need new goggles, but don't want to spend a fortune. Fly Racing makes some of the best equipment available and its Zone goggles are no exception. They have a polycarbonate lens that is coated for fog and scratch resistance. The lens also has tear-off studs for added protection. The woven strap has silicon on the inside to keep the goggles positioned on your helmet. There is multi-layer foam to keep the goggles firmly positioned on your face and to keep mud, dust and sweat out of your eyes. The best part is the price, as you can get these sweet goggles for around $40.
3. Best Cost-Is-No-Object Goggle: Oakley Airbrake MX
Swapping out goggle lenses is a pain in the… Oakley changed all that with a system that makes it easy and super quick. And then you add in their new Prizm lenses, and these are easily the most innovative goggles on the market. The Airbrake system is a major advancement in goggle technology. This system includes the Switch-lock system, which lets you swap out lenses extremely fast, and use multi-density foam for comfort and dust/sweat. The new Prizm lenses are made from Plutonite, have extreme clarity and help you distinguish subtle changes in the trail or track ahead of you. They are anti-fog and have an outrigger strap mount for a balanced fit. They aren't cheap, but their quality and technology makes them a no brainer for our list of the best ATV goggles.
4. Best Hot Day Goggle: SPY Optic Woot Goggles
The Targa was Spy Optic's most popular goggle and not settling for just having a good product, the new Woot goggle was created. This new goggle features a flexible polyurethane frame mated to their Isotron™ face foam with a moisture-wicking Dri-Force™ fleece for a comfortable fit and to keep your face dry when you need it. The Woot also features scratch resistant Lexan lens ensures a clear view when you need it most and comes with an optional nose guard for additional protection.
5. Best Mud Goggles: Scott Prospect Goggles
The Scott Prospect Goggle has been a favorite of ours for some time, just because it packs premium features and fit into a really good, high-quality goggle that is affordable. When you add in the film system roll offs, which gives you a wide field of view in even the worst conditions, it gets better. Not only do you get a top-shelf goggle with the Prospect, but also the roll-off vision system that lets you advance a 50mm strip of clear vision across your view when things get muddy. The goggles have everything you'd want with a wide strap, no-fog, anti-scratch lens and multi-density foam.
6. Best Youth ATV Goggles: Fox AIRSPC Youth MX
If you want kids to wear their safety gear, you need to get them good gear with the same features as you have. The Fox Youth AIRSPC goggles have everything you are looking for in ATV riding goggles - just built for smaller people. These specs feature smart venting that forces air into the interior of the viewport for maximum airflow. These youth ATV goggles also come equipped with 19mm triple layer face foam, Lexan lens with 100% UV protection, 8-pin lens retention system, 45mm non-slip silicone strap, removable rock guard, and four-post tear-off system. Replacement lenses are also available with different tints and colors.
What Makes a Good ATV Goggle?
For starters, they have to fit your face. If you've got a small head, or you're buying a pair for your kids, youth goggles are the right size. If you wear glasses, get an OTG setup. Also vitally important is the foam. The foam makes the seal to keep dust and such out of your eyes. Weak foam lets dust in. And then there's the lens. Scratch resistance is important. You can also pick different tints to help on sunny days.
The best ATV goggles will have a wide viewport, meaning you'll be able to see more of the terrain in front of you. The frame should flex to fit your face, and the foam density should be thick enough to keep dust and dirt out of your eyes, and again, fit your face snuggly.
How should I take care of my ATV goggles?
The hardest part of caring and cleaning your goggles comes from the foam. The face foam is the direct contact between your face and the goggle. Most goggles have dual density foam, meaning there are at least two distinct layers of foam. The foam closest to the goggle should be very dense, while the foam closest to your face should be softer and more comfortable. That foam should also help absorb and direct sweat away from your eyes. The best ATV goggles have a dual density foam system - your goggles should, too.
After a ride, you should wash off the goggles and the foam, but be careful not to use too hot of water, so you don't damage the foam. I like to take a lint roller to mine too after they are dry. If a hair or lint gets trapped on the foam, it can find its way into you vision at a bad time.
Why do some ATV goggles cost so much?
Much of the cost associated with ATV goggles starts with the lens. Resist the urge to go extreme budget and get a goggle with a cheap lens. A straight polycarbonate lens that isn't scratch resistant will last about one ride, and usually not the whole ride. Even the minute scratches from wiping dust off the lens on the trail can leave micro-scratches on the lens and then cause a blurry spot, or allow the bright sunlight to glare.
A scratch-resistant lens of either coated polycarbonate or Lexan is found on the best ATV goggles, and can also be found on budget priced models. If you're riding in extreme cold, or snow, opt for a dual-lens, anti-fog system. On the premium goggles, you can get them with a tinted, coated lens, that will cut down on glare. The metallic coatings sharpen the image you see and enhance your overall view of the trail in front of you. It's worth the extra cost, especially if you do a lot of riding on bright, sunny days. They also work amazingly well on overcast days.
When cleaning your lenses, always use a soft cloth, preferably a lens cloth. You should also always use some kind of lens cleaning solvent. Having a liquid helps reduce the chances of scratching during cleaning. I always take a few pre-moistened lens wipes with me on a ride to do cleanings in the field.
Do the more expensive goggles protect my eyes better than the budget goggles?
Not necessarily. Look at buying goggles like purchasing a car. Usually the more expensive goggles just have better features than the others. For example everything on the Oakley Airbrake can be replaced other than the frame itself. If you face foam breaks down, you can simply replace that piece and have the feel of a new goggle, rather than having to replace the entire thing for a higher cost.
We are committed to finding, researching, and recommending the best products. We earn commissions from purchases you make using the retail links in our product reviews. Learn more about how this works.
Published February 9th, 2021 1:57 PM
Top Brands
Popular Articles