225 Views
Best Polaris RZR Battery Options
June 14th, 2021 4:05 PM
Share
We're committed to finding, researching, and recommending the best products. We earn commissions from purchases you make using links in our articles. Learn more here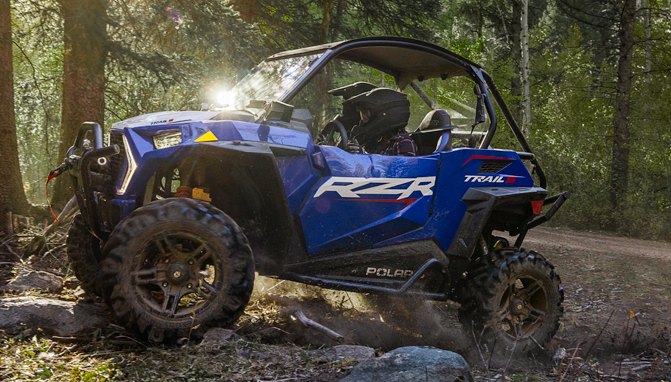 Make sure your RZR is ready to go when you are
If your Polaris RZR is reluctant to fire up, or worse, can't quite seem to get going without a jump, it's past time that you swapped out your tired old Polaris RZR battery.
We know; no one likes buying a new vehicle battery. That's money that you would much rather spend on fun things like tires, wheels, a suspension lift kit, a sound system – anything else at all, really. Unfortunately, once a battery is tapped, it can seldom be brought back to life. Using a battery reconditioner can push out the expiration date to an extent, but sooner or later, you're just going to have to bite the bullet and buy a brand new battery.
But what sort of Polaris RZR battery should you buy? There are numerous battery technologies out there, from Absorbed Glass Mat (AGM) to gel, to lithium, and countless different standard sizes and amperages. Which one is right for you?
Don't worry; you don't have to face battery shopping alone. Here, we've done the hard work for you, rounding up the very best Polaris RZR battery options on the market today, incorporating all the major types.
1. Editor's Choice: Yuasa YTX20HL-BS (RZR 800)
With top-quality battery production in the USA since 1979, Yuasa is hands down one of the leading motorcycle and powersports battery brands. In fact, it is one of the top OE battery suppliers in the industry. That more than justifies the price of the Yuasa YTX20HL-BS Polaris RZR 800 battery. Boasting 310 cold cranking amps and a weight below 16 pounds, this battery packs a lot of oomph into a relatively small package, and from the tough, durable housing to the sturdy, overbuilt connection terminals, you get what you pay for: one of the most well-constructed, dependable Polaris RZR 800 battery options available.
2. : Best Value - AJC ATX14AH (RZR 570)
One of the best things about UTVs is that typically, they rely on significantly smaller, less-powerful batteries than those found in road-going passenger vehicles. That makes it possible to find good, quality batteries for cheap – like this AJC ATX14AH replacement for the Polaris RZR 570. This Polaris RZR battery comes pre-filled and ready-to-rock, with reliable AGM construction that makes it maintenance-free and more resilient to bumps and jolts than conventional flooded lead acid batteries – a must if you enjoy pushing your RZR to the limit. For the money, you almost can't go wrong.
3. Best Premium Battery: Antigravity ATX30-RS (RZR 800/900/1000)
Over the past couple of decades, lithium-ion battery technology has proven its worth in numerous applications, from electric vehicle propulsion to mobile electronics. The tech has also made its way into starter batteries, with units like this: the Antigravity ATX30-RS. Of course, it costs to sit on the cutting edge, and this battery doesn't come cheap, but if you want the absolute best performance, outstanding reliability and longevity, and the lowest weight possible, lithium is the way to go. This featherweight battery weighs under 6 pounds and yet produces an astonishing 880 cold cranking amps – more than enough to start your average commuter car. And with advanced features like a full onboard Battery Management System with low-voltage cut-off, thermal protection, real-time cell balancing, and more, plus an innovative RE-START feature that puts the battery into sleep mode if it senses over-discharge, preserving enough juice to get your motor started again, the price is arguably money well-spent.
4. Best Gel-Type: Mighty Max YTX14AH (RZR 570)
Gel batteries are somewhat comparable to AGM-type replacements in that they're maintenance-free, they can be mounted in any position except for upside-down, and they handle the knocks and bumps of off-road driving rather well. But where this gel-type Polaris RZR battery differs from an AGM unit is in its deep-cycle capabilities and cold-climate resistance. Gel batteries like this one benefit from less self-discharge than their AGM counterparts, which is great for if you only make it out to ride a couple of times every year, and they can better survive being run to almost-flat. Granted, they're also more sensitive to improper charging, but if that doesn't phase you, this Mighty Max gel battery is a solid choice.
5. Interstate CYIX30L-BS (RZR 800)
Yuasa isn't the only top-shelf battery brand to reach "legend" status for their quality and longevity; without a doubt, Interstate also makes that list. Predictably, the brand's CYIX30L-BS replacement is an outstanding Polaris RZR 800 battery, with 385 cold cranking amps to get your ride going – 75 more than the Yuasa listed above – and a maintenance-free, AGM design. Spill-proof, leak-proof, and able to be mounted at just about any angle, the Interstate CYIX30L-BS even includes advanced features like a Safety Flame-Arrestor and a compounded design with "active" materials to deliver even greater vibration-resistance. If you've ever wondered why UTV enthusiasts and off-roaders everywhere rave about Interstate batteries, this Polaris RZR 800 battery is your chance to find out.
6. Renegade RG26P-WS: (RZR 900/1000)
At a glance, the Renegade RG26P-WS might look like overkill for a Polaris RZR battery; it packs 600 cold cranking amps and tips the scales at over 30 pounds. But in actual fact, that's just what you want: fast, reliable starts, with lots of overhead for running accessories like electric vehicle recovery winches, spot lights, flood lights, and all the rest. It's a bit pricey for a UTV battery, but you often get what you pay for when it comes to aftermarket replacement parts, and with its maintenance-free AGM construction, giving it outstanding shock-resistance and superior reliability to a conventional flooded lead acid battery, it might be worth the extra expense.
Is It Worth Upgrading To A Lithium Polaris RZR Battery?
Everyone likes to have the latest and greatest, so naturally, many Polaris RZR owners wonder: is the upgrade to a lithium-ion battery worth the extra cost? The answer, as unsatisfying as it may be: it depends on your unique needs and circumstances.
Lithium batteries are a significant step up in price from their lead acid or gel-type counterparts, but by no means are they an essential upgrade. Let's consider their three biggest selling points: a lighter weight, longer service life, and the ability to be mounted in any position. The first – lithium batteries' lighter weight – might matter to you if you drive for all-out performance and you'll spare no expense when it comes to upgrades that allow you to lighten your UTV and lower its center of gravity. But considering how little mass a lead-acid battery accounts for already – typically in the range of 10 to 30 pounds – the gains are minimal. You might be better off just dieting.
Regarding their longer service life, a well cared-for sealed lead acid battery will already give you years of reliable service. Some can even be purchased with a separate 4-year protection plan, and gel-type batteries should, in theory, last even longer. The fact of the matter is that every battery has some amount of self-discharge, and none likes to sit unused with little to no charge; whether you keep your battery hooked up to a tender during the off-season is a much better predictor of its longevity than what type of technology it has.
And finally, regarding the ability to be mounted in any position, gel and Absorbed Glass Mat (AGM) batteries already provide more than enough flexibility, with a sealed maintenance-free design and an internal construction that keeps the electrolyte from sloshing around too much. The result is a battery that can be mounted on its side, if you so choose, and fares well on the trail holding up to bumps, knocks, and jolts that might spoil an otherwise good old-school flooded lead acid battery.
Granted, those aren't lithium's only selling points. Newer lithium batteries tend to fare better than many AGM batteries when it comes to deep-cycling; they exhibit far higher power density with more efficient external packaging; and they're more resilient to extreme temperatures, although even lithium-ion tech is still impaired by the hottest and coldest of riding days. There are, in short, plenty of advantages to going with lithium over lead acid or gel-type batteries, but whether these advantages are worth the upcharge depends entirely upon how much extra you're comfortable spending.
Additional Resources
We are committed to finding, researching, and recommending the best products. We earn commissions from purchases you make using the retail links in our product reviews. Learn more about how this works. Aaron Brzozowski
Aaron is a freelance writer, videographer and car enthusiast based out of the Detroit area. He has a special affinity for the Porsche 944 series, and once owned a Volvo 240 sedan with a Weber carb in place of the factory EFI system. His work has appeared on AutoGuide, GM Authority, /Drive, and VW Vortex, among other sites.
More by Aaron Brzozowski
Published June 14th, 2021 4:05 PM
Top Brands
Popular Articles