356 Views
2024 Can-Am Maverick R Review
September 19th, 2023 12:38 PM
Share
We're committed to finding, researching, and recommending the best products. We earn commissions from purchases you make using links in our articles. Learn more here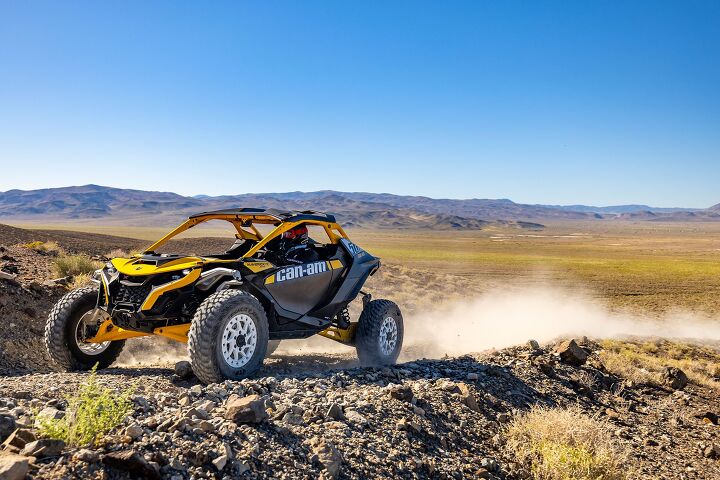 The brand new Can-Am Maverick R cannot hide its true nature. A fresh idea in the side-by-side industry, the new tall knuckle suspension design is an engineering showcase on display, letting everyone know that this machine has one true purpose: moving at insane speeds. And with a new ground-up design, the machine around the suspension delivers on that promise.
Delivering the power is a new 999cc turbocharged triple-cylinder engine from Rotax, sending 240 horsepower through a new seven-speed dual-clutch transmission, also produced by Rotax. Cooling is delivered thanks to six fans fit to three different radiators on this unit; one to cool the engine, another for the transmission and an intercooler for the turbo. High compression in the cylinders means that new vertical threaded rods had to be installed into the engine block to keep everything together because remember, supercars like the Bugatti Chiron and new Ferrari SF90 Stradale don't even get 200 hp per liter, but Rotax is squeezing 240 hp from this single liter worth of cylinder space.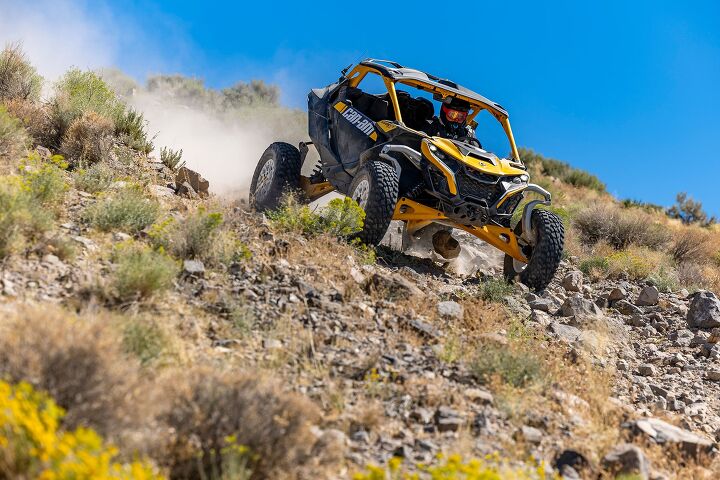 Power numbers deliver the goods, but it's the way that power gets to the ground that makes the Maverick R so enjoyable to push through the desert. Crisp, quick shifts from the DCT are nearly imperceptible to the driver, a characteristic that made the engineers revisit the digital information cluster to add a live look at the currently selected gear. Switching into low range is also a new experience on this machine as it can be done on the fly without needing to slow down. The Maverick simply knows which gear it needs to grab to ensure the jump from high to low happens seamlessly and it's smart enough to wait for the speeds to come down if they are too high.
Three different drive modes dictate how the power is delivered, either normal, sport or sport +, with the latter of three providing a new anti-turbo lag system that again shows Can-Am's willingness to innovate. Shift points jump from about 5000 rpm up to 8500 rpm when either of the sport modes are selected, while sport + will specifically shut off spark to the middle cylinder while advancing the rpm in the other two cylinders while not under load, allowing the middle cylinder to act as an air pump to spool the turbo faster than what it would otherwise achieve. The result is nearly no turbo lag when you hit the accelerator, which triggers the middle cylinder to kick back in and act as a standard power plant once again. Between the crisp shifts, seamless jump from high to low and muscular power straight through to the high range, the new powertrain in the Maverick R delivers endless thrill seeking performance. Decibels are well controlled with this new powertrain as well, with a long day of riding leaving our ears feeling fine.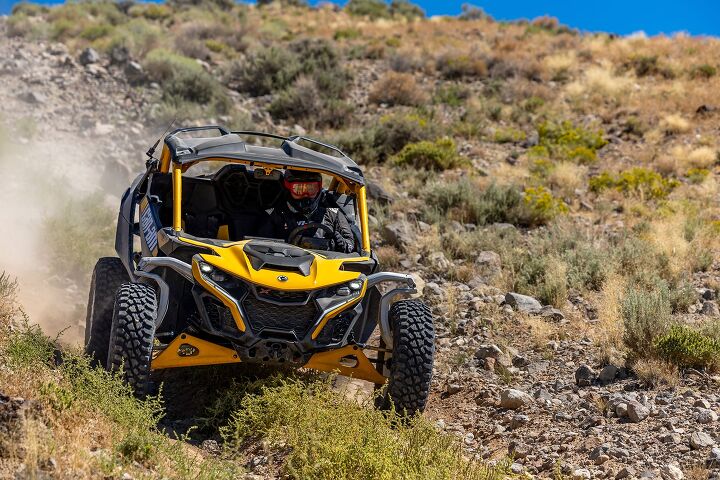 While the engine works behind the scenes the suspension is front and center, allowing the driver, passenger and onlookers to see the spider-like limbs cradling the 32-inch ITP Tenacity XNR tires. And yes, you can fit 35-inch tires on the Maverick R. Total travel amounts to 25 inches in the front and 26 in the rear, with the damping provided by FOX 2.5 Podium shocks in base models and FOX 3.0 Podium Piggyback shocks on higher trim models, the highest of which gets Live Valve generation three technology that allows for compression and rebound damping to be adjusted on the fly.
Total suspension travel is certainly part of what makes the Maverick R so good at its mission, and to be clear that is going fast in the desert. With a 108-inch wheelbase and measuring in at 78.1-inches wide, 140-inches long and 71.5-inches tall this machine was specifically designed for wide open spaces. But what truly makes it unique in both look and feel is the tall knuckle front suspension, which is there to better control that forces felt by those front tires. By spreading the two ball joints much further apart than usual, the suspension is able to hold those front tires more solidly, resulting in a massive drop in stress felt by the frame and other suspension components. From behind the wheel the result is a machine that simply wants to drive straight regardless of what's thrown in front of it, with a steering feel that is much more muted than what you'd expect. Three different power steering settings are available with MAX offering an almost entirely numb steering wheel, as the suspension also dials so much of the feedback out of the wheel. For us, MIN was the perfect setting to still feel some of the trail in your hands.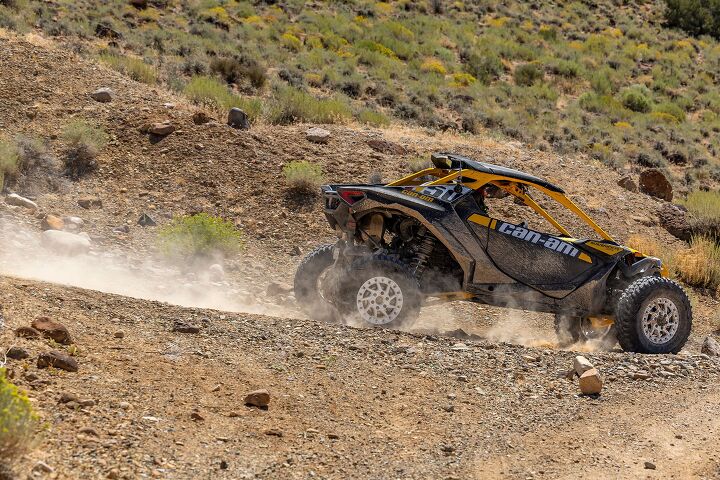 Easy speed is the end result and many of the riders on our day in the desert commented on how it was effortless it was to get up to 50 or 60 mph, with the speed simply not translating into the cockpit. This brings about a dual personality in the Maverick R. Extracting amazing performance from this machine feels very easy to do making it super accessible even to those who aren't familiar with desert racing, and yet the limits are so high that a true professional desert racer can turn in run times worthy of the Baja 500 with a stock machine.
Inside, this Can-Am brings a new level of automotive-type features including a 10.25-inch touchscreen that runs an in-house designed software setup. This screen can display your vehicle information, navigation, drive modes and more, while being controlled using simple switches on the steering wheel or the touchscreen itself. Ergonomics in this machine follow the same formula set out by the Can-Am Maverick many years ago, as you sit low inside the Maverick R with a rearward tilted seat that forces your legs out in front of you. Frontward visibility is good as the hood drops away aggressively, exposing the tall knuckles that act as a gauge for exactly how hard you just hit that rock. Rearward visibility is poor thanks to a massive air intake between the driver and passenger, necessary to grab the air needed to keep things cool. In fact Can-Am had to design a special accessory roof scoop for those customers who opt for a windshield on their Maverick R, as this will impede the air from getting to where it needs to be.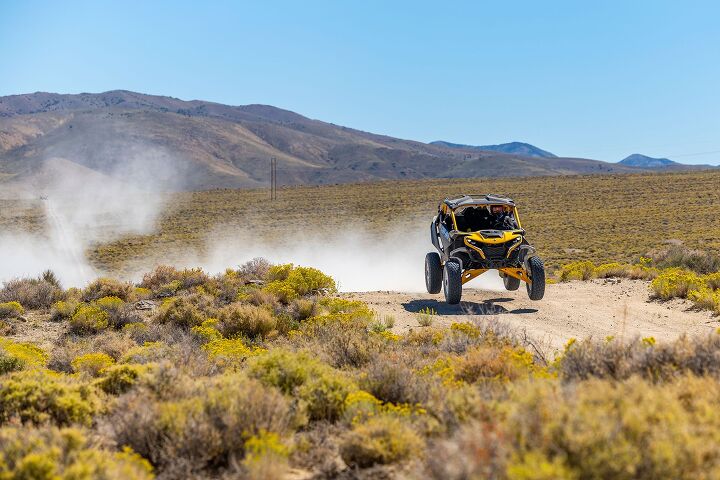 Storage can be marked as just enough, with a small latched bin above the touchscreen in the dash and a full-size glove box. The bed out back, rated at 200 lbs, is big enough for a good sized cooler or glove box, while of course Can-Am is happy to sell you one of many accessories that can make that space more usable.
Another intelligent new idea that is debuting on the Maverick R are a lineup smart accessories that will better integrate with the machine than ever before. An example is the new smart light bar which will adjust its beam from narrow to wide depending on the speed the vehicle is travelling and the direction you're turning. This is just one of many accessories that will now be able to receive information from the on-board computers and use that info to react in real time to what is going on with the Maverick R.
It's safe to say that the Maverick R is a new level of performance that simply wasn't available on the standard Maverick, but it will come at a price. Base models will sell for $35,499 USD ($43,999 CAD), while the top trim Maverick R X RS with Smart-Shox goes for $44,299 USD ($54,799 CAD).
With its re-thought suspension, powerful engine and wide proportions, the Can-Am Maverick R is offering a new level of race-bred DNA to the average off-road enthusiast, allowing each and every one of us to feel like a real professional desert racer without needing to enter the Baja 1000. Now if only it came with its own pit crew… Published September 19th, 2023 12:38 PM
Top Brands
Popular Articles