639 Views
Best Fuel Cans for ATV and UTV Riders
June 15th, 2023 1:43 AM
Share
We're committed to finding, researching, and recommending the best products. We earn commissions from purchases you make using links in our articles. Learn more here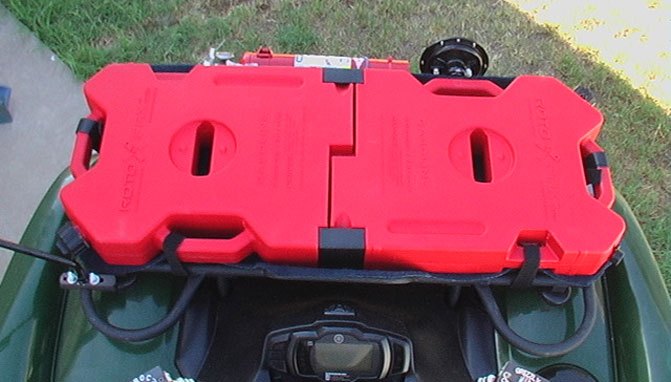 ATV and UTV fuel cans let you extend your ride
If you are searching for a way to extend your next ATV or UTV ride, being able to carry more fuel is a must. Fortunately there are a lot of great ATV fuel cans to choose from.
Ever buy a new ATV fuel can these days? The ones you get from the big-box stores like Walmart seem to all come with these no-spill safety spouts that might work with other gas-powered stuff around the house, but surely don't seem to work with an ATV or UTV worth a darn. They spill or snap back out so you don't end up with any gas in the tank. It's a level of frustration we don't need. Luckily, we're not alone and there are a lot of great fuel cans that were designed for the off-roader. Here's a list of the best fuel and utility jug options that will save your sanity and refill your gas tank quickly and easily. Everyone who rides a four wheeler, or drives a side-by-side needs at least one of these cans.
Note: Some of the jugs on this list are designated as utility jugs and are not supposed to hold fuel. What you fill them with after you purchase them is up to you.
1. Editor's Choice: RotoPax Fuel Pack
One of the issues with hauling extra gas with you on the trail is how much room the cans can take up. The RotoPax Gasoline Pack is designed to mount on your machine and take up as little space as possible. It uses the same type of construction as a kayak, being roto-molded, which adds a lot of strength and durability to the pack. This ATV gas can carries a lifetime guarantee against leaking and manufacture defects, and are available in a wide variety of fuel capacities. Even better is that you have a wide variety of mounting options to your machine.
2. Best Affordable Quick Fill System: Tuff Jug
On its own, the Tuff Jug is just a nice, easy-to-use gas can. But the Tuff Jug also has a fast-fill cap on it that will dump five gallons of gas into your tank in 37 seconds! Need to refuel in a hurry? Not a problem with the Tuff Jug. This ATV gas can senses when you're about to overflow and shuts itself down; a nice touch when you're dumping gas fast.
3. Best Long Haul Fuel Container: Wintools 5.28 Gallon Fuel Pack
If your ATV adventures take you well beyond the limits of your stock fuel tank and a smaller spare fuel container just won't meet your needs, this massive fuel pack from Wintools might be just what you need. Capable of holding over 5-gallons of your favorite fuel, this injection-molded fuel jug lays perfectly flat so you can easily secure it to the racks of your utility ATV OR hold it even more securely with the optional pack mounts. While it's nice to be able to carry this much fuel in one container, it can be a little cumbersome when you're filling your tank with it since the shape can be hard for some to manage. That being said, we'll still take it over running out of fuel on the trail.
4. Best Utility Jug Option: LC2 Utility Can
This sturdy ATV gas can has handles on either side and have a wide cap on top along with a vent. Get the additional hose kit that works with the cap and you can dump all five gallons of gas into the tank in a hurry. These cans are measured out in gallons and liters and come in several colors. They are D.O.T. approved and work well. I have several myself and am very happy with them. Priced under $50, plus another $6 or so for the fill tube, and you are all set.
5. VP Racing Sportsman Container
The VP Racing Sportsman container is a nice, five-gallon ATV fuel can. It comes with a hose kit to fill your tank faster and easier. This can is available in green to be a little more discreet for the outdoorsman and designed with 30% more material than standard containers to stand up against harsh off-road abuse. And, should you want one for something other than gas, the Sportsman is FDA approved for water storage. Just don't get it mixed up with the gas can if you do. That would be a disaster.
What Makes an ATV Fuel Can Great?
You know, I get why they changed the standard fuel cans. In an effort to make things safer for the average person, they did away with vented cans and made it so the can vents through the spout as you pour it. I get the reasoning, but the execution was terrible. You won't find those types of fuel cans on this list, my friends.
A good fuel can should be durable, with thick materials making up the body of the can. It should be able to withstand bouncing around in the truck, and years of use without worry of a leak. I also require a fuel can to be easy to use in that I can pick it up and pour in my gas without it being awkward.
Even though it isn't always possible with designs and such, where I can, I like a fuel can that allows me to see how much fuel is left in the jug. Now, there is an issue with the color of the fuel can. It's not a Federal Transportation Department regulation that they be red, but it is an industry standard, and in some states, it is required that you use a red fuel can. I, myself, use clear jugs from LC2. A police officer friend of mine saw them and told me to just write "Gasoline" on the side, as they are approved containers, just not the right color. I've yet to have an issue. Check your local laws, though.
What About Metal Cans?
You'll see that the cans on this list are all made of a plastic composite materials. Does that mean that metal fuel cans are no good? Not at all. Metals cans are very sturdy and hold up well for years of use. And most metal ATV gas cans don't have to mess around with the "new and improved" leaky spouts. Here's why I didn't include any on this list. As ATV riders and off-road enthusiasts, we tend to go places off the beaten path. On these adventures, a metal can could get dented. That damage can cause leaks and more. Not good.
Fuel Transporting Tips
Never transport an ATV fuel can inside the cab of your truck or car. Ever. Just don't be that guy. Always use the bed of your truck, or the trunk of your car when transporting. And secure the can in place too. A couple of bungee cords can keep fuel cans from sliding around or spilling. When headed out to ride, it is even better still to secure the jug on the trailer. I strap mine down on the trailer, and then run a cable lock to keep sneaky jerks from swiping it when I stop for a gas-station churro and a Rockstar.
Are gas cans illegal?
While gas cans are not illegal, using a utility can to haul fuel is. What is the difference? As deemed by the Environmental Protection Agency (EPA), a gas can must feature a spill-proof, self-closing spout to be deemed a legal gas can. Now if you've ever used one of these miracle cans, you've probably lost as much fuel as you tried to put into your machine. While utility cans are capable of safely holding most any liquid you put in them, the EPA does not see these fit to hold fuel because the traditional hose doesn't feature any kind of anti-spill system. We've never seen anyone ticketed for using these jugs, but we can't say that it's not possible. If you're concerned about this, stick to fuel cans like the ones from RotoPaX and others that are marketed as fuel jugs.
Additional Resources
Recent Updates
June 14, 2023: Updated product links, added new product (Wintools 5 gal fuel container) removed obsolete product
March 10, 2021: Updated the image and link for the Tuff Jug recommendation.
Sept. 16, 2021: Updated product descriptions, swapped out RotoPaX with FuelPaX product, swapped out Kolpin Fuel Can Mount with RotoPaX Fuel Can Mount, added additional resources and added "are gas cans legal" to FAQ.
Become an ATV insider. Get the latest news first by subscribing to our newsletter here.
We are committed to finding, researching, and recommending the best products. We earn commissions from purchases you make using the retail links in our product reviews. Learn more about how this works. Derrek Sigler
Derrek's love for all things ATV started when he was a mere 11 years old, growing up on his family farm. His mom gave him and his sister a choice - get a horse, or a three-wheeler. The sister wanted the horse, and Derrek wanted the ATV. Luckily he won out, and was soon burning up the trails on a Yamaha Tri-Moto 200. By the time he was 14, he had saved enough of his own money by working on the farm and in his folks restaurant to buy a new 4-wheeler. That happened the day he and his mom were driving past the dealership and saw 1987 Banshee. His mom had no idea what he was buying, and he never looked back. He's been riding ever since, and been writing professionally for many years. He has ridden all over North America and been behind the controls of just about every machine out there. And yes, he still has his 1987 Yamaha Banshee.
More by Derrek Sigler
Published June 15th, 2023 1:43 AM
Top Brands
Popular Articles