275 Views
Best ATV Gun Rack Options
June 21st, 2021 11:08 AM
Share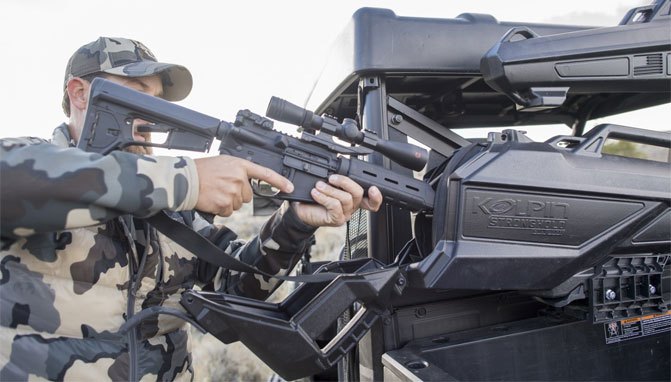 How to safety carry firearms on your off-road vehicle
Looking for the best way to carry your firearm on your ATV or UTV? Here are 10 of the best ATV gun rack options currently available.
ATVs are amazing machines and great tools for hunting and working around your property. When the time comes to carry a firearm with you when you ride your ATV, such as during hunting season, you want to know that you have the best ATV gun rack you can get. You want your firearm safe and secure, and you want to be able to easily access it when you want too.
Knowing What To Look For
We like to hunt and we use our ATVs and UTVs to help us. Because of the open nature of using an ATV or UTV to hunt, our firearms are exposed to more dust, mud and vibration than what they would be in a car or truck. We've tried and tested just about every major brand of ATV gun rack and ATV gun case out there, and some ATV gun racks definitely work better and protect better than others . Based on our experiences, here are the best ATV gun rack options available today.
1. Editor's Choice: Kolpin Rhino Grip XL
The biggest size of Kolpin's Rhino Grips turns any spot on your ATV or UTV into a gun rack. These work very well and we've tested them thoroughly. The soft rubber fins on the inside grip your firearm and then rubber straps that fit snugly over the top keep it secure. You can adjust the angle of the grips and there are specialized versions to fit handlebars, roll cages, Polaris Lock & Ride accessories, and the Can-Am LinQ system. Kolpin also has a double version, should you need it. These grips also work great for hauling shovels, axes and other tools. Rhino Grips are, quite frankly, one of the most useful ATV and UTV accessories you can own.
2. Best Hard Case: Kolpin Stronghold
Get used to seeing products from Kolpin on this list. Kolpin makes some of the best products in the industry and is often the brand of choice for vehicle manufacturers to include as standard equipment. One of the best ATV gun rack options you'll find anywhere is the Kolpin Stronghold – the latest version of its gun boot. It consists of a hard plastic case with a soft case liner. You pop open the end and slide your firearm in. They have different size boots to fit different guns, from scoped rifles to shotguns and even pistols. This ATV gun case clicks into a bracket that you can mount just about anywhere on your ATV. It is much sleeker than older gun boot designs and holds extremely well.
3. Best Overhead System: Seizmik Overhead Gun Rack
This UTV gun rack system mounts to your roll cage roofline and securely holds two firearms. The gun rack is made from durable nylon and cast aluminum and thick rubber straps secure your firearms. The design allows you to silently remove your firearm when you need it. These racks are specific to the diameter of your cage, so order the one that fits your machine.
If you can legally carry a firearm in the cab of your UTV, this UTV gun rack from Kolpin is something you might want to consider. It mounts to the floor and secures two long guns to your vehicle. It adjusts to fit different UTV mounting locations and for different firearm types. Just make sure you know the laws very well where your take your UTV before installing this rack.
5. Seizmik In-Cab Rifle Holder
This UTV gun rack mounts on the seat of your side-by-side vehicle and securely holds two firearms with proper muzzle control – pointed downward. The unit works best mounted in the middle of a bench seat and silently and carefully secures two firearms. Releasing the firearm from the mount is quick and you can do so without making a sound, perfect for when you are managing coyotes on a ranch.
For those that need to carry a pistol on your ATV, one slick way to do so is with the Cujo gun magnet. This is a rather unconventional ATV gun rack, but it works great. It has powerful magnets that hold the slide of your semi-automatic handgun. It is small and can mount virtually anywhere and be accessed silently. I have a friend in Wyoming that swears by his that he mounted to his ATV for times when he has to take care of coyotes that are after his livestock.
A smart way to keep your firearms out of the way is with the Great Day Power-Ride UTV gun rack. This rack fits on the back of your UTV cab and can hold two guns in its protective, soft cradles with Velcro retainer straps. Designed to fit UTV frames measuring between 50 and 64 inches wide, the Power-Ride should fit most any Utility UTV on the market using an included mounting base. Made from aircraft-grade aluminum and powder coated black, it can accommodate most any popular two-handed firearm.
8. Black Boar ATV Gun Holder
Black Boar makes a number of ATV and UTV accessories and one worth looking into is its ATV gun holder. This gun case mounts to the front or rear rack on your ATV and features a hard polyethylene shell that is dust and water resistant, along with a soft-sided inner case to protect your firearms. This case can hold left and right hand bolt action rifles or shotguns, including scoped guns with high mounts and up to 50mm objectives. Finally, the case boasts an integrated carry handle so its easy to take with you to your hunting blind.
9. Kemimoto UTV Roll Bar Gun Holder
The Kemimoto UTV Roll Bar Gun Holder is as basic as basic can get, but that isn't a bad thing. That is actually why they're included in our list as a best ATV gun rack options. These holders simply clamp on to the cage of your UTV, as long as the tubing diameter is 1.75 or 2-inches in diameter, and you're good to go. The rubber inserts in the gun mount hole and holders reduce friction and vibration for your firearms. This also allows the tube/railings to fit better, keeping your rifles or shotguns stable on the trail. Your rifle or shotgun is also secured into place with multi-position rubber straps that won't scuff or scratch.
Not heading out to hunt but need to work on the property or help maintain your favorite riding trails? This mount works just as well for holding farm tools like shovels, rakes, etc.
10. Best UTV Gun Holder: Classic Accessories QuadGear UTV Double Gun Carrier
This is a list of best ATV gun rack options, but we can't ignore the fact that UTVs are just as, if not more popular for the avid outdoorsman. This is why we've included the Classic Accessories QuadGear UTV Double Gun Carrier on our list of best ATV gun rack options. Personally used by some of our staff, this favorite gun carrier quickly installs on the cage of most popular UTVs with quick-clip, adjustable straps. The QuadGear double gun carrier uses a zippered closure on either side to secure your rifle or shotgun in a heavily padded pocket, to ensure that your firearms are secure and protected regardless of terrain or weather that you encounter. There are also three large gear pockets for you to stow extra ammunition or any other loose items while you're out on your adventure.
It's a simple, effective and convenient way to store your favorite rifles or shotguns, and our hands down favorite UTV gun rack or storage option.
What types of gun holders are there and what are the differences between them?
In our mind, there are two main types of ATV gun holders - those that cover and protect your firearm and those that are exposed to the elements. The covered cases, often called gun boots, keep your firearm covered in a hard case to protect it from rain and whatever else Mother Nature has in store. With some of these you can put your firearm in a soft case before loading up the gun boot.
Uncovered gun holders make accessing your firearm easier and faster. Some, like the Kolpin Rhino Grips, keep your gun secure on your ATV's racks or clamped to your UTV's roll cage. But there are lots of different options when it comes to uncovered holders. It's up to you to decide which option you prefer.
Additional Resources
Recent Updates
June 16, 2021: Added information on the different types of gun holders
March 10, 2021: Added an FAQ, updated details on existing recommendations, and added several new options
We are committed to finding, researching, and recommending the best products. We earn commissions from purchases you make using the retail links in our product reviews. Learn more about how this works.
What should I look for in a gun rack?
If you're using your ATV or UTV to access your favorite remote hunting grounds and don't need quick access, you'll likely want to invest in one of our hard case gun storage options. These are normally padded inside and offer secure protection from vibration and whatever elements you might subject to (water, dust, mud, etc.) while riding. You won't have the quick access, but you know that your firearms are protected. If you want to have quick access to your firearms, know that the best ATV gun rack will be convenient but have a trade off of leaving your rifle exposed to the elements. Other things you'll want to consider when choosing your ATV or UTV gun rack are the mounting options. Some will be a hard mount style that clamp onto your racks or roll cage, while others will utilize quick adjust straps that make installation tool free and effortless.
Won't my rifle sling work as well as an ATV gun rack?
If you're comfortable having a rifle slung over your shoulder while riding, more power to you. We would rather have our rifles or shotguns securely fastened, allowing us to maneuver around on an ATV without feeling anything shifting on our bodies. If you've got a UTV, we absolutely recommend the use of a quality UTV gun rack. The last thing you want is your rifle bouncing around in the bed of your UTV or if you have it in your cab taking the risk of it sliding out while riding.
Published July 14th, 2020 3:45 PM
Top Brands
Popular Articles