254 Views
Best Can-Am Defender Accessories
July 24th, 2023 4:32 PM
Share
We're committed to finding, researching, and recommending the best products. We earn commissions from purchases you make using links in our articles. Learn more here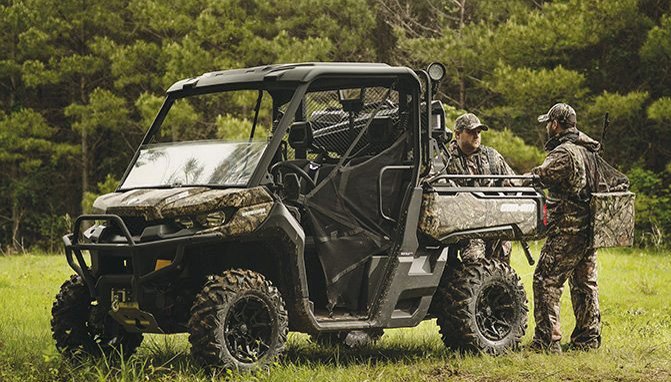 Add protection, comfort and performance to your Defender
When Can-Am started designing the Defender Utility UTV, it knew it had a big hill to climb to take on the reigning king of Utility UTVs, the Polaris Ranger. What the Defender offered was refinement and Can-Am quality, with the machines doing some things better than the Ranger. Can-Am fanatics have made the Defender a popular machine for utility and trail use and the parent company – BRP – ensured that there is a strong accessory market for the machine with a good mix of factory and aftermarket products available to make the Defender a customized beast worthy of calling your own. Here are the best Can-Am Defender accessories available.
Editor's Choice: Super ATV Front Winch Bumper
Protecting your UTV from branches and other trail debris is a priority and one of the most popular Can-Am Defender accessories is a front bumper. The aftermarket is loaded with front bumpers, but one that stands out to us is this beefy option from Super ATV. Built to take on all the abuse you can throw its way, this Can-Am Defender bumper is made from 1/8" thick steel plating and comes complete with front shackles, precut holes for recessed 3" LED cube lights, and brackets for Super ATV 6" or 12" LED light bars so you can see where you are going even after the sun is ready to quit for the day. The bumper also comes with a durable wrinkle finish powder-coat and is ready to accept most 3500 LB winches.
If you didn't opt for the Defender XT package, which includes a winch, you really need to add one as it is one of the best Can-Am Defender accessories you can get. And if you're adding one, you might as well go for the gold with a Warn VRX-45S (which just happens to fit on the Wild Boar bumper above). This 4,500-pound winch is loaded with synthetic rope instead of wire cable. This is the latest design from Warn and it is rock solid. It will be pulling you out of tight spot for as long as you own your Defender. There's pretty good deals to be had on this winch right now, too.
While the bumper adds protection to your Defender, a quality set of doors helps protect the people inside. This set of Can-Am Defender doors from SuperATV is made of 2mm aluminum plates and 1" diameter tubing - both of which are powder coated in black. Each door is outfitted with a heavy duty hinge that won't allow overextension and they open "suicide" style. As for aesthetics, SuperATV designed the doors to match the curves and contours of the Defender so they look like a factory part.
Clearly Tough Half Windshield
Windshields are among the most popular Can-Am Defender accessories and there are several styles to choose from. We tend to prefer a half windshield on our Defender as it deflects the wind, cutting down on what hits you in the face on colder morning rides, but they still allow air in and don't really require a rear panel as well. The Clearly Tough half windshield is made from laminated polycarbonate, so it stays clear and durable for years. These deflectors bolt on easily with brackets and fit tight with a good seal. There are a huge selection of Can-Am Defender accessory windshields available, so shop around to find the one that fits your needs and budget.
UTVs lend themselves really well to additional lighting and an LED lightbar is a great accessory for the Can-Am Defender. You can spend a lot on lighting, but you don't really have too. Cyclops has been in the lighting business for a while and is widely known for spotlights and flashlights. Its C3 LED lightbars have proven to be pretty durable in our testing and work very well. The best part? You can get a 21-inch dual row lightbar for your Defender for well under $100. If you like to get out early in the morning to get to our hunting stand or just drive into the night, C3 LED lightbars are among the best Can-Am Defender accessories you can find.
The Can-Am Defender comes stock with Maxxis Bighorn 2.0 tires. These are some great all-around tires, but if you want something a little more aggressive, you can do what we did and mount a set of Sedona Rip-Saw R/T Radial tires to your Defender. These tires have 1 ?-inch deep tread that grips on a wide range of terrain types. We've been beating on our set for a while now and they are proving to be great tires in everything from mud, to snow to rocks.
Kolpin makes some of the most useful Can-Am Defender aftermarket accessories and you really need to add a set of its Rhino Grips to your ride. These handy grips can mount virtually anywhere on your Defender and can hold all sorts of stuff from tools to hunting gear and more. We often carry a shovel or an axe with ours when we're out on the trail.
There are a couple of good reasons to consider wrapping your Defender in accessory camo wrap. Perhaps you have a solid-color machine and want it camouflage, or you want an added layer of protection for your plastic. Mossy Oak sells UTV kits that are basically a massive roll of adhesive camo wrap. There is enough to cover your Defender and even wrap some of the accessories. Now, you may be thinking, "Can-Am sells a Mossy Oak Defender. Why not just buy one of those?" Sure, that's a possibility, but if you do go with the wrap, you're not stuck with the same camo pattern. We wrapped our Defender with Mossy Oak Bottomland camo and it looks amazing.
Can Am Defender Aftermarket Accessories or In-House Accessories
While we've focused primarily on Can Am Defender aftermarket accessories, you shouldn't ignore accessories that come straight from the factory. The engineers at Can-Am have a long list of available accessories and add-ons. And the benefit of buying accessories from Can-Am is that they shouldn't alter your vehicle's warranty at all and they will fit your Defender perfectly. Here are a handful of our favorite Can Am Defender accessories that are produced by the manufacturer.
Center Under-Seat Storage Bin: This two-gallon storage bin is completely water tight, so you can fill it with ice and keep your drinks cold. It can also be easily drained and washed.
Cargo Bed Rails: Can-Am also makes these helpful cargo bed rails, which add a tie-down area to your cargo box.
Dashboard Net Kit: Affordable prices and impressively useful, this dashboard net kit helps you secure items in the dash storage area.
Panoramic Mirror: We like to go off-road in groups, which makes having the ability to see behind you very important. Set up your Defender with the panoramic center mirror.
Recent Updates
July 24, 2023: Removed out-of-stock product and replaced it with current available stock and updated links and descriptions as necessary.
August 10, 2022: Removed promoted product recommendation
September 8, 2021: Added a promoted product recommendation.
March 30, 2021: Added the Wild Boar front bumper and the SuperATV half doors.
Become an ATV insider. Get the latest news first by subscribing to our newsletter here.
We are committed to finding, researching, and recommending the best products. We earn commissions from purchases you make using the retail links in our product reviews. Learn more about how this works. Derrek Sigler
Derrek's love for all things ATV started when he was a mere 11 years old, growing up on his family farm. His mom gave him and his sister a choice - get a horse, or a three-wheeler. The sister wanted the horse, and Derrek wanted the ATV. Luckily he won out, and was soon burning up the trails on a Yamaha Tri-Moto 200. By the time he was 14, he had saved enough of his own money by working on the farm and in his folks restaurant to buy a new 4-wheeler. That happened the day he and his mom were driving past the dealership and saw 1987 Banshee. His mom had no idea what he was buying, and he never looked back. He's been riding ever since, and been writing professionally for many years. He has ridden all over North America and been behind the controls of just about every machine out there. And yes, he still has his 1987 Yamaha Banshee.
More by Derrek Sigler
Published July 24th, 2023 4:32 PM
Top Brands
Popular Articles