211 Views
2008 Kawasaki Teryx 750 4X4 Review
June 17th, 2015 5:10 PM
Share
We're committed to finding, researching, and recommending the best products. We earn commissions from purchases you make using links in our articles. Learn more here
Kawasaki enters burgeoning market with sporty side-by-side unit
We knew it was coming, and we've even
written about it
, but until the media launch in St. George, Utah in late January, ATV.com hadn't had a chance to ride Kawasaki's highly-anticipated sporty side-by-side offering, the Teryx 750 4X4.It was worth the wait.Kawasaki's idea with the Teryx was to design a vehicle mainly for recreation and sport, but with enough versatility to help out when work needed to be done. Since we didn't fly across the country to haul around rocks and perform manual labor, we spent our time seeing just how much fun we could have and what the Teryx could handle.Sand Hollow State Park, which is just a short drive from downtown St. George, was a perfect spot to put the Teryx to the test. With miles of open, rolling sand dunes, long stretches of high-speed sand washes and a very technical and varied rock crawling area, it was a dream site to try out a new vehicle.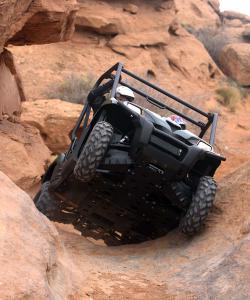 Powering the Teryx is Kawasaki's beloved 749cc V-twin, the same engine that charges the Brute Force 750."It's our trademark V-Twin engine which we've developed specifically for ATVs about six years ago. It's a very capable power plant," Kawasaki product manager Vince Iorio told ATV.com. "The thing that makes it different is that it's a 90-degree V-twin, so having two cylinders opposed at 90 degrees virtually eliminates vibration. It's almost a self-balancing engine. We have very little vibration and twice the torque."The engine does weigh a little more than a single cylinder, but in this type of product we wanted a large amount of horsepower on tap and we wanted a large amount of torque on tap and the V-Twin just does it for us."After a full day of riding the Teryx, it's hard to argue with Iorio. The V-twin is plenty powerful and it won't take long for the aftermarket to find a way to greatly increase the already abundant horsepower.Torque is a trademark of the 750 V-twin and it certainly isn't lost on the Teryx. Low-end torque was probably most impressive, as on more than one occasion we went from a dead stop to launching up ridiculously steep and uneven rocks. The Teryx is a beast of a climber.Only one climb got the better of us on test day, but it had more to do with terrain and tire pressure than lack of power. We attempted to scale a tall, steep sand dune, but we only got about half-way up when the Teryx could go no further. Keep in mind, though, that we were riding on stock tires with stock air pressure. Proper sand tires or lower air pressure likely would have made the difference in the climb, but Kawasaki wanted us to test a completely stock unit.
Though the company is understandably keen on the engine, it was the Teryx's suspension that really caught our eye. No matter what kind of abuse we dished out–and we served up plenty–the suspension soaked up everything."We took a lot of care in putting it (the suspension) together," says Iorio. "The premium components we put in this base-model product make it stand out."You've got a platform that you can take on a sidehill and feel comfortable. You don't feel like it's going to fall in on you. You can take it through rocky sections and you don't lose fillings."A narrow chassis up front allowed for longer A-arms with adjustable gas-charged shocks, which provide 7.5 inches of travel. In the back is the all-important independent rear suspension (IRS) and adjustable gas-charged shocks with reservoirs, which also provide 7.5 inches of travel.With the pedal floored on the flatter sand washes, whatever rocks or ruts we rolled over just melted away. The IRS helped keep all four wheels firmly on the ground at top speed, giving the driver a lot of confidence.
The dunes at Sand Hollow were littered with natural whoops. Though we wouldn't normally recommend flying through them at top speed in any vehicle, since we were testing the limits we gave it our all. Thank goodness for seatbelts and helmets, because the quick ups and downs of whoops riding takes its toll on you, and despite our efforts we couldn't bottom out the suspension.While crawling over gnarly rock sections, the suspension rose to the occasion again. Not only did the IRS keep the wheels down to provide traction when we needed to power over a tricky climb, but the 11.3 inches of ground clearance would not have been possible with a straight axle. Without the additional clearance, there's no telling how often we would have gotten hung up or battered the bottom of the Teryx.When the day started, we really didn't think we'd have all four wheels off the ground for any length of time. This was one of those rare times when it's good to be wrong.Kawasaki led our group to a dune that would act as a Teryx launching pad for a good long time. We started out taking it fairly easy–mostly to make sure we wouldn't be hurt on the landing–but soon found ourselves screaming into the jump as fast as we could.
Let's be honest—no one was flying around like motocross bikes, as the Teryx, full of fluid, our gear and one rider, was tipping the scales at about 1,600 pounds. Even with all that weight, though, we were well off the ground–just check the photo gallery for proof. Even with all this jumping, the suspension held up every single time. Surely the soft sand helped, but the landings were all smooth and plush and we were able to just drive off without losing control and loop around again for another run.A nice addition from Kawasaki on the Teryx is a variable front differential control. You can lock or unlock the front wheels on the fly. To lock the front wheels you just pull back on the handle located between the driver and passenger. Unlocking it is somewhat trickier, especially if you're moving, as it requires a little more finesse. A simple switch on the dash might be a better option, but that is hardly a major bone of contention.Though we didn't use them much while ripping up the dunes, the brakes performed well when on the steep, rocky descents. The multi-disc rear brake system is completely enclosed and operated in a sealed oil bath. According to Kawasaki, it has an almost unlimited service life as there is nothing—namely pads—to wear out. Up front is a pair of dual disc brakes.
Kawasaki worked with Maxxis to design the 26-inch tires especially for the Teryx. Whether rock crawling or speeding around sand dunes, they performed just fine and the strong side wall will no doubt come in handy over the long-term.Bucket seats offer plenty of comfort, but their most practical feature is arguably the drainage hole. If it rains or if you happen to spill whatever beverage you're carrying, the drainage hole keeps the water from building up and soaking you. It seems like a small detail, but driving around with a dry rear end certainly beats the alternative.Portability of the Teryx is a feature Kawasaki took seriously. At 58.7 inches wide and 115.4 inches long, the Teryx is still capable of fitting into the back of a full-size pickup truck, eliminating the need for a trailer.With a towing capacity of 1,200 pounds and a cargo bed that can hold an additional 500 pounds, the Teryx is a capable worker when need be. The standard cargo net with tie downs kept all our gear securely in place throughout the day.A very solid machine, the Teryx could still benefit from a few changes on future models.
To avoid delaying the launch of the Teryx, Kawasaki says, it chose to use carburetors instead of waiting for an electronic fuel injection (EFI) system to be completed. To be fair, in our tests, the vehicle performed well for us all day, but EFI would be an improvement, especially if you ride in various altitudes. Though Kawasaki didn't specify when, exactly, the Teryx is expected to be fitted with EFI within the next two years.Outside of fuel injection, we noted the absence of a speedometer or any sort of digital meter on the base Teryx. Kawasaki does not include the digital meter and a few other non-performance features as a pricing strategy, and we understand that, but it's just a convenience we've grown accustomed to. A digital meter is available as an option for an additional US$219.95 and is a standard item on the Teryx LE (limited edition).Neither the base model Teryx nor the limited edition comes with a digital gas gauge. You can get a read on fuel level on the translucent window on the molded tank, but why not make it easier and just include it in the digital meter?
Another issue we ran into involved the cargo bed. We loaded up our camera gear and some luggage during the test and by the time we finished riding, the black paint started to wear away and the bare metal of the bed was showing. If the paint can't stand up to some luggage, how would it handle a load of rocks? A spray liner is a must if you plan to haul anything with Teryx.As much fun as we had on the Teryx, the question that most interests Kawasaki is who is going to buy it?Iorio says Kawasaki is expecting the Teryx, and UTVs in general, to attract a lot of new people into the powersports market. He also says there will be a lot of migration coming from different powersports activities."People that have had ATVs may be attracted to them because of their comfort," says Iorio. "You can take a passenger and have a nice time together, as opposed to being strung between two vehicles and having communication difficulties."We're attracting many people. Not just the 'go fast' people, but people who like the off-road experience and who want to experience the beauty of a place like this and don't want to buy a jeep and don't want to buy an ATV. It's kind of like a new choice."The UTV market has gotten a lot more crowded recently, but Kawasaki thinks the Teryx fills a gap that consumers want and compares favorably to other vehicles in the class.Polaris' Ranger RZR has more power and speed, but the Teryx has more ground clearance and a lot more interior space. Kawasaki says that its vehicle is also better at cornering and is more stable. Also, where the RZR is almost pure sport, the Teryx has more utility.Versus the Yamaha Rhino, Kawasaki says the Teryx has the edge in power, torque, speed and stability.Arctic Cat's Prowler, according to Kawasaki, has less power and torque than the Teryx, as well as a higher center of gravity.As far as price is concerned, at US$9,799, the base model Teryx is $500 less than the Ranger RZR, $700 less than the Rhino 700 and $400 less than the Prowler XT 650 (the base Prowler 650 is $200 less than the Teryx).The Teryx LE, which Kawasaki expects will outsell the base model by about 20%, will run an additional $800. It's the version we would choose, as it comes with the digital meter, cup holders, hard top, half windshield and a tilting cargo bed with gas assist.For the hunters out there, the Teryx also comes in an NRA Outdoors Edition for US$11,349 and features dual gun scabbards. Not only does it have a camo paint job, but the dashboard, cup holders, hard top and wheels are also camo.For an additional cost, Kawasaki already has a list of accessories for the Teryx, including a heater and modular cab. Also, aftermarket parts and accessories will begin appearing in short order, so customization won't be an issue.
Specs
Engine
Liquid-cooled, 90-degree, four-stroke V-twin
Valve System
SOHC, four valves per cylinder
Displacement
749cc
Bore x Stroke
85 x 66mm
Compression Ratio
8.8:1
Carburetion
Dual Keihin CVKR-D34
Ignition
Digital DC-CDI
Transmission
Continuously variable belt-drive transmission with high and low range, plus reverse, and Kawasaki Engine Brake Control
Final Drive
Selectable four-wheel drive with Variable Front Differential Control, shaft
Frame type
Large diameter, thin-walled, high-tensile tubular steel
Front suspension/wheel travel
Adjustable dual A-arm with gas charged shocks / 7.5 in.
Rear suspension / wheel travel
Adjustable Independent Rear Suspension (IRS) with gas charged, reservoir shocks / 7.5 in.
Front tires
Maxxis 26×8-12
Rear tires
Maxxis 26×10-12
Front brakes
Dual hydraulic discs with 2-piston calipers
Rear brake
Sealed, oil-bathed, multi-disc
Overall length
115.4 in.
Overall width
58.7 in.
Overall height
75.0 in.
Wheelbase
76.0 in.
Ground clearance
11.3 in.
Lighting
2) 40W headlights, (2) TK W taillight, TKW stoplight
Cargo Bed Capacity
500 lbs, 44.1 W x 32.7 L x 11.2 in. H
Towing Capacity
1200 lbs.
Dry weight
1276.1 lbs.
Fuel capacity
7.9 gal.
Instruments
R/N/P/4WD indicators, water temp and oil pressure lamps
Standard Colors
Sunbeam Red, Woodsman Green, RealTree Hardwoods Green HD
Related Reading 2008 Kawasaki Teryx 2008 UTV roundup 2008 Polaris Ranger RZR 2008 Yamaha Rhino Lucas Cooney
I have been working exclusively in digital media since 1997. I started out with TSN.ca, spending nearly nine years creating and editing content on Canada's leading sports website. I left to join VerticalScope, Inc., one of the world's largest online publishers, to start a number of powersports publications. While at VerticalScope, I've helped create and oversee content for a wide variety of different publications, including ATV.com, Off-Road.com, ArcheryTalk.com, Tractor.com, RVGuide.com, and many more.
More by Lucas Cooney
Published February 4th, 2008 1:35 PM
Top Brands
Popular Articles