1 View
2010 Kawasaki Mule and Teryx Lineup Unveiled
June 17th, 2015 4:48 PM
Share
Sporty new Mule introduced
After leaving its 2010 ATV lineup largely unchanged, Kawasaki took a different approach with its side-by-sides by introducing a sporty new Mule (yes, you read that correctly) and giving the already impressive Teryx a few tweaks.
2010 Mule 610 4×4 XC
When it comes to working vehicles, Kawasaki's Mule is one of the first names that spring to mind. The Mule name has been around for more than 20 years and the entire lineup received some key cosmetic and performance upgrades in 2009. For 2010, Kawasaki decided to add a little fun to its side-by-side workhorse.
New for this year, the Mule 610 4×4 XC has borrowed a little of the fun factor from the Kawasaki Teryx RUV to create a sort of crossover side-by-side. Highlighting the new mule are a set of aggressive 26-inch Maxxis Bighorn radial tires (same as you'll find on the Polaris Range RZR S) mounted on 12-inch wheels to provide much improved off-road ability. A host of other upgrades were also added to complement the Mule 4×4 XC's more trail-ready nature.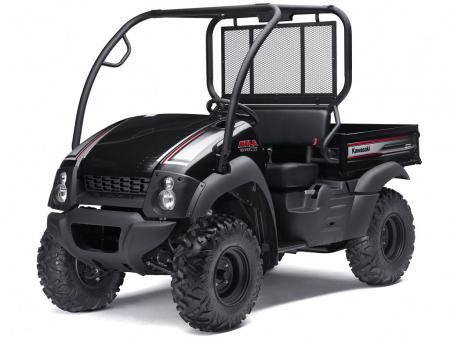 The Mule 610 4×4 XC adds a little fun to Kawasaki's work-first platform.
Thanks to the burly new tires, Kawasaki says the Mule has much better traction, ground clearance has been increased by 1.4 inches to 8.1 inches and the track has been widened by 1.3 inches. To accommodate that new capability, new 1.1 inch longer front and 1.5 inch longer rear suspension should help the Mule climb over larger obstacles than ever, while standard skid plates protect vital systems.
26-inch Maxxis Bighorn radial tires give the Mule a lot more off-road bite.
To help make room for the new tires, the front bumper has been moved forward about 1.2 inches, and while they were at it the Mule team added sporty new graphics. Also, Kawasaki says a new and more comfortable seat covered in a more pliable material has been added, as well as a smaller-diameter sport steering wheel lifted straight from the Kawasaki Teryx.
In keeping with the original Mule 610 4×4, the new XC model shares the reliable and economical drivetrain. A proven 401cc fan-cooled overhead-valve engine mated to a continuously variable transmission (CVT) feeds power to all four wheels as needed. The Mule can be started in forward (Hi or Lo) or reverse gear, provided the brake pedal is applied.
Bump absorption comes courtesy of MacPherson strut front suspension, while the rack-and-pinion steering helps get you around any obstacles. An upgraded braking system brings the whole package to a halt.
Despite its more fun appearance, the XC is still a working machine. A new special black texture paint applied to its 400-pound capacity tilting bed allows for greater durability, and an 1,100-pound towing capacity that means you can bring just about whatever you need along for the ride. Other features include dual cup holders, a roomy glove box, and the front hood pops open to reveal more than 12 gallons-worth of storage. Popular accessories include an enclosed cab, snow plow, winch, and soft or hard tops, available through Kawasaki dealers.
2010 Kawasaki Mule 610 4×4 XC
New, extra large 26-inch Maxxis Bighorn 2.0 radial tires mounted on 12-inch wheels give this Mule utility vehicle newfound off-road skills.
Along with bigger tires comes a 1.3 inch wider track. But this Mule still fits in a full-size pickup truck.
Larger tires also result in 1.5 inches more ground clearance—now 8.1 inches—for improved rough terrain capabilities.
Standard skid plates for the front differential, engine and rear diff add protection and greatly reduce the chances of getting hung up on obstacles.
A new seat, covered in new material for more all-weather comfort, provides a better, more secure perch for the driver and passenger.
A repositioned front bumper and exclusive sporty graphics give the XC a bold new look to match its new mission.
A sport steering wheel, lifted from the Teryx RUV, enhances control and appearance.
Longer front and rear suspension arms provide greater off-road performance.
A revised brake pedal ratio, stronger master-cylinder mount and new brake shoes provide increased braking performance.
Stain and scratch-resistant special black texture paint in the cargo bed enhances the whole vehicle's looks and durability.
Teryx-style tailgate has a simplified release for easy opening and closing.
2010 Kawasaki Teryx Lineup
It's only been two years, but the Kawsaki Teryx has already proven itself to be a force in the sporty side-by-side market. For 2009, the Teryx received digital fuel injection and a host of other upgrades—and now for 2010, the evolution continues.
Kawasaki continues to evolve the sporty Teryx 750.
An aggressive new front end features a hinged, forward-tilting hood, offering front suspension and cooling system access and for easier maintenance. Kawasaki also made upgrades to the big V-Twin's cooling system, designed to enhance long-term reliability. As well, a sturdier tilting bed out back provides improved durability.
The Teryx LE models standard with a rigid sun top, half windscreen, retractable dual cup holder and automotive style paint.
We've spent a lot of time behind the wheel of the Teryx and the 749cc 90-degree 8-valve V-Twin is a fantastic powerplant. It's got very snappy throttle response (much improved thanks to fuel injection), and its 90-degree configuration gives it incredible balance. There's not much to complain about with this engine.
For 2010, Kawasaki says upgrades to the engine's cooling system add even more reliability. The radiator's cooling fan (which switches on automatically when needed) is now larger and moves a greater volume of air, while a larger-diameter hose allows greater coolant flow, to help keep the engine cool when the going gets slow and rough. Also, the coolant catch tank has been moved to the front of the machine, where it's easily accessible under the new tilt front end. While you're under there, Kawasaki claims it's easier to inspect and clean the Teryx's gas-charged preload-adjustable shocks and dual, long A-arm front suspension setup.
Another change for 2010 is the addition of an ignition cutout, which will not allow the Teryx to be ridden away when the parking brake is engaged. That new braking system protection complements the Teryx's CVT Belt Protection System, which automatically retards ignition timing if the system detects engine operation at high rpm for more than two seconds while the rear wheels are motionless (i.e., the belt is slipping), and warns the rider via a flashing belt warning lamp on the dash.
2010 Kawasaki Teryx Changes
A new hinged, forward-tilting front hood enforces aggressive new styling, and allows quick access to the radiator and front suspension components, for easier maintenance and suspension tuning.
New, inset headlights complement the aggressive new styling. (match the LE and Sport models)
A new ignition cut-out feature protects the brake system by preventing riding with the parking brake on.
A larger radiator fan helps keep engine temps under control in slow going, and a larger-diameter hose increases coolant flow and overall capacity. The coolant reserve tank was moved under the front cover for easier maintenance.
The tilt bed's frame is engineered with increased rigidity for even greater durability.
Other minor modifications aimed at more efficient production and durability keep the Teryx at the front of the RUV pack.
Related Reading
2009 Kawasaki Teryx 750 FI 4×4 Sport Review
2008 Kawasaki Teryx 750 4X4 Review
Published October 5th, 2009 1:36 PM