102 Views
February 22nd, 2022 6:06 PM
Share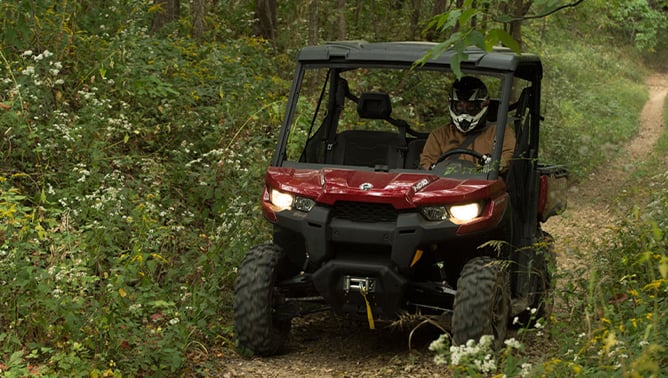 You'll be ready for winter after installing one of these best UTV heaters.
Winter will be here before you know it, and while that can often mean the end of your UTV driving season, the right UTV heater can extend your off-roading season well into the autumn and early winter.
UTVs are – generally speaking – pretty barebones. A huge number of the UTVs sold in North America each year don't come equipped with a roof, windshield, or doors, let alone a factory audio system. As for cabin heating and cooling? You may as well forget about it; that's a bona fide rarity in a stock UTV. Thankfully, the aftermarket has stepped in to respond to customers' needs, and today, there are numerous UTV heater kit options available for just about every make and model of side-by-side, from universal one-size-fits-all heaters to model-specific kits that install neatly and maintain a factory-like appearance.
Here, we've rounded up the best UTV heater options available on the market, including ceramic 12 volt UTV heater options, heaters that plumb into your vehicle's engine coolant system, and even a liquid propane-fueled option for those who prefer a heater that can be put in, removed, and shifted around with ease.
1. Editor's Choice: JEGS Auxiliary Heater Assembly
You probably know the name JEGS for its wide selection of high-performance aftermarket car parts, but this auxiliary heater assembly is every bit as at-home in a UTV as a race car. Featuring a compact design made for tight or crowded cockpits where space is at a premium, this little UTV cab heater can put out an impressive 8,500 BTUs of heat, depending on the application, using your engine coolant as a heat source rather than relying on an electric heating element or propane canister. That's not uncommon among UTV heater designs, and it gives you the most heat possible in your cabin throughout the winter, although it does make installation more involved than simply mounting the unit and plugging in a few electrical connections. Still, the JEGS Auxiliary Heater Assembly is near-universal and priced much lower than most model-specific UTV heater designs, making it well worth a look.
2. Best In-line Cooling System Heater: Inferno UTV Cab Heaters
A universal-fit UTV heater kit is great, but how about if you want a totally seamless install? That's where the brand Inferno comes in. Inferno makes model specific UTV cab heater kits for numerous popular UTV models, including the Polaris Ranger 570, 800, and 900 XP; the Polaris General and RZR; the Honda Pioneer 500; and plenty of other models from the likes of Can Am, Arctic Cat, and Kawasaki. Most of these are designed to fit neatly within the dash, just like an OE automotive heater core, with direct engine coolant hookups, multi-speed SPAL fans warrantied for up to 3 years, and factory original-looking adjustable louvered vents. Most of these model-specific Inferno UTV heater kits also feature windshield defrosters, helping to keep your windshield clear and free from fog – something the average universal UTV cab heater can't easily do.
3. Best Model Specific Runner Up: Rough Country UTV Cab Heaters
If Inferno doesn't have a UTV heater kit for your model, they're not the only brand with model-specific UTV heaters. Rough Country UTV Cab Heater packages are available for a range of side-by-sides, from the Can Am Defender and Commander, to the Yamaha Viking, the Honda Pioneer 1000, and the Polaris Ranger 900 XP and 1000 XP. These are all-inclusive, direct-fit UTV heater packages with plumbed heater cores, high-quality variable-speed fans, and louvered heat vents, including windshield defrosters. Heat output is rated up to 16,000 BTU, and each unit ships with a 3-year manufacturer warranty, bringing extra peace of mind beyond the confidence that comes with buying from Rough Country – one of the best-known names in aftermarket off-road vehicle parts.
4. Mr. Heater Golf Cart Heater
Sometimes, "simplicity" is the name of the game, and this propane-fueled heater from Mr. Heater delivers exactly that with a compact, highly portable design that doesn't rely on permanent engine coolant hookups in order to generate its cabin heat. While it's technically intended for golf carts, a pair of these heaters can generate plenty enough heat to warm a side-by-side on a crisp autumn day, with 4,000 BTU of output per unit. Mr. Heater likes to boast that this is the only "certified" outdoor golf cart heater around, and to their credit, this unit has plenty of smart features, from its oxygen depletion system to its wind-resistant protective screen, plus a tip-over safety switch that renders it relatively safe on rugged terrain. The whole thing is designed to sit snugly within a cupholder, and if it's a dead-simple drop-in install you're looking for, we're not sure you could find better.
5. Maradyne Havasu Under-Dash Heater
Price isn't quite everything, but if it were, Maradyne might come close to winning the whole UTV heater kit game with products like this: the Havasu Under-Dash Heater. Capable of up to 20,000 BTU of heat output per hour, the Maradyne is another near-universal UTV heater, compact enough to install into just about any side-by-side and powerful enough to keep the cab warm when the weather outside turns frigid. It's an attractive package, too, with a tidy, OE-like appearance that won't look completely out of place in your UTV like some units, and an OE-quality fan speed dial that will blend right in with any dash. Like many, this UTV cab heater relies on engine coolant to generate its heat, so installation can be a bit involved. But you'll thank yourself for taking the time every time the temperature outside dips below 10?.
6. RoadPro 12V Direct-Hookup Ceramic Heater
The only pure-electric 12 volt UTV heater on this list, this small, portable ceramic heater from RoadPro is powered directly by your UTV's battery, generating heat internally with an internal resistive heating element. That makes it easier to install – and uninstall, if necessary – than your typical UTV heater kit. Granted, running off of the battery has its disadvantages; this UTV heater doesn't put out nearly as much warmth as one that uses engine coolant, and depending on how you wire it, there's always that risk that you might accidentally drain your battery. Still, at 300 Watts, it's powerful enough to bring some much-needed warmth into your side-by-side on a crisp day, and with no propane canister required, it doesn't have runtime limitations like the Mr. Heater unit listed above. Plus, installation is dead simple with a 30A in-line fuse (not included), and it's handily the least expensive heater on this list.
7. KBD Universal Seat Heater Kit
This is not a UTV heater kit, but depending on your needs, it might be even better: a universal seat heater kit. Manufactured by Tusk, this kit includes resistive heating elements for the seat back and seat bottom on that work on a wide variety of OEM seats. What's so great about that? Apart from making your seat much more pleasant to climb into on a crisp day, seat heaters such as these don't waste any time or energy gradually bringing up the temperature of the whole cabin, instead warming your body directly through the upholstery. In a poorly insulated vehicle like a UTV, that's a major selling point, and while these seat heaters might not be enough by themselves in especially frigid conditions, they're a great supplement to any UTV cab heater. The kit includes everything needed for a clean, factory-looking install, from wiring to in-line blade fuses to rocker switches, and of course, the heating elements themselves, which slip invisibly underneath the upholstery.
Which Type Of UTV Heater Is Best?
There are essentially three different types of UTV cab heater on the market: the pure-electric 12 volt UTV heater, with a simple ceramic resistive heating element; the liquid propane-fueled UTV heater, which relies on a propane canister to generate its heat; and the conventional coolant-plumbed heater, which generates heat by harvesting it from your warm engine coolant. Each type has its own benefits and drawbacks, and which one is best will depend largely on your own needs and priorities.
A ceramic 12 volt UTV heater is generally the easiest to live with. It's among the easiest to install, requiring only an electrical connection to the positive and negative terminals on your UTV's battery – or maybe a switched power connection, if you want to make certain that the heater can't be run with the vehicle off, potentially draining your battery. But it's also the least effective sort of UTV heater; the RoadPro unit listed above maxes out at around 1,000 BTU per hour, and while that will eventually warm up an enclosed UTV cabin, it will take a while, and you'll still want to dress warm if it's a particularly cold day.
Propane heaters, like the Mr. Heater unit on our list, can be just as easy to live with so long as you make sure to grab a spare propane canister or two. That particular unit uses 1-pound propane tanks, which are compact and easily packable, but each tank is only good for around 5.5 hours of runtime. Thankfully, it will generate substantially more heat than a ceramic 12 volt UTV heater – that Mr. Heater unit puts out around four times the heat of the RoadPro ceramic heater – and its lightweight, compact, and inexpensive, so you can get two, three, or even four going at the same time as needed to really warm up your cabin.
Overall, though, your best bet is a UTV heater that circulates warm engine coolant to generate its heat. The initial install will be a bit of a pain; you'll have to drain your UTV's coolant, run the included rubber hoses from the engine cooling system through the firewall and into the core, tie the included blower motor into your UTV's factory wiring, and refill and burp your cooling system. Depending on which one you buy and what UTV model you drive, you may also have to get creative when it comes to mounting and securing the unit within the cabin. But the tradeoffs are generally worth it, as heaters such as these can generate several times more heat than any small propane-fueled cabin heater – typically around 16,000 BTU per hour or more.
There's a reason that passenger cars have long used this type of heater to warm the cabin; it just works, and it harvests thermal energy that would otherwise just be discarded as waste heat. If you don't mind a lengthy, involved install procedure, this is the best type of UTV cab heater you can get.
Additional Resources
Recent Updates:
2/22/2022: Updated product links, updated product descriptions
12/7/22: Removed OOS items and replaced with new (Jegs Auxilary Heater and Tusk UTV Seat Heater), updated product descriptions.
We are committed to finding, researching, and recommending the best products. We earn commissions from purchases you make using the retail links in our product reviews. Learn more about how this works.
Published August 9th, 2021 4:35 PM
Top Brands
Popular Articles