426 Views
ARGO ATV and XTV- Models, Prices, Specs and Reviews
We're committed to finding, researching, and recommending the best products. We earn commissions from purchases you make using links in our articles. Learn more here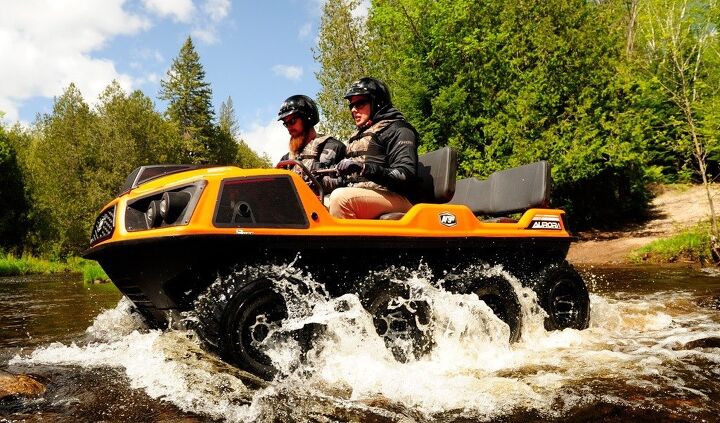 ARGO ATV models have been around since the 1960s. Ontario Drive & Gear is a Canadian manufacturer and it made its first 6-wheel amphibious vehicle in 1967 that was dubbed the Amphiat.
By 1971, an eight-wheeled ARGO ATV was unveiled, which at the time offered the greatest cargo capacity on the market and was powered by a 440cc Kohler engine.
The ARGO ATV family continued to evolve and grow throughout the decades with a wide variety of machines that were equally at home on land and water. ARGO's first traditional ATV, the Xplorer, was unveiled in 2017.
2021 ARGO ATV Models
Xplorer XR 500
Though they don't feature the classic ARGO amphibious abilities, the Xplorer ATV family is designed for those looking for a straddle-seat ARGO ATV. The most affordable of these are the Xplorer XR models. Each features a 503cc single-cylinder engine, 13.2 inches of ground clearance, independent double A-arm suspension, engine braking, Innova tires, and two-inch receiver hitch. Upgrade to the XR 500 LE and you get cast-aluminum wheels, front brushguard, electronic power steering, and a 3000-pound winch. Prices start at $6799.
Xplorer XRT 500
The Xplorer XRT 500 and 500 LE share the same features as the XR models, but the chassis has been stretched out with a 57-inch wheelbase and a rear passenger seat has been added. Prices start at $7999.
Xplorer XR 570/XRT 570
The newest member of the Argo XR ATV family, the XR 570 is a one-up machine that gets its power from a 561cc single-cylinder engine, so you get some extra power over the entry-level 500. Feature-wise, the ATVs share pretty much everything in common outside of the engine. Two-up riders can opt for the Xplorer XRT 570. Prices start at $7499.
Xplorer XRT 1000 LE
The flagship of the traditional ARGO ATV family is the Xplorer XRT 1000 LE. Powered by a 997cc twin-cylinder engine, the 1000 LE comes standard with aluminum wheels, power steering, front differential lock, rear passenger seat, 3000-pound winch, 1300-pound towing capacity, and 264 pounds of front and rear rack capacity. Prices start at $12,399.
Frontier Series
The Frontier Series is ARGO's most affordable line of amphibious vehicles. The base Frontier 600 6×6 features six wheels, an 18-horsepower V-Twin engine, and has a load capacity of 595 lbs on land and 395 lbs on water. The Frontier 650 6×6 relies on a more robust 23-horsepower V-Twin. The Frontier 700 6×6 has a 23-horsepower V-Twin and a load capacity of 570 lbs on land and 370 lbs on water. The Frontier 700 Scout 6×6 adds a front bumper, cargo rack, and 2500-pound winch. The Frontier 650 8×8 produces 23 horsepower and has a load capacity of 855 lbs on land and 755 lbs on water. The Frontier 700 8×8 produces the same power, is offered with a standard or high-torque transmission. Finally, the Frontier 700 Scout 8×8 adds a front bumper, cargo rack, and winch. Prices range from $10,599 to $20,399.
Aurora Series
The Aurora Series consists of nine different ARGO ATV models, each outfitted with eight wheels for maximum carrying capacity. The base Aurora 800 SX is powered by a 30-horsepower liquid-cooled V-Twin and boasts an Admiral transmission with ARGO Progressive steering, while the Aurora 800 SX Huntmaster adds camo paint and front brushguard with a 3500-pound winch and the 800 SX-R includes a Roll Over Protective Structure (ROPS). Move up to the Aurora 850 SX features and you get a 33-horsepower V-Twin engine, 1100-pound load capacity on land, 800-pound load capacity on water, 25-inch tires, and 9-inch AirLock rims. The Aurora 850 SX Huntmaster adds camo paint, front bumper, cargo rack, and 3500-pound winch. The Aurora 850 SX-R is the same model as the SX, but adds a Roll Over Protection Structure. The Aurora 950 SX offers up a 40-horsepower V-Twin engine, but is otherwise very similar to the 850 SX. There are also 950 SX Huntmaster and SX-R models. Prices start at $25,899.
Conquest Series
The Conquest series of ARGO ATV models is designed for serious work…and a bit of fun. The Conquest 800 Outfitter is ARGO's hunting machine and it features a 30-horsepower V-Twin engine, room for eight passengers (four on the water), 4500-pound winch, cargo rack, and front brush guard. The Conquest 950 Outfitter bumps things up with a 40-horsepower V-Twin. Prices start at $36,799. Published March 10th, 2021 3:59 PM
Top Brands
Popular Articles