34 Views
Into the Wild: 5 Extreme Places You Can Go With ARGO
September 15th, 2020 1:20 PM
Share
We're committed to finding, researching, and recommending the best products. We earn commissions from purchases you make using links in our articles. Learn more here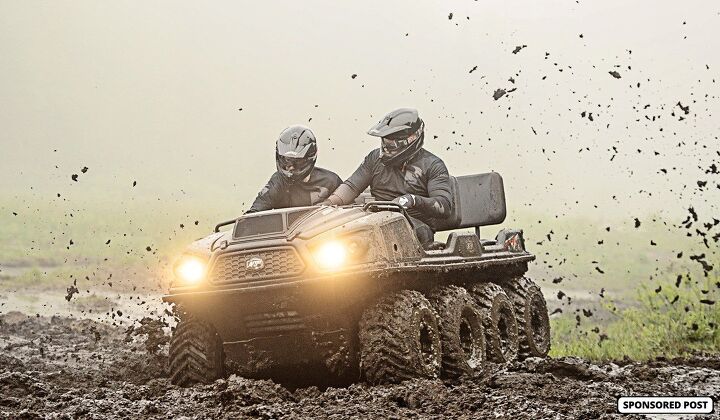 Remove the word "inaccessible" from your vocabulary
It's no secret that an ARGO XTV can find its way into (and out of!) places that would scare the tires off most other off-road machines. Over the past five decades, ARGO's amphibious extreme terrain vehicles have become synonymous with the word "tough" – and few machines jump into this lifestyle more eagerly than the 2021 ARGO Aurora Series.
The typical four-wheeler and side-by-side is no slouch when it comes to off-road prowess, but ARGO takes that capability and cranks it up a notch … several notches, actually. From rugged trail navigation to full-on amphibious operation, ARGO machines offer a unique mix of performance, payload capacity, and versatility, allowing riders to truly go anywhere, helping you reach spots that would be impossible to access on a traditional ATV.
Here are just a few of the previously-impassible places you can go with an ARGO XTV.
Water
ARGO's main party trick? It's fully amphibious. This year, new low-pressure 25-inch tires on ARGO Aurora models are custom engineered with a snazzy paddle design to help propel these 8x8s through water. Then, once you're back on land, they're able to seek traction on even the most extreme off-road terrain while applying just 1.5psi of ground pressure.
The rig's one-piece high-density polyethylene lower body is smooth and durable, permitting ARGO to float over snags and stumps. Meanwhile, the hull design is intended to keep water hazards out while delivering stability and control to even novice drivers. Best of all? Thanks to powertrain and weight distribution improvements, most models in the eight-wheeled Aurora line can now ferry an equal number of passengers on water as it can on land.
Swamp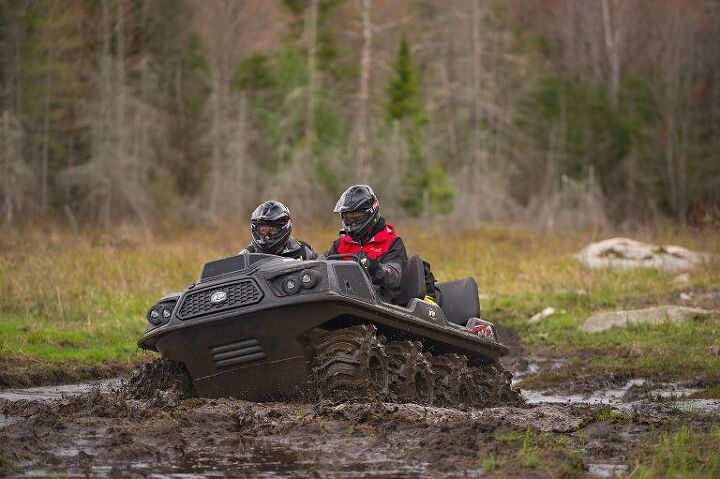 When trying to power your way through the mire of a swamp or that sticky muskeg, the last thing that should be on your mind is worrying about the engine in your off-road rig. ARGO Aurora XTVs have you covered in that department as well, powered by dependable V-twin 4-stroke EFI gas engines that are available in 33- or 40-horsepower outputs. Both are fan-cooled. Plus, ARGO's left-hand driver cockpit configuration will be familiar to riders trading out of a side-by-side, while its raised flat floor means there's room for the whole crew.
Bog
Those who have traipsed through a cold bog in the pre-dawn fog in order to reach a dilapidated duck blind will know that navigating a real bog comes with its own set of challenges. ARGO permits riders to take these on with confidence, using the rig's unique design to make the most out of otherwise tricky situations.
With the ARGO Aurora series' weight spread out over eight tires, these machines can find grip in places where the wet and muddy ground would normally be too soft to support an ATV or side-by-side. The ergonomically correct handlebar controls include a driver friendly push-button start-in-gear convenience and a finger-pull throttle, allowing you to spend more time looking for wild game and less time worrying about navigating around, or over, the next obstacle.
Snow
ARGO is best known for being able to shrug off the wet stuff, but it's no slouch in snow, either. Reversible, offset rims allow the wheel and tire assembly to mount either closer in or further out from the rig, changing the width of the wheel stance while simplifying the installation of a set of (optional) rugged tracks.
Thanks to this capability, your buddies might call your ARGO XTV a tank – but it won't impact the terrain like one. A set of heavy-duty rubber tracks doesn't just offer exceptional traction, it also presses into the earth with less than a single psi of ground pressure. That's far less than a traditional all-terrain vehicle or side-by-side rig, allowing you to tread lightly and cross fragile terrain without adversely impacting it.
Deep Woods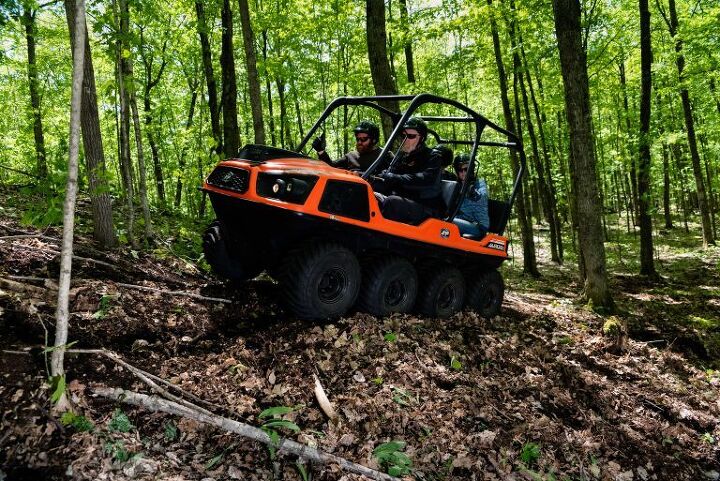 Serious off-road conditions require reliability and agility, which ARGO XTVs deliver in equal measure. That's because ARGO Progressive Steering (APS) is smooth and responsive, reliably conquering the most challenging off-road environments, by delivering a dual rate steering system that results in an easy and smooth turning motion.
When driven in High Range, APS steers smoothly and in an arc, similar to a UTV. Placed in Low Range, it operates similar to a traditional skid steer vehicle, offering zero-radius turning. This means you'll be able to skirt around trees and through tight spots while your buddies are still fumbling with steering angles and throttle control. Meanwhile, a solid 10 inches of ground clearance means you'll sail over any troublesome stumps as well.
Want to be able to fearlessly tackle any terrain that Mother Nature can throw at you? Click here to find an ARGO dealer near you.
{ "id": "8848099", "alt": "", "title": "", "video_link": "https://www.youtube.com/embed/pUcY_yynT3I", "youtube_video_id": "pUcY_yynT3I" }
{ "width": 634, "height": 357, "showRelated": true } Published September 15th, 2020 1:20 PM
Top Brands
Popular Articles