231 Views
Best 30x10x14 UTV Tires For Sand, Mud and Everything In Between
April 27th, 2021 5:09 PM
Share
We're committed to finding, researching, and recommending the best products. We earn commissions from purchases you make using links in our articles. Learn more here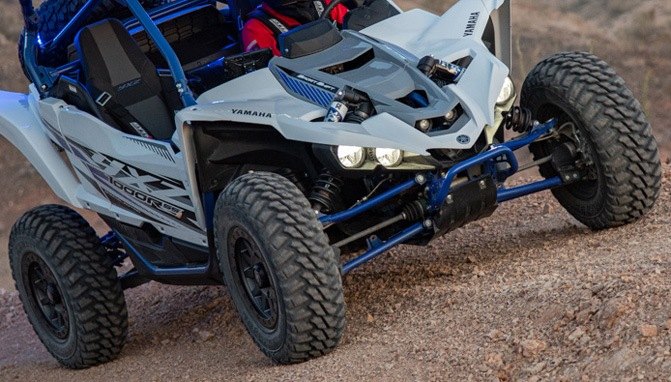 Find the right 30-inch UTV tires for your needs
No matter what model side-by-side you own, whatever tires you're running can either make or break your ride, and that makes picking the right set of 30x10x14 UTV tires for your needs crucial. Thankfully, there's no shortage of options on the market; well-known and respected manufacturers from Maxxis to GBC to BFGoodrich have at least one 30x10x14 tire option on the market, all employing their vast expertise to deliver the strongest, most capable UTV tires they know how.
But which 30x10x14 UTV tires are truly the best? That all comes down to your needs. If your side-by-side spends its time primarily on intermediate- or hard-pack trails, you'd probably be better off foregoing a set of hardcore mud tires with tall, far-spaced tread blocks that can bounce and deflect, causing some instability at speed. Conversely, if your idea of fun is trudging through the deepest, thickest mud you can find, a relatively tame set of all-terrains probably isn't going to cut it.
There's a lot to consider. To help make your decision easier, here we've rounded up our picks of the best 30x10x14 UTV tires on the market today, spanning a range of styles and price points.
1. Editor's Choice: Maxxis Carnivore 8-Ply Radial
A sturdy, durable model from one of the most trusted names in powersports tires, the Maxxis Carnivore is one of the best choices you can make when it comes time to replace your 30x10x14 UTV tires. Boasting a specialized rubber compound devised to supply maximum traction with excellent tread life, the Carnivore is inspired by the best, most capable light truck tires. That's apparent as soon as you take a look at the arrangement of its big, aggressive tread blocks, which provides plenty of void area to boost clean-out and tons of hard biting edges. Its specialties are rocks, roots, and desert terrain, but in truth, the Maxxis Carnivore can get through just about anything.
2. Best Rock Crawling Tire: Sedona Rock-a-Billy 8-Ply Radial
A competition-honed all-terrain tire that earned its stripes in the 2016 UTV Terracross Championships, the Sedona Rock-a-Billy is, simply put, one of the top-performing 30x10x14 UTV tires you can buy. It features an all-new, unique tread compound developed to provide miles and miles of exceptional performance, even on today's high-powered, high-speed machines, and its 8-ply rating and bead-to-bead puncture-resistant material give it a near-impervious barrier against hazards. Big void areas and integrated stone ejectors within the tread keep the blocks clear for consistent performance, no matter what you're trudging through.
3. BFGoodrich T/A KM3 Mud-Terrain 8-Ply Radial
The BFGoodrich T/A KM3 mud-terrain is well-known among off-roading truck enthusiasts, but did you know you can get the same exceptional, renowned performance on your UTV? Buy a set and you'll gain access to BFGoodrich's lauded Terrain-Attack tread design, with big, beefy tread blocks to deliver outstanding traction from every approach angle; tough, split- and bruise-resistant sidewall rubber with an advanced deflection design to provide miles of trouble-free operation; and a UTV-specific tread compound developed to ensure your UTV can grip even on hard and slick surfaces.
4. GBC Kanati Mongrel 10-Ply Radial
Developed specifically for today's high-performance side-by-sides, the GBC Mongrel is a highly rated tire from one of the hottest manufacturers in performance powersports tires. Like most of the 30x10x14 UTV tires on this list, it's a radial design, only this one has a 10-ply rating for even more strength and puncture-resistance, meaning it can withstand plenty of abuse without breaking a sweat. An all-terrain with an aggressive tread pattern designed for optimal self-cleaning, the GBC Mongrel is built to overcome some of the harshest terrains you're ever likely to encounter.
If it's good enough to sweep the podium at the King of the Hammers, it's probably good enough for your UTV.
The Tensor Regulator 30x10x14 UTV tires share some common ground with the BFGoodrich option above in that they are designed after a truck tire rather than an ATV tire. They have a flatter profile than other tires on this list, which really helps with exceptional straight-line handling and improved braking. They are also as rugged as any tire on our list with steel-belted radial construction. Finally, they are DOT compliant, so if you live in an area that allows you to go on public roads, that is a bonus.
On the downside, they are fairly heavy, which will have an effect on your UTV's power. And the flatter design that helps them handle so well in the straights has left some reviewers wanting more in the corners (there's always a give and take with tires).
6. ITP Blackwater Evolution 8-Ply Radial
The ITP Blackwater Evolution has one of the most aggressive, serious-duty tread designs we've ever seen on a set of all-terrain 30x10x14 UTV tires. The end result is a tire that truly is ready for all terrain – from soft- and intermediate-pack trails to mud, snow, and rocks. It boasts an innovative non-directional design developed to maximize traction no matter the terrain, with big, overlapping tread blocks to provide a smooth, predictable ride at higher speeds, and its 31/32" tread depth is among the deepest and most aggressive in its class.
7. STI Roctane XD 8-Ply Radial
An exceptionally versatile all-rounder, the STI Roctane was built to deliver outstanding grip on even the slickest of rocks, with plenty of hard biting edges and an aggressively lugged shoulder boasting STI's exclusive RocWall lower sidewall reinforcements. Not that that's all the Roctane can do, mind you; the tire's big, deep tread blocks also provide outstanding traction in mud, and its unique non-directional design and broad contact patch lend it smooth, predictable handling and precise control no matter what the terrain.
8. Best Extreme Mud Tire: SuperATV Intimidator 6-Ply
With a tread design like this, the SuperATV Intimidator's name is well-earned. It's a true, hardcore mud tire, with the super-deep mud-slinging tread blocks and bias-ply construction to prove it. Those attributes make it a force to be reckoned with in the thickest, soupiest of conditions, able to dig its way out where other tires fail. But it's not just a superb mud tire; SuperATV designed the Intimidator to be smooth and versatile enough for everyday use. Intimidating? Yes.
Recent Updates
April 27, 2021: Added the Tensor Regulator recommendation.
We are committed to finding, researching, and recommending the best products. We earn commissions from purchases you make using the retail links in our product reviews. Learn more about how this works. Aaron Brzozowski
Aaron is a freelance writer, videographer and car enthusiast based out of the Detroit area. He has a special affinity for the Porsche 944 series, and once owned a Volvo 240 sedan with a Weber carb in place of the factory EFI system. His work has appeared on AutoGuide, GM Authority, /Drive, and VW Vortex, among other sites.
More by Aaron Brzozowski
Published October 5th, 2020 1:39 PM
Top Brands
Popular Articles