535 Views
Best ATV Cart Options for Hauling
April 3rd, 2021 7:24 PM
Share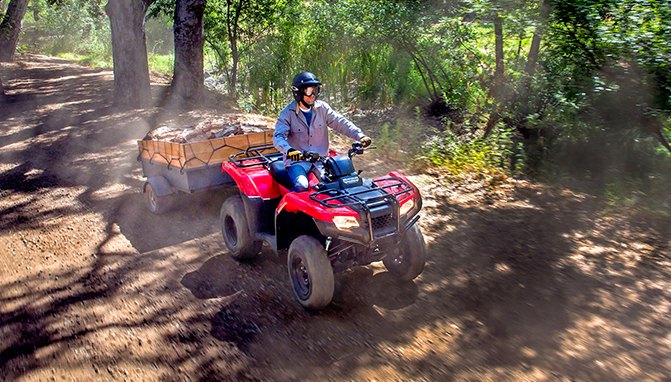 Make carrying the load easier with a cart for your ATV
We get it – not everyone uses their ATV or UTV for the sole purpose of bombing over dunes or carving up that path through the woods. Some of us actually use the things for, y'know, actual work. That's where an ATV cart can come in really handy.
There are a variety of tow-behind ATV utility carts on the market for use with the off-road rigs we all enjoy. Some are poly (read: hard plastic) and some are metal. We'll cover both options in this list and you can decide for yourself which one is best for your application. Be sure to stick around for an FAQ section at the end.
Now, go on – pull a fast one.
1. Editors Choice - ATV Wagon 800 UTX Trailer
Our choice for the ultimate ATV cart has to go to the ATV Wagon 800 UTX. This thing is like the Cadillac of trailers, complete with all the frills. The bed is constructed from 14 GA steel mounted to a 2"x2" square tube frame and features a strong arm dump system, making it the perfect ATV dump cart. In fact, the ATV Wagon is the industry's first auto dump assist trailer on the market.
Carry your heavy payloads in the 15 cubic ft. dump bed, that has an 800 lb. towing capacity, with little worry about aggressive terrain with its 25" tall tires mounted to an independent suspension, torsion bar axle. When you're ready to dump your haul, the removable tailgate eliminates anything getting hung up after you pull the latch pin, letting the dump assist handle the heavy lifting for you.
2. Most Versatile Cart - MotoAlliance Impact ATV/UTV Heavy Duty Utility Cart Cargo Trailer
Here's a great ATV cart for owners who are planning on putting in a good day's work around the construction site or on the farm. This trailer is available in either metal or poly construction and can hold 15 cubic feet of stuff. Of course, 'stuff' weighs different amounts so be sure you don't exceed this trailer's 1500 lb. capacity rating.
The stout-looking metal option has a steel floor and frame with removable steel mesh side rails and tailgate. It also has a foot dump to quickly bin that load of gravel, plus a quick release latch & tilt trailer bed. The latter will help for loading, too. Those are 4-ply tires which are probably better than the ones on your truck, ya cheapskate. This trailer has 11 inches of ground clearance.
3. Best Dual Axle Dump Cart - Polar Trailer HD 1500 Trailer
The '1500' in this ATV cart's name stands for - you guessed it - the amount of weight it can safely carry. Its design is different than the other 1500 lb. capacity trailer mentioned above and, as such, has a slightly larger area in which to cart things around: 22 cubic feet in this case.
This is also a twin-axle rig, adding some peace of mind for those of us who have had the experience of blowing a tire on a single-axle trailer. It isn't pleasant. This attribute does add weight, of course, bringing the total unladen mass to a hefty 200+ lbs. Like others on this list, it does include a dumping feature.
4. Ohio Steel Pro Grade Hybrid Tractor/ATV Cart with Swivel Dump
If you've not used an ATV or UTV trailer with a swivel dump, you owe it to yourself to check out this unit. It isn't always possible to back up exactly square to the place where you wish to deposit whatever you're carrying, making a swivel ATV dump cart the perfect answer for tight spaces or if your Significant Other wants the load of topsoil there and not there. Jeez, don't you listen?
This particular one has a 1250-pound capacity, which should do the trick for most users. The unit itself only weighs about 50 lb., making it a simple task to manhandle the thing around when empty and not connected to your ATV/UTV. Ratings on Amazon are very positive, collecting a 4.8 out of 5-star rating based on the feedback of a few dozen customers
5. YuTrax HC1500 Heavy-Duty ATV Trailer
This trailer won't help much if you're trying to haul gravel or dirt, thanks to a mesh floor and open sides. However, it is ideal for moving stuff like logs and other items that won't - literally - fall through the cracks. It does have an all-steel construction and its 22 cubic feet of capacity can bear up to 1500 lbs of cargo.
Like a couple of other ATV utility cart options on this list, there is 11 inches of ground clearance underneath this thing, making it a good match for your ATV/UTV. Flotation tires help absorb shock while providing good stability. Its maintenance-free sealed ball bearings should make for a smooth and resistance-free tow. Total weight is just 137 lbs.
6. Peg Perego Adventure Trailer
Wait, what? Yes, this is the same brand that makes toys and car seats for small children. That's because this trailer is intended for kiddos and their little Power Wheels ATV you got them for their birthday last year. Many youngsters want to copy their parents (well, at least until they're a teenager) and this is a great way to help encourage interest in the sport at a young age.
This mini-ATV cart is plastic, of course, just like their battery-powered toy ATV/UTV. It has a weight capacity of 66 pounds, which is more than expected. In other words, they can 'help' (and we use that term loosely) you haul around some junks of wood or a couple shovelfuls of dirt. Hey, it's always good to get kids involved around the house. Amazon ratings for these things are sky-high, clocking in at 4.8 stars out of 5 based on over 200 customers.
We are committed to finding, researching, and recommending the best products. We earn commissions from purchases you make using the retail links in our product reviews. Learn more about how this works.
What's the load rating on an ATV cart?
It varies, but the burliest ATV carts are good for 1500 pounds. To put that in perspective, several configurations of the 2021 Ford F-150 don't have much more payload capacity than that amount. Be sure to read the documentation that comes with your trailer and don't load it past its rating. When hauling heavy loads, verify that your ATV or UTV has adequate towing and braking capacity.
Are safety chains needed with an ATV cart?
They're never a bad idea, especially for the big boy trailers on this list that can carry 1500 lbs. Your total drive distance can be a factor as well, with longer journeys benefitting from the extra security safety chains provide. Always be sure to keep you speed down while towing and don't make any sudden steering maneuvers.
Published April 3rd, 2021 7:21 PM
Top Brands
Popular Articles