260 Views
Best Kawasaki Mule Snow Plow Options
January 27th, 2022 1:43 PM
Share
We're committed to finding, researching, and recommending the best products. We earn commissions from purchases you make using links in our articles. Learn more here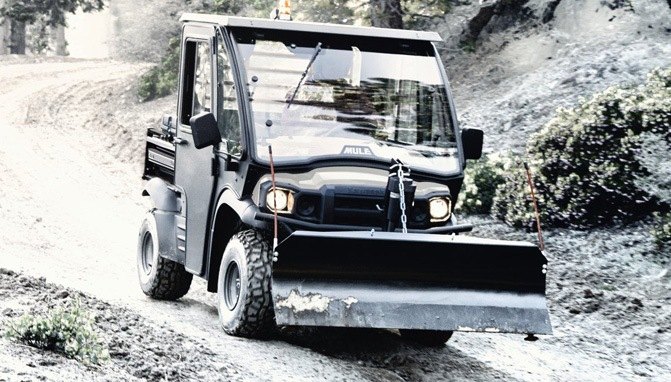 Use your Mule to clear snow in the winter
With winter now underway across much of the northern hemisphere, a Kawasaki Mule snow plow might be a timely purchase. With a little bit of labor and just a handful of parts, you can transform your Kawasaki Mule into a winter-beating, snow-clearing machine, rather than letting it sit in storage collecting dust during the colder months.
Outfitted properly, the Kawasaki Mule makes for a terrific snow plow for long driveways and small parking lots – areas that are too big and labor-intensive to clear by hand, but too small to bother with a full-size truck plow. And lucky for you, numerous trustworthy manufacturers have gotten into the UTV snow plow game, leaving you with plenty of options for how to best outfit your Kawasaki side-by-side for snow-clearing duty.
Of course, there are a few key things you'll want to consider as you shop for your new Kawasaki Mule snow plow. The width of the plow blade is critical. You'll want something that spans at least the full width of your Mule so that you're not leaving compacted tire tracks everywhere you plow, but depending on how much snow accumulates in your neck of the woods, you would do well to take into account your Kawasaki's torque, too; you don't want to get stuck trying to move a mountain with a UTV. Also important is the material of the snow plow blade. Polyurethane blades tend to be lighter but less durable than steel. Steel blades are much more common and they can take a beating, but the rust-fighting coating varies a lot between manufacturers.
In short, there's a lot to consider. Feeling overwhelmed? Don't worry; here, we've rounded up all the best Kawasaki Mule snow plow options on the market, allowing you to compare and cross-shop all the most promising products in one convenient place.
Table of Contents
1. Editor's Choice: MotoAlliance DENALI UTV Snow Plow Kit
An all-inclusive Kawasaki Mule snow plow kit that's priced just right, the MotoAlliance DENALI UTV plow kit is best for those who just want to buy everything in one go, rather than shopping around for blades, mounting kits, and push tubes separately. It includes some quality components, too, with a sturdy, reinforced 11-gauge steel blade, some heavy-duty push tubes, and a model-specific mounting plate that transfers the force from the plow to the sturdiest part of your Mule's frame to avoid damage. Better still, MotoAlliance has a couple of versions available to suit a range of different Kawasaki Mule models, including Mule 4000/4010 models from 2009 through 2020, and 2015-2020 Mule PROs.
2. Runner Up: PM KFI UTV Snow Plow Kit
Another all-in-one Kawasaki Mule snow plow kit, the RPM KFI UTV plow kit is available with blades ranging from 60 to 72 inches in length, in model-specific packages for the 2009-2020 Mule 4000/4010, 2015-2020 Mule PRO, 2005-2016 Mule 600, and others. Again, that means no shopping around for model-specific mounting kits and push bars, hoping and praying that everything works together as it should. Each plow blade is rendered in sturdy Grade-50 steel with a durable powdercoat finish to resist abrasion and rust, with heavy-duty push tubes and a model-specific mounting solution. The system boasts plenty of adjustability, with three blade angle positions that rotate the blade up to 25 degrees, six blade pitch positions, and up to 30+ inches of lift height when you need it.
3. Warn ProVantage Side X Side Plow System
It's anything but an all-in-one Kawasaki Mule snow plow solution, but we love the Warn ProVantage Side X Side plow system all the same. Why? Because it has a bevy of customization options. You'll have to buy each individual component separately, and you may need to have a Warn winch mounting plate on your Mule in order to install it, but if you can forgive it that, the ProVantage system offers a range of options that's simply not found on other side-by-side snow plow kits. There are several different blade profiles available, ranging from 50 to 72 inches in width; a motorized pivot mount, sold separately; and even a bucket conversion kit that opens your plow up to a gigantic range of possible uses. Especially if you already have a Warn winch plate installed on your Mule, we would recommend the ProVantage kit in a heartbeat.
4. Kolpin UTV Switchblade Plow
One of the coolest Kawasaki Mule snow plow options on the market is also one of the most flexible: the Kolpin Switchblade UTV plow. Here, "Switchblade" refers to Kolpin's clever adjustable-length plow blade, which allows you to quickly select between 60 and 72 inches with the same blade. That makes it perfect for areas prone to a few heavy, deep blizzards each year; use the longer blade length for your average light dusting, and the shorter length for those heavy snow storms, when your Mule is struggling behind the weight of the snow. Just as important, the Kolpin Switchblade kit is an all-inclusive kit with a universal body mount – no model-specific mounting plate to worry about – for a terrific price.
5. Extreme Max HD UniPlow ATV Plow System
If you're looking for 100+ pounds of basic, sturdy universal snow plow for cheap, this is it: the Extreme Max HD UniPlow ATV plow system. Adapting it to your Kawasaki Mule might take some doing; the Extreme Max HD UniPlow comes with a basic universal mounting plate that doesn't guarantee compatibility. But if you don't mind doing a bit of work to make it fit, it's an outstanding value. It comes with a reinforced multi-position blade, a strong, welded push tube design, and a quick-release mechanism that allows you to take the plow off in seconds – literally.
How well does a Kawasaki Mule Pro FXT plow snow?
With its 812cc three-cylinder engine producing a claimed 48 lb-ft of torque, the Kawasaki Mule Pro FXT is adept at all sorts of laborious jobs – including plowing snow. If the snow is deep and heavy, a smaller plow blade will be your friend, as it won't get bogged down by the weight.
Traction is another consideration. Getting yourself a set of proper snow tires or putting on tire chains will give your Mule more purchase on the ground so you can move larger amounts of snow.
What is better to plow snow with – a Kawasaki Mule 4x4 or an ATV 4x4?
Both a four-wheel drive ATV and a Kawasaki Mule can both be solid snow clearing tools. If you need a more mobile plow that can turn around in tighter spaces and more easily between cars or other obstacles, a four-wheel drive ATV is a great choice. But moving to a Kawasaki Mule 4x4 has its own advantages. Namely, it's a heavier unit that will let you move more snow in less time.
Both options can work…you just have to know what you need.
Recent Updates
1/18/2022: Ranked Products, updated product links, updated product descriptions, added additional resources
We are committed to finding, researching, and recommending the best products. We earn commissions from purchases you make using the retail links in our product reviews. Learn more about how this works. Aaron Brzozowski
Aaron is a freelance writer, videographer and car enthusiast based out of the Detroit area. He has a special affinity for the Porsche 944 series, and once owned a Volvo 240 sedan with a Weber carb in place of the factory EFI system. His work has appeared on AutoGuide, GM Authority, /Drive, and VW Vortex, among other sites.
More by Aaron Brzozowski
Published November 30th, 2020 4:19 PM
Top Brands
Popular Articles