134 Views
Best Kawasaki Mule Roof Options
April 26th, 2021 10:05 AM
Share
We're committed to finding, researching, and recommending the best products. We earn commissions from purchases you make using links in our articles. Learn more here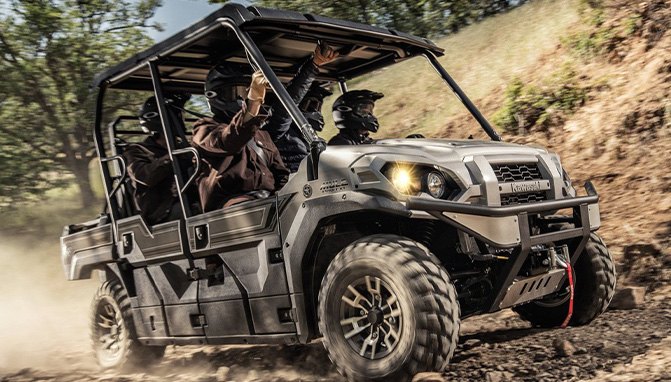 Keep protected from the elements in your Mule with a roof
If you're always scrambling for cover in your Kawasaki Mule any time there's a downpour, it's time for a Kawasaki Mule roof.
Everyone appreciates open-air motoring, but getting rained on can really put a damper on your whole day. What's more, rain isn't the only hazard you've got to worry about while you ride; there's also bright sunlight, which can not only pose a problem for visibility, but can also bathe both you and your cockpit in damaging UV rays. A UTV roof solves both of those problems, while also providing some basic protection against small branches and a plethora of other forest projectiles. Best of all, UTV roofs are dead simple, inexpensive, and are able to be installed and removed in minutes – if not seconds – usually with nothing more than some basic hand tools.
Here, we've rounded up the best Kawasaki Mule roof options on the market, for models ranging from the Mule 600 and 610, to the 3010 and 4010, all the way up to the Mule Pro FXT and DXT. No matter what year and model Mule you drive, chances are you'll be able to find the right roof for you on this list.
1. Editors Choice - Quadboss Hard Top 2-Piece Roof (Kawasaki Mule 3010/4010)
If you're looking for the best, most rugged, utilitarian Kawasaki Mule 3010 roof around, check out this plastic hard top from Quadboss. Quadboss is a well-known, respected brand in the world of aftermarket ATV and UTV accessories, and they've brought their A-game to this Kawasaki Mule roof, which features durable, impact-resistant ABS construction with molded water run-off channels and storage recessions that make it easy to load items onto the roof. Just strap down your cargo with a few bungee cords and you're good to go. This roof doesn't come cheap, but if you're after the best for your Mule 3010 or 4010, this is it.
2. Best Budget Friendly - Genuine Kawasaki Soft Top (KAWASAKI MULE PRO-FXT PRO-DXT)
Looking for just some basic protection against sun, rain, and falling debris? Consider going OEM. This Genuine Kawasaki Mule roof is a practical, inexpensive Kawasaki Mule Pro-FXT/DXT soft top that's guaranteed to fit your ride perfectly because, well, it's manufactured by Kawasaki. Made from durable, weatherproof fiber-reinforced PVC laminate, the whole roof tips the scales at just over 9 pounds, with a fiberglass rod to help the roof maintain its shape once installed. Is it the most eye-catching Kawasaki Mule roof out there? No, but you'd be hard-pressed to find something better in terms of price and practicality.
3. SuperATV Dark Tinted Roof (Kawasaki Mule Pro FX, DX, FXT, and DXT)
Far and away the most expensive Kawasaki Mule roof on our list is also arguably the best: this tinted polycarbonate hard top from SuperATV. This Kawasaki Mule FXT roof provides plenty of protection with its impact-resistant 1/4"-thick polycarbonate construction and a dark tint that cuts down on harmful UV rays in the cabin, but it still gives you a wide, open view of the sky. It's superbly well-built, too, with a precise CNC cut that provides a perfect, rattle-free fit, and sealed edges that block out rain. And if you don't drive an FXT, good news; the two-row version also fits the Mule FXT, and there's even a one-row version for the Mule FX and DX.
4. Classic Accessories QuadGear UTV Top (Kawasaki Mule Pro FX and DX)
Installing to your Kawasaki Mule Pro FX or DX in just seconds with its simple hook-and-loop securing straps, this fabric Kawasaki Mule soft top from Classic Accessories is an extraordinarily good roof. It's made from an advanced ProtekX6 fabric, manufactured with an exterior coating and a water-resistant backing, which gives it outstanding weather and abrasion protection, and there's even a special panel at the front edge that helps accommodate certain types of windshields. At just 1.8 pounds, it's about as light as a Kawasaki Mule roof can be, and best of all, Classic Accessories offers a two-year warranty for peace of mind with your purchase.
5. Genuine Kawasaki Black Hard Top (Kawasaki Mule 600/610)
Speaking of Kawasaki, they also make one of the best – and, frankly, only – Kawasaki Mule roof options in a hard top for the 600 and 610. It's significantly pricier than the soft top, but going by the customer reviews, that extra cost is money well-spent. Mule owners have gotten years of reliable service out of this simple plastic hard top, even in spite of copious UV ray bombardment, and the whole panel can be uninstalled and reinstalled in a matter of minutes if you need to trailer your ride. Best of all, it fits all years of the Mule 600, 610, and SX, according to Kawasaki, giving it broad compatibility.
6. Ecotric Hard Top Roof (Kawasaki Mule 3010/4010)
Do you want a molded plastic Kawasaki Mule 4010 roof for less? This unit from Ecotric is a steal, and it still manages to pack plenty of quality, with an attractive textured black plastic finish and all the necessary hardware for a simple snap-in installation. Granted, the roof isn't going to be quite so perfect a match for your Mule as the Quadboss one listed above; it's a multi-model roof, compatible with a list of different UTVs from the John Deere Gator to the full-size Polaris Ranger. But if you can forgive it that for the sake of saving over a hundred dollars, this Kawasaki Mule roof might just be for you.
What Type of Roof Is Right For Me?
Broadly speaking, there are two types of Kawasaki Mule roof that you'll come across while you shop: soft roofs, and hard roofs. So which type is right for you? That all depends on where you ride, how much protection you need, and how you prioritize virtues like convenience, price, and strength.
Obviously, both roofs will do a fine job of blocking out the sun, but soft roofs hold the advantage when it comes to convenience because whenever you remove the roof, you can fold it up and pack it away somewhere convenient; there's no big, inflexible panel for you to store. That's especially important to consider if you spend a lot of time trailering your Kawasaki Mule to and fro, as generally speaking, you're going to want to uninstall the roof before going anywhere. What's more, soft roofs generally weigh significantly less than their rigid counterparts, so your Mule incurs less of a performance penalty, and they're more than capable of shielding you from the occasional light downpour or falling acorn.
Hard roofs, on the other hand, can protect against some much bigger hazards, and depending on how the roof mounts to the UTV, some of them can even be left on while you trailer your Mule. We still recommend removal before trailering, but it's your vehicle. What's more, hard roofs enable you to do tack on things like auxiliary lighting and extra tool mounts, if you so choose. That's not an option you get with a soft top. Of course, there are drawbacks, as well. Hard roofs tend to be more expensive; they weigh more and can't be stored as easily; and the plastics that they're made from often suffer from UV degradation over time. Most should still last you a number of years before needing replacement, but it's something to keep in mind.
At the end of the day, which type of Kawasaki Mule roof is right for you will mostly boil down to what options are available, how much you're willing to spend, and whether you want the option to mount things to the roof. But all things considered, if you can afford a Kawasaki Mule hard top, that option has our vote.
We are committed to finding, researching, and recommending the best products. We earn commissions from purchases you make using the retail links in our product reviews. Learn more about how this works. Aaron Brzozowski
Aaron is a freelance writer, videographer and car enthusiast based out of the Detroit area. He has a special affinity for the Porsche 944 series, and once owned a Volvo 240 sedan with a Weber carb in place of the factory EFI system. His work has appeared on AutoGuide, GM Authority, /Drive, and VW Vortex, among other sites.
More by Aaron Brzozowski
Published April 26th, 2021 10:05 AM
Top Brands
Popular Articles