141 Views
2022 Polaris Ranger SP 570 Review
October 5th, 2021 5:20 PM
Share
Fast Facts
MSRP: $10,499
Towing Capacity: 1,500 LBS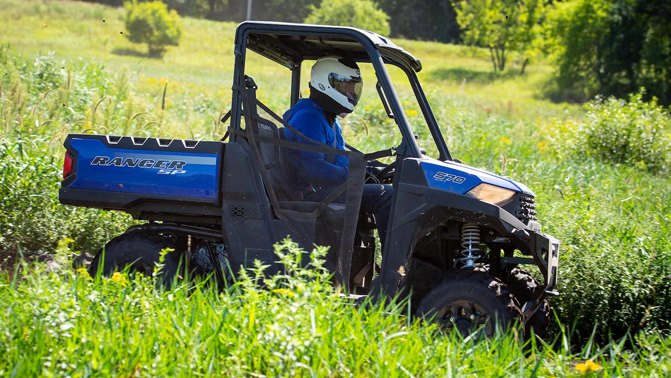 The midsize Ranger sees some big improvements in a smaller package
With seven years since its last update, the new 2022 Polaris Ranger SP 570 offers up some big improvements in comfort and rear cargo space. We had a chance to drive it recently and figured it was time to follow up with a full review.
Believe it or not, there are wide swaths of UTV customers who don't use their machines for high-speed dune busting or tearing across the off-road landscape at warp speed. Yes, we know – it's tough for us to imagine, too.
But deploying a Side-by-Side rig for work actually harks back to the genesis of these things. When this type of vehicle first appeared on the scene, they were generally thought of as low-power but useful workhorses with a face uglier than a battered hamster and all the interior comfort of a splintered church pew. Now, buyers forking over their hard-earned money for one of these things expect many of the creature comforts found in so-called 'lifestyle' machines like the General and RZR. In short, it's no longer sufficient to simply offer scads of engine torque and a handy dump bed.
For the 2022 model year, Polaris has taken this shift in market preferences to heart with the introduction of the new Polaris Ranger SP 570. With a renewed focus on the comfort of its occupants, and a dose of front-end styling that ties it in to the rest of the Polaris family, this is the first significant revamp of the 570-class Ranger in seven long years. As before, it is targeted at the likes of ranchers, hunters, and outdoor enthusiasts but – thanks to world events keeping some folks closer to home than in the past – more than a few recreational customers are now sneaking into the mix. In other words, Polaris has realized one shouldn't be penalized in terms of comfort just because they've bought a workhorse instead of a speed machine.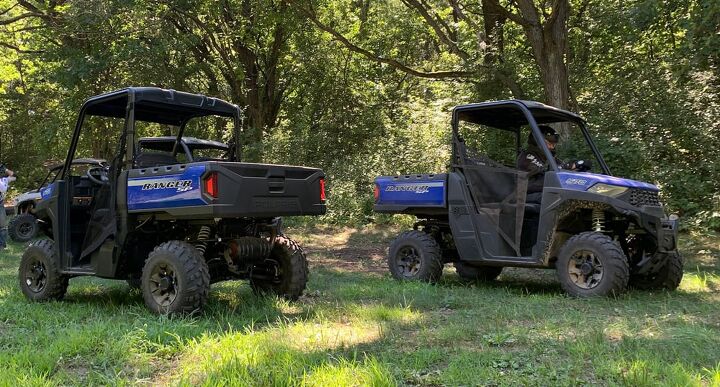 We sampled the new Polaris Ranger SP 570 in base trim, a machine intended to replace the old Ranger 570 bearing an attractive price tag of $10,499. Doubling the number of seats (Polaris Ranger Crew SP 570) adds $1,500 while stepping up to the NorthStar Edition and its yaffle of creature comforts such as Polaris RideCommand costs $16,999 and $19,499 for single-row and Crew variants, respectively. The rock-bottom price point of the entry-level model is the main reason we buckled ourselves behind the wheel of that rig for testing.
No matter how much one spends on an Polaris Ranger SP 570, they will find themselves in command of a ProStar 570 engine packing 44 horsepower and the capacity to tow 1500 lbs. New 25-inch tires help create a best-in-class 11 inches of ground clearance, a good inch more than its predecessor. Juvenile jokes aside, that extra inch might not sound like a lot, but it's more than enough to clear certain obstacles which would flummox the old machine and allow riding over tough terrain with confidence. There's 9 inches of wheel travel up front and 10 out back.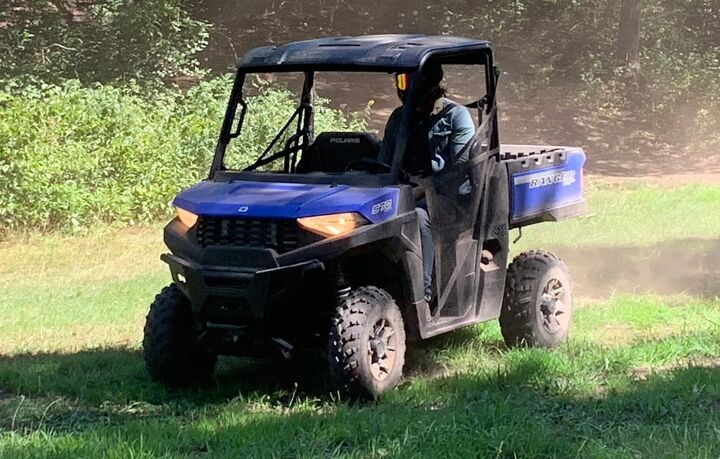 During our blast around the proving grounds of a motorsports park in Minnesota, we discovered the Sachs dampers found on models of the 2022 SP 570 work well to reduce the tippy feel one often gets in non-sporting side-by-sides. The familiar engine isn't as loud as it was in older variants of the Ranger; one can actually hear themselves think in this thing which is a vast improvement over the outgoing model. A lack of electric power steering in the base model ensures a workout and the potential for arms like Popeye after a day's work, but the Polaris Ranger SP 570 is light enough that its absence is never really an issue save for maneuvers at walking pace. Its turning radius is just 12.7 feet, handy for skirting about horse barns and the like. The clutch system has been upsized and retuned to increase durability and, while we can't remark on the frequency of future repairs, our testing showed it definitely improves low speed drivability.
With the influx of new customers to the segment – and more than a bit of stout competition from other powersports companies – Polaris has upped Its game in terms of the interior found in this workhorse. Gone are the days of rock hard seats and ugly dashboards. A comfortable (bordering on squishy) bench seat now greets passengers, along with door netting that can be clipped into place with one hand. That flip-up bench has its hinge in the forward position, helping to keep a lid on dust and debris entering the storage area.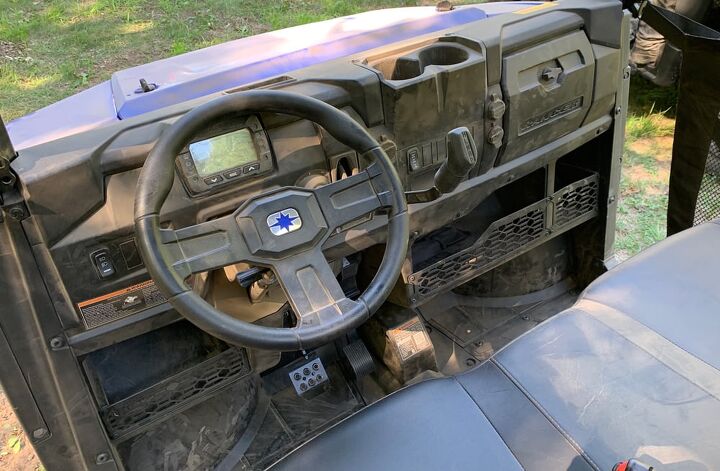 A nifty thin-yet-deep pocket atop the dashboard is the perfect size for a smartphone, though it must be said the steering wheel in this base model is woefully cheap and had a tendency to bend in the hands of your author when driving at a spirited pace. Polaris, if you're reading, please replace it with one from the General line. The entire dashboard has been pushed forward compared to the old 570, creating more knee room and a bigger door opening for entry and exit. Fixed connections for a trickle charger win the prize for practicality.
The roof shown here is not included in the $10k base price, a decision that's fine by this driver since I kept knocking my helmet off the bloody thing. This is not the end of the world and it's worth noting I stand six-foot-six in my size 13 stocking feet. Polaris says there is historically a 90-odd per cent take rate on the roof as an accessory on the base Ranger, so there is an argument to be made the company is looking out for their dealers in terms of them getting a piece of the profitable accessory pie rather than including a roof from the factory.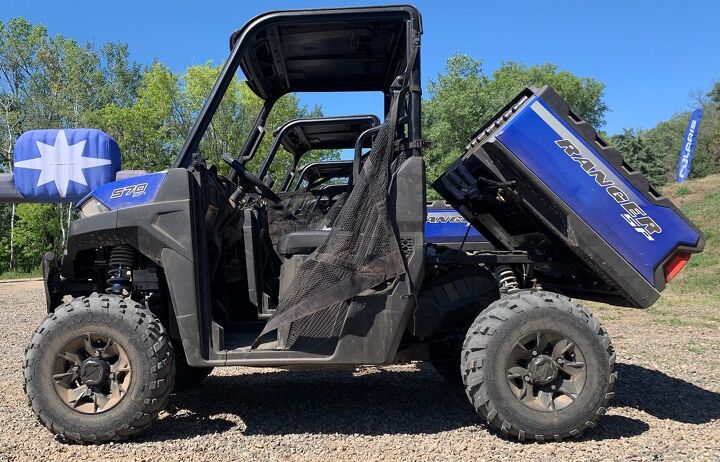 Perhaps surprisingly in a world where bigger is seemingly better, the 2022 Polaris Ranger SP 570 is two inches narrower than the old 58-inch model. Keep that in mind if you happen to bump elbows with your passenger. However, a complete rethink of the cargo dump box design yields extra cargo space, now checking in at roughly 30% more volume (12 cubic feet) thanks largely to taller bed sides. A gas strut aids in tilting the thing skyward and a new automotive-grade tailgate handle is large and dead simple to use. There are spaces for five gallon buckets, stake pockets, and spots for 2×4 rough-cut lumber acting as make-yer-own box dividers.
The typical Polaris Ranger SP 570 customer in 2021 is a lot different than the 570 buyer of seven years ago. Back then, hard-working farmers or people tending to their back forty who needed these machines for work were the target market. A not-totally-comfortable machine which tended to beat them up on the trail was simply accepted as the cost of doing business. Today's customers – especially newbies to the brand – expect a lot more in terms of comfort and performance. In this, Polaris has succeeded.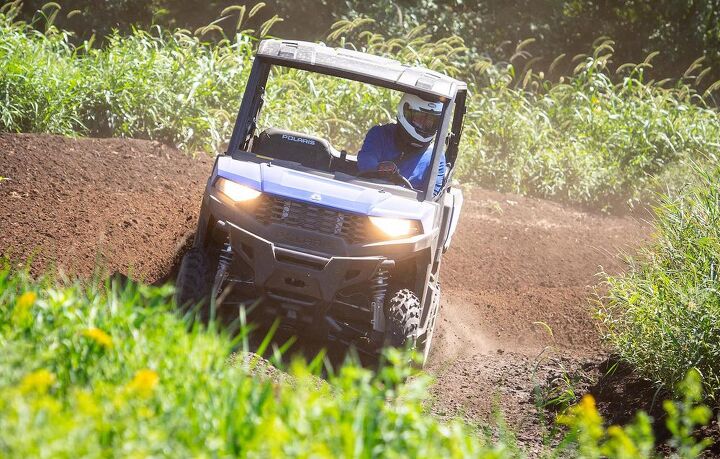 Published September 28th, 2021 4:07 PM
Top Brands
Popular Articles