58 Views
2022 Polaris Sportsman 570 Ride Command Limited Edition Review
November 19th, 2021 3:45 PM
Share
We're committed to finding, researching, and recommending the best products. We earn commissions from purchases you make using links in our articles. Learn more here
Fast Facts
MSRP: $10,899
Engine: ProStar 4-Stroke DOHC Single Cylinder
Suspension Travel: 8.9 / 9.5 (front / rear)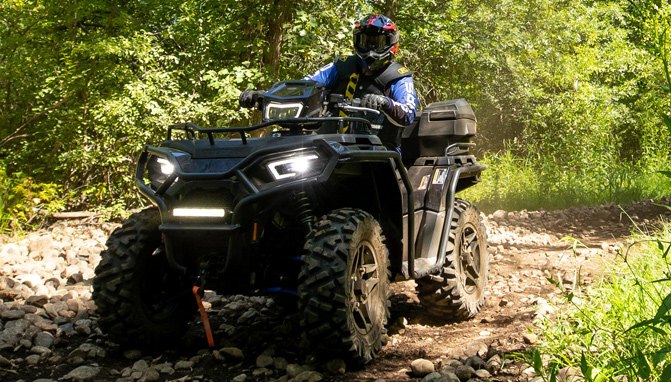 We test out Polaris' premium middleweight ATV
The 2022 Polaris Sportsman 570 Ride Command Limited Edition is an absolutely loaded middleweight ATV and we had a chance to put one through its paces.
If you're new to the powersports game – heck, even if you've been around for a few years – you may be forgiven for thinking customers have given up traditional ATVs and transitioned to side-by-side rigs en masse. After all, a simple trip down any trail in this country will reveal more enclosed cabs and two-row off-roaders than you can shake a sway bar at.
But to dismiss the modern ATV would be a mistake. Companies continue to plow research and development dollars into these machines, responding to consumer demands for more power and more equipment. Engine tweaks, suspension refinements, and rider comfort have all taken a turn for the better recently. The genesis of the sport, then, is healthier than one might think.
For 2022, Polaris has reupped their Sportsman lineup with new tech and fresh features. Different engine configurations are on tap, though this review will focus on the new 2022 Polaris Sportsman 570 Ride Command Limited Edition. Also, look for a full review of the mighty XP 1000 in the coming monthsr. Yer buddies on the trail are likely to notice the new-for-'22 Duro tires, now measuring 26 inches on the 570, along with 14-inch aluminum wheels. There's now 11.5 inches of ground clearance across the board.
The Polaris Sportsman has always been a slick looking rig, and Polaris continues that tradition into the new model year with an array of available colors ranging from Sage Green for the traditionalists out there to the snazzy Azure Crystal shown on our test unit. Pictures don't do this hue justice, especially when it catches the sunlight while wending one's way through the trees. Yeah, I know – most of us don't give a fig about color and will likely coat this thing in mud immediately; but trust us when we say 2022 Polaris Sportsman 570 looks like a rockstar when shined up. That's worth something.
Installing ourselves behind the handlebars and taking off into the Minnesota woods, the changes Polaris made under Sportsman 570 for '22 begin to show themselves. Front and rear arched A-arms (plus the new ground clearance) mean tiptoeing over stray logs isn't the sphincter-tightening task of old. The tires lend a stable feeling at speed, no small task on a machine measuring 48 inches wide and being piloted by a 6'6" rider. Its wheelbase, a shade over 50 inches, also helps.
Power is adequate, though if you're looking for eyeball-flattening speed Polaris will gladly point you towards the XP 1000. While the 2022 Polaris Sportsman 570 won't be winning any drag races, especially when laden at or near the 485 lb payload capacity, there never seems to be a shortage of down-low grunt. This is a good characteristic, especially when testing its 1,350 lb towing capacity. By the way, Polaris rates every Sportsman 570 at the same payload capacity, despite a wide range of estimated dry weight; read into that what you will. A top-rung 2022 Polaris Sportsman 570 Ride Command Limited Edition checks in at 860 lbs compared to roughly 700 lbs for the entry-level model. That's like losing an entire passenger, and likely the difference of plucking yourself out of a bog and waiting for assistance.
Polaris has also made the interesting decision to offer Ride Command on the Sportsman 570. Given the 570's mission as a gateway product to the brand, layering this expensive touchscreen tech into the mix leads to a significant jump in price – it'll require $10,899 to hop aboard a 570 Ride Command LE. The cheapest EPS-equipped trim is just $8,299 and those of you with arms like Popeye can even get away with $7,249 for a manual-steer base model. After all, they're all powered by the same 44-horsepower four-stroke single. By the way, Polaris decided to make a switch to fully sealed suspension bushings on Sportsman, helping to guard against the inevitable dirt and grime which tends to accumulate in the greasy bits right from Day One.
There are a couple of weird design choices, not the least of which is the brand's decision to ditch its handy underseat box – which was once accessible via a hard flap under the tail light – in favour of a soft bag which can only be opened by physically dismounting the ATV. And having registered my complaints about its price, I will confess that using Ride Command on a machine like this is a treat.
The 7-inch glove-touch display keeps you connected and on course, with GPS navigation and waypoints permitting one the ability to follow a guided route outside of cell range. Group Ride allows riders to explore separately while keeping track of their crew, while Follow the Leader lets a designated group leader leave a digital track for others to follow on the way a cool adventure spot. Users can text each other without cell service, too. For those of you rolling your eyes at this tech, there is a practical application in Plow Mode, making snow removal easier by automatically lowering and raising a plow when the vehicle shifts from Park to Low or Reverse. Yes, this stuff makes a difference.
Actually, do you know to whom it makes the most difference? Those new to powersports whom we mentioned at the beginning of this review. With a massive influx of newbies to our leisure activity, Polaris is sensibly seeking to make ATVs and side-by-sides as approachable as possible. It wasn't long ago that operating one of these rigs required enduring a rough ride and figuring out how to shift a temperamental manual transmission. Those days are (thankfully) gone and, with updates like the ones Polaris has thrown at the Sportsman 570 for 2022, taking to the trail on an ATV is simpler than ever.
And that's good news for all of us – not just the rookies. Published November 19th, 2021 3:45 PM
Top Brands
Popular Articles