185 Views
Best Polaris Ranger Tires and Wheels
March 16th, 2021 6:43 PM
Share
We're committed to finding, researching, and recommending the best products. We earn commissions from purchases you make using links in our articles. Learn more here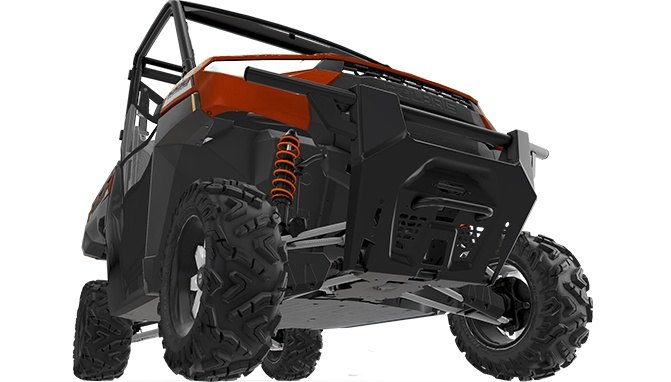 Get more out of your Ranger with these tire and wheel options
The Polaris Ranger is the most popular UTV on the market today, outselling every other model. Equally at home on the farm, jobsite or trail, Polaris Rangers are comfortable, quiet and just plain fun. The wide range of accessories available make it easy to customize your Ranger to fit your riding needs and personal style. Many of us have swapped out the stock Polaris Ranger tires and wheels for something with a tread pattern specialized to our specific riding needs, as well as a cooler look.
Thinking of ditching the stock tires? Here are some of the best Polaris Ranger tires and wheels designed to help you come to grips on the trail.
1. Editor's Choice for Polaris Ranger Tires: Sedona Rip Saw R/T
Many of us want an all-around tire that grips well in mud, snow, rocks and general conditions, but with more grip than the stock Polaris Ranger tires. Enter the Sedona Rip Saw R/Ts. These tires quickly gained favor with us by working in every condition we could throw at them and doing so smoothly, quietly and looking good while doing it. These radial tires have deep, multi-directional lugs that dig into everything well. We tossed a set on in winter and ran through some deep snow, thinking we'd have to get the winch to pull us out, but that never happened. Next up, we tried some sloppy mud, only to walk right through that, too. These are 6-ply tires that you'll be more than happy with.
2. Editor's Choice for Polaris Ranger Wheels: Sedona Split 6 Beadlock
The perfect wheel to mount your Rip Saw tires on is the Sedona Split 6 beadlock. A true beadlock wheel, the Sedonas look great and perform even better. The beadlock lets you lower the tire pressure down for maximum traction, while still keeping the tire on the rim. If you've ever popped a tire off the bead while on the trail, it stinks. If it happens when you're deep in the muck, it stinks even more. If you're looking for a great set of Polaris Ranger tires and wheels, pair the Rip Saw R/T and the Split 6 from Sedona.
3. Rock Pick: Interco Sniper 920
Interco makes some of the most aggressive mud tires on the market, and the Sniper is something along those lines, but with a more civilized stance. These Polaris Ranger tires are DOT approved with radial construction and extensive siping, meaning they will grab maximum traction on all kinds of terrains and still run smooth and quiet. With an 8-ply carcass, punctures will have a harder time finding a home in these tires, too.
Looking for sweet wheels that look very different than the stock Polaris Ranger wheels? Try the STI HD7 in this cool-looking blue/black finish. Not only are these good looking wheels, but they are also super tough and durable, too.
5. Mud Pick: ITP Mega Mayhem Tires
If you are willing to sacrifice a little on-trail comfort for excellent performance in the mud, then the ITP Mega Mayhem is one of the best Polaris Ranger mud tires you can buy. These are directional, 6-ply mud tires with deep 1.5-inch treads. The tread pattern is designed to clear and bit through the slop and self clean so you're not fighting muddy build up on your tires. These tires are a little bit narrower than you might think at first glance, but that makes them more adept at clawing through the mud to get you to dry land.
Staying with ITP, the Tornado wheel would add some serious bling to your Ranger. This eight-spoke wheel features an eye-catching star spoke design, along with a black finish with machine-beveled edges. ITP also outfitted the Tornado with its Rock Armor inner wheel lip for improved structural integrity.
While those simulated rivets on the outer edge may fool you, these are not beadlock wheels. Still, this Polaris Ranger wheel is more than up to the task and is backed up by a limited lifetime warranty. It also comes with a center cap and valve stem.
Three different wheel sizes are offered with the Polaris Ranger's 4/156 bolt pattern - 14x7, 15x7, and 17x7 if you are looking to add some monster tires to your Ranger.
7. Budget Pick: Kenda Bear Claw EVO
You want new Polaris Ranger tires, but you don't want to spend a ton. We get it. But that doesn't mean you have to accept lousy tires just to save a few bucks. Kenda Bear Claws have been favorites for many riders for years. The EVO is one of the latest versions and these are solid performing, directional mud tires that have a reputation for durability. The tread depth is around ¾ of an inch, so you'll dig in while still getting good performance on other surfaces as well.
Looking for a solid performing wheel for your Polaris Ranger? Try the Tusk Teton. It has a cast aluminum body with a forged aluminum bead that locks your tires to your wheels. Strong 5/16-inch, Grade-8, Zinc-plated beadlock bolts secure everything and help give the wheel a 1,200lb load rating.
Recent Updates
March 16, 2021: Added the ITP Mega Mayhem tires, ITP Tornado wheels, and included info on the Polaris Ranger bolt pattern.
We are committed to finding, researching, and recommending the best products. We earn commissions from purchases you make using the retail links in our product reviews. Learn more about how this works.
What size tires fit a Polaris Ranger?
On most full-size Rangers, the stock tire is a 25-26 inch diameter, with some models coming with a 28-inch. Most come with a 12-inch steel wheel or a 14-inch aluminum wheel. You can usually go as big as a 30-inch tire, but know that it will affect your speedometer and gearing.
What is the bolt pattern for Polaris Ranger Wheels?
Like every other modern, full-size Polaris ATV and UTV, Ranger wheels use a 4/156 bolt pattern. Keep that in mind when looking for a new set of wheels. Derrek Sigler
Derrek's love for all things ATV started when he was a mere 11 years old, growing up on his family farm. His mom gave him and his sister a choice - get a horse, or a three-wheeler. The sister wanted the horse, and Derrek wanted the ATV. Luckily he won out, and was soon burning up the trails on a Yamaha Tri-Moto 200. By the time he was 14, he had saved enough of his own money by working on the farm and in his folks restaurant to buy a new 4-wheeler. That happened the day he and his mom were driving past the dealership and saw 1987 Banshee. His mom had no idea what he was buying, and he never looked back. He's been riding ever since, and been writing professionally for many years. He has ridden all over North America and been behind the controls of just about every machine out there. And yes, he still has his 1987 Yamaha Banshee.
More by Derrek Sigler
Published June 10th, 2020 1:43 PM
Top Brands
Popular Articles