505 Views
Best Polaris Ranger Gun Rack Options
June 24th, 2021 3:13 PM
Share
We're committed to finding, researching, and recommending the best products. We earn commissions from purchases you make using links in our articles. Learn more here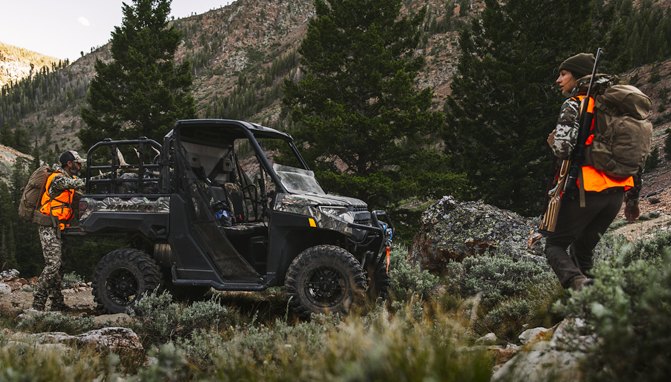 Keep your firearms safe and secure in your Ranger
Owning a Polaris Ranger is by no means a pre-requisite for being a gun owner or enthusiast, but if you ever use your side-by-side to trek out to the deer blind or pop over to the shooting range, a good Polaris Ranger gun rack is a must.
What do we mean by "good"? First and foremost, the ideal gun rack for Polaris Ranger is safe, designed to keep your firearms aimed away from people whenever they are in transit. Additionally, the right rack has provisions to keep your firearms from sustaining any damage while you ride, with cushioned mounts to protect them from getting banged up over rough terrain, and the right design to keep barrels and stocks well out of the way of passing tree branches.
Finally, the best Polaris Ranger gun rack options are strong, capable of securing your firearms without breaking or loosening their grip, and well-made enough that they continue to perform year after year.
Those are some heavy demands, but thankfully, there are plenty of good, solid side-by-side gun racks available that meet all the above criteria, ready to transform your Ranger into a versatile, practical transport for you and your firearms. Here, we've rounded up a list of the best Polaris Ranger gun rack options available today.
1. Editor's Choice: Great Day Quick-Draw 4-Gun UTV Rack
Carry as many as four guns at once, safely in your cargo bed, with the Great Day Quick-Draw 4-Gun Rack for UTVs. This rack is smartly designed to keep firearms pointed up, away from passengers or bystanders, and the movable, moldable cushioned gun clips can accommodate a wide variety of guns regardless of size or stock design. It's the perfect Polaris Ranger gun rack if you're into shooting clays, and it's made from heavy-duty aircraft-grade aluminum that will last, with a design that leaves the cargo bed open for all your other gear.
2. Best Value: Kolpin Rhino Grip Pro
Want something simple and durable that you can place wherever you like? Enter the Kolpin Rhino Grip Pro. These grips are designed specifically for the Polaris Lock and Ride system, featuring a sturdy cast aluminum construction and protective rubber molding that make them perfect for hauling firearms – not to mention shovels, augers, and other tools. What's more, they pack an impressive 50+ pounds of carrying strength, according to the manufacturer, so you can rest assured that your expensive guns are well looked-after.
3. Best In-Cab Holder: Seizmik ICOS Gun Holder
If you'd rather your firearms were stowed in the cabin, away from any trail hazards, this Seizmik in-cab gun holder will do the trick. It's one of our favorite Polaris Ranger gun rack options because it's simple, affordable, and effective, safely keeping your firearm muzzles pointed down at the floor, away from passengers. It's also a match made in heaven for hunters, with a special nylon webbing that reduces noise while mounting or dismounting guns, and it can be installed or uninstalled in seconds, using zero tools.
4. Best Overhead Gun Rack: Great Day Quick-Draw
Another great in-cab gun rack for Polaris Ranger, this Great Day Quick-Draw rack keeps your guns secured safely overhead, where they're not in danger of being bumped by you or a passenger. It uses a strong yet simple design, with threaded rods that allow it to brace against both sides of the roll cage, and padded heavy-duty clamps that allow you to carry up to two firearms at a time. Best of all, it's even designed to fit underneath most factory roofs, and its adjustability means it will fit a variety of models, including the Ranger 900 and 570 Full-Size.
5. Classic Accessories QuadGear Double Gun Carrier
Looking for a Polaris Ranger gun rack that offers even more protection for your expensive firearms? It's not quite a rack, but this Classic Accessories gun carrier is the perfect solution for safe, secure storage in a covered container where quick firearm access isn't required. It's inexpensive; it mounts easily by buckling onto your Ranger's roll cage; and it offers plenty of capacity, with two separate gun pouches and three smaller pockets for extra shells and other gear. But even more importantly, it will keep your guns protected, with extra-thick padding and heavy-duty ProtekX6 fabric with a water-resistant coating and backing.
6. Hornet Outdoors UTV Rifle Scabbard Boot
This design is so brilliantly simple we can't believe we didn't think of it ourselves: a clamp-on mount for hard-shell gun scabbards that lets you mount the scabbard anywhere you like along the bedsides or against the cabin. The manufacturer, Hornet Outdoors, says it will work with a huge range of mid- and full-size Polaris Ranger models from 2006 on, including everything from the 400 up to the 570, 800, and 900, and it will fit Kolpin IV and 6.0 scabbards, not to mention Polaris's own Standard Rifle Scabbard. The boot itself is made from durable high-density polyethylene, with a black coated steel base that can be easily secured without any tools, and as far as ensuring maximum protection for your firearms is concerned, no other gun rack for Polaris Ranger comes close.
Why Do You Need A Polaris Ranger Gun Rack?
If you've read this far, you're probably not only a Polaris Ranger owner, but a hunter or gun enthusiast. You own a firearm or two, and you enjoy spending time in the great outdoors, whether to hone your shooting skills or to hunt. Simply put, you need a Polaris Ranger gun rack because it's the safest, easiest, and most reliable way to carry a firearm in your UTV outside of strapping your hard case into the bed. Trusting a passenger to carry your firearm while you drive – or worse, carrying it yourself – is a non-starter for obvious reasons, and you don't want to leave your nice, expensive firearms sliding around in the bed or cabin. A sturdy, fixed gun mounting solution is the answer.
In addition to the matters of personal safety and gun security, there is also the question of legality; a Polaris Ranger gun rack might be necessary for you because, simply put, it's the easiest legal way to transport a firearm in your side-by-side. Although, we should note: the laws vary state-by-state. Unfortunately, there is no one law governing UTV gun transport that covers the entire US; some states require guns to be unloaded and contained entirely within a suitable enclosure. Other states are a bit more lax with their regulations. For that reason, we strongly recommend reading the regulations where you live before making any Polaris Ranger gun rack purchases.
How Do You Install A Gun Rack In A Polaris Ranger?
There are essentially three different types of gun rack for Polaris Ranger, each with its own unique mounting method. There are those that mount to the roll cage, like the Great Day Quick Draw Overhead Gun Rack; those that mount in the bed, like the Kolpin Rhino Grip Pro; and those that sit in the cabin, like the Seizmik In-Cab Gun Holder.
To mount the first type, typically there will be adjustable-length braces that must first be sized to the roll cage spacing of your Polaris Ranger. To size it, you should first get a tape measure and measure the distance between the bars on your roll cage, and then subtract the total length of the unexpanded gun rack. Divide the result by two, loosen the locking hardware, and spin each shaft out by about this amount. Now, try to slide the gun rack into position; if it's too long, turn both shafts in by a tiny amount until it will fit. After it's in position, straight and perfectly plumb with the roll cage bars, turn each shaft out by small amounts until it is secure, and tighten down the locking hardware. Unless your Polaris Ranger gun rack includes holes on the end pieces for securing hardware, you are now done, although you may want to ensure the security of the gun rack using zip ties on each end.
The other major types of Polaris Ranger gun rack are more straightforward to install. The Kolpin Rhino Grip Pro, for instance, is available with Polaris's patented Lock and Ride mounting system, allowing you to simply fasten the grips into any two Lock and Ride holes along either side of the bed by hand. Similar grips with a more universal design may require drilling into the bed sides and securing with nuts and bolts from the hardware store. Drop-in Polaris Ranger gun racks like the Seizmik In-Cab Gun Holder are even easier, simply dropping right into place and securing with a belt buckle looped through the unit.
Additional Resources
We are committed to finding, researching, and recommending the best products. We earn commissions from purchases you make using the retail links in our product reviews. Learn more about how this works. Aaron Brzozowski
Aaron is a freelance writer, videographer and car enthusiast based out of the Detroit area. He has a special affinity for the Porsche 944 series, and once owned a Volvo 240 sedan with a Weber carb in place of the factory EFI system. His work has appeared on AutoGuide, GM Authority, /Drive, and VW Vortex, among other sites.
More by Aaron Brzozowski
Published June 24th, 2021 3:13 PM
Top Brands
Popular Articles