126 Views
Best Polaris Ranger Winch Options
May 13th, 2021 6:07 PM
Share
We're committed to finding, researching, and recommending the best products. We earn commissions from purchases you make using links in our articles. Learn more here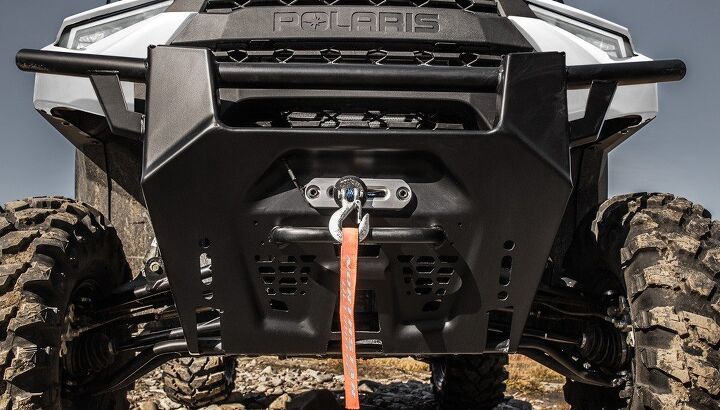 A quality winch is your Ranger's best friend when the going gets tough
Preparation is the best defense, and of all the Polaris Ranger accessories and upgrades an owner might consider, few are better than a Polaris Ranger winch.
Nobody likes getting stuck off-road, but the smart rider knows that inevitably, no matter how careful they are, it's going to happen now and again. While there's no one "correct" way to get unstuck, the convenient, portable pulling power of an electric recovery winch represents one of the easiest, most reliable methods around. The less you have to touch a shovel, or spend time waiting for a friend to bring another vehicle around to pull you out, the better.
The good news for you as a Polaris Ranger winch shopper is that the market is chock full of strong, reliable powersports winches with the right size and pulling power for your trusty side-by-side. Like any UTV, the Ranger is significantly smaller than your typical off-road truck or SUV. That means there's less space to put a winch, but it also means the winch has significantly less weight to pull, so you don't need to be looking at pricey 8,000- or 10,000-pound rated winches. That said, the forces put on a recovery winch rope can easily exceed the vehicle's weight, so we would recommend getting a winch with 4,500 lbs of pulling force, at a minimum.
Need more help selecting the right winch for your needs? Don't worry. We've put together this helpful list of the best Polaris Ranger winch options on the market today, covering a range of popular, reliable brands and price points.
Table of Contents
1. Editor's Choice: SuperATV 6000 LB Black Ops UTV Winch
A mid-range Polaris Ranger winch from a brand with plenty of cachet among enthusiasts, the SuperATV 6000 LB Black Ops UTV Winch offers tons of overhead, so you'll never have to worry about whether your winch has enough pulling power. The 50-foot synthetic rope is light and easy to handle, not to mention safer than a steel cable, and it comes equipped with automatic brakes and an included wireless remote for easy operation. It's also built to withstand the elements with a waterproof solenoid, water-resistant remote receiver, and an aluminum fairlead that won't rust if it happens to sustain a few scuffs.
2. Warn Axon 55 Powersports Winch
It's almost impossible to talk about recovery winches without mentioning Warn – arguably the best-known, most well-regarded winch manufacturer in the market – and the brand's Axon 55 Powersports Winch is hands down one of the best UTV winches around. The key feature that makes the Axon 55 such a stellar performer, apart from its outstanding all-metal build quality and waterproof sealing, is a revolutionary Motactor that combines the motor and contactor in a single unit for superior performance and easy installation. Also, unlike many recovery winches on the market, the Axon 55 uses digital control instead of an analog signal, putting more precise winch control into the hands of the user and providing useful feedback like load and operating temperature.
3. KFI AS-50 5000 LB Assault Winch
Another excellent Polaris Ranger winch from a respected brand, the KFI AS50 is an attractive, solid performer that won't break the bank. It comes with both a dash-mounted rocker switch and a heavy-duty 14' corded remote switch for flexibility and convenience, and is equipped with 38 feet of synthetic rope – plenty enough for most situations you might find yourself in. The housing is fully sealed against the elements, and perhaps its biggest selling point is its integrated cable hook stopper, which mitigates wear and tear on the rollers and helps keep tension on the hook so that the cable doesn't become loose.
4. Polaris Ranger Pro HD 6,000 LB Recovery Winch
No list of the best Polaris Ranger winch options would be complete without mentioning Polaris's own Pro HD 6,000 lb recovery winch. It's a solid performer that's all but guaranteed to deliver maximum compatibility with your ride because, well, it was designed and manufactured by the same company that built your Ranger in the first place. The biggest advantage the Ranger Pro HD has over other recovery winches on the market is that it ships with a model-specific mount so there's no need to go shopping around for one or cobbling together some dubious, "custom" solution. But beyond that, it packs tons of overhead in the pulling power department, and it's loaded with helpful, premium features like a 50-foot wireless remote, Auto Stop technology that stops the motor spinning as soon as the rope reaches the end of its travel, and a unique, attractive blue synthetic rope.
5. Best Budget Winch: MotoAlliance Viper Elite 6000 Lb ATV/UTV Winch
A reliable 6,000-lb recovery winch for less, the MotoAlliance Viper Elite ATV/UTV winch is perfect for those shopping on a budget, who don't want to roll the dice on some unproven, unreliable off brand. Even at this low price point, you get plenty of must-have features like an IP67-rated dust- and water-resistant housing, a reliable permanent magnet motor with dynamic braking, a wireless remote control, and 40 feet of synthetic rope. That rope, available in an array of different colors, boasts a breaking strength in excess of 8,500 pounds, and the whole unit comes with a limited lifetime warranty, making this "budget" Polaris Ranger winch one of the most worry-free UTV upgrades you can buy at this price, full stop.
Recent Updates
May 13, 2021: Added some FAQs and chose some award winners on our list of winches.
Additional Resources
We are committed to finding, researching, and recommending the best products. We earn commissions from purchases you make using the retail links in our product reviews. Learn more about how this works.
What size winch do I need for my Polaris Ranger?
When we are looking at a winch for a UTV, we like to start at 4500-pound rated winches and go up from there. Remember that a winch isn't just pulling the weight of a UTV - there is added stress to the winch depending on the terrain. If your budget allows you to go up to 5500 pounds or higher, it's a good idea to do that. After all, you'll never use your winch and be upset that it is too powerful.
What is the mounting bolt pattern for a Polaris Ranger winch?
In an ideal world, all ATV and UTV winches would use the same mounting bolt pattern, reality is sometimes cruel. Knowing which mounting pattern your bumper can accept will let you know which winches will fit. You have to do your research here, as mounting bolt patterns vary - even from the same winch manufacturer. Aaron Brzozowski
Aaron is a freelance writer, videographer and car enthusiast based out of the Detroit area. He has a special affinity for the Porsche 944 series, and once owned a Volvo 240 sedan with a Weber carb in place of the factory EFI system. His work has appeared on AutoGuide, GM Authority, /Drive, and VW Vortex, among other sites.
More by Aaron Brzozowski
Published December 22nd, 2020 1:03 PM
Top Brands
Popular Articles